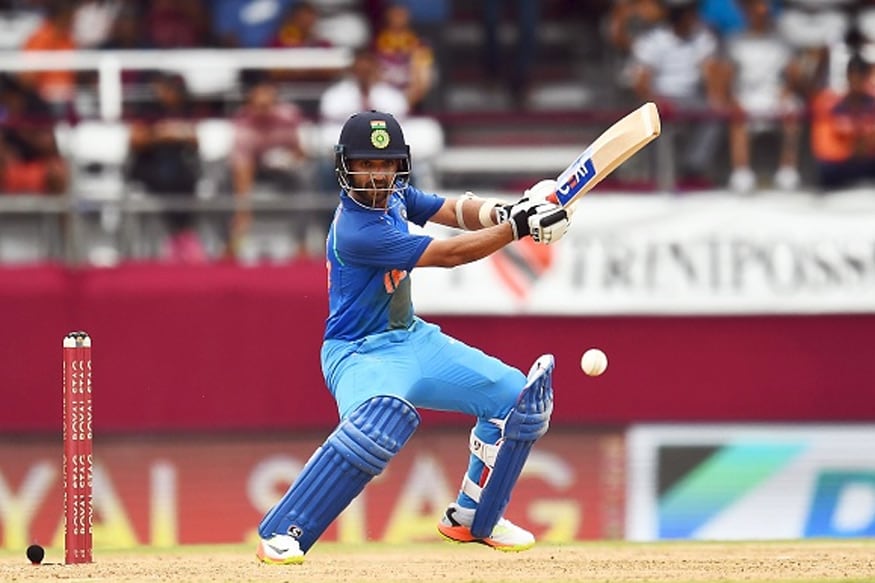 Ajinkya Rahane has been one of Team India's most reliable and consistent batsmen across formats for a while now. This despite being in and out of the limited overs team. But whenever he has got an opportunity, he has made the most of it.
Recently, he finished the series against West Indies as the highest run-getter with 336 runs from five innings at an average of above 60. What was heartening to see is that he scored a century and three half-centuries, which says a lot about his consistency. The result of this was a much deserved 'Man of the series award'. But he knows his joy could be short lived as Rohit Sharma, rested for the series, will be back at the opening slot against the Lankans in the next series.
Rahane though isn't worried about the future and is open to bat at any position that the team management wants him to.
"See, what is going to happen in the future we don't know. This series will give me a lot of confidence especially for the ODI and shorter format. If the team management thinks I should bat at No.4 or at No.1 and 2 then I will always be giving my 100 percent on that. I am not sure what is going to happen in the future, but I always like to give my best in ODI and T20 formats. I am looking forward to doing well consistently in ODI format," said Rahane while speaking to the media ahead of the one-off T20I game.
Rahane played no part in the ICC Champions Trophy as he warmed the bench as the reserve opener. The Mumbai lad though has batted in the middle order earlier and has been successful too. With India travelling overseas in the days to come, he could well get his opportunities.
"I actually batted at No.4. Even at World Cup I batted at No.4, scored against South Africa, so I know how to handle batting at Nos.3, 4 and 5. It is not a big issue but we'll have to wait and watch and see what's going to happen.
"This series was really important for me as I got a chance after some time. I didn't play the ICC Champions Trophy. We came here. Virat told me you are going to play all the games. So actually I was looking forward to that. I didn't want to put pressure on myself. I just wanted to enjoy myself in the middle. I took my time. When we came here, we had a couple of practice sessions and even in England I was batting well (in the nets). So I just had to make it count as I mentioned but importantly I wanted to express myself with the bat," the stylish right-hander said.
Asked if the return of Chris Gayle will be a threat for India in the T20I, Rahane said the team is not bothered about what the opposition is doing, instead the bunch is concentrating on their own game.
"Chris Gayle is not the only player in the side. They have got 11 players. We are not focusing on Chris Gayle. Our team is important and as I mentioned earlier, we are thinking about our strengths rather than about their strategies, their positives or their teams. Yes, we all respect Chris Gayle, he is a dangerous player. On a given day, he can change the game for their team. Right now, it is important to focus on our game and back our team in the middle."