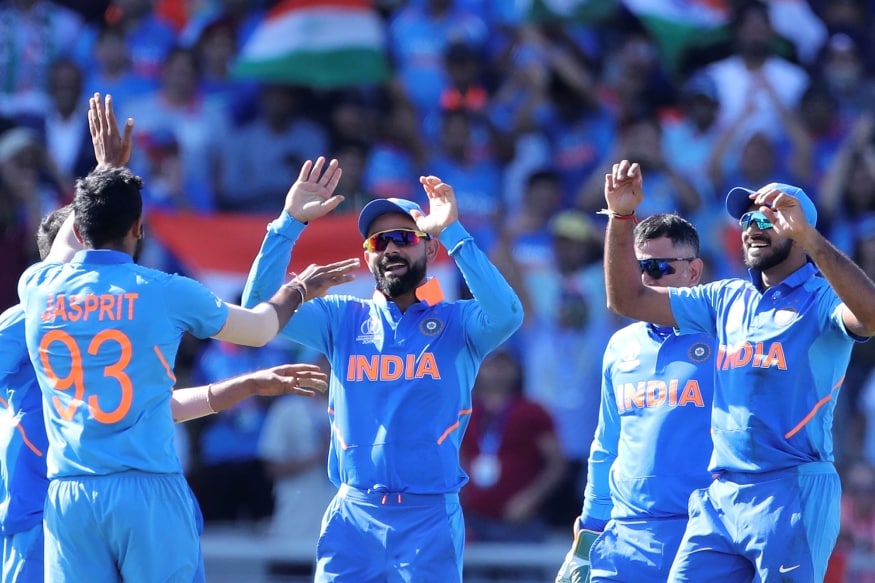 India produced an all-round performance against West Indies at Old Trafford as they beat Jason Holder's side by 125 runs to take one step closer to the semi-finals.
Will stick to it ... Whoever beats India will WIN the World Cup ... !!! #CWC19

— Michael Vaughan (@MichaelVaughan) June 27, 2019
Can't get a more comprehensive win. England beware!

— Cricketwallah (@cricketwallah) June 27, 2019
Let's keep raising the bar like this.

Well done 🇮🇳 pic.twitter.com/jzfXPkYu2I

— Shikhar Dhawan (@SDhawan25) June 27, 2019
Massive win great show @BCCI team india well done @imVkohli @msdhoni @hardikpandya7 bowlers @MdShami11 @Jaspritbumrah93 @yuzi_chahal @imkuldeep18 in SEMI FINAL 💪 🏏 @StarSportsIndia @ICC #CWC19

— Harbhajan Turbanator (@harbhajan_singh) June 27, 2019
Batting first, India lost Rohit Sharma early, which caused a lot of controversy as many believed the third umpire took the wrong call.
Just curious, how is that conclusive evidence that the ball hit bat first and not the pad? There's enough doubt there, no? Shouldn't the umpire be sticking with the on-field decision?#INDvWI #CWC19 pic.twitter.com/Uu3YKS3a4Z

— Vinayakk (@vinayakkm) June 27, 2019
hope mrs sharma isn't reprimanded for visible dissent against that umpiring decision #INDvsWI #CWC19 — Gaurav Kalra (@gauravkalra75) June 27, 2019
Third umpire sure was in a hurry for that Rohit call. No confirmation of whether that was bat or pad. #INDvWI #CWC19 — Rohit Sankar (@imRohit_SN) June 27, 2019
For once I'm not convinced by that third umpire decision. Rohit Sharma wasn't either.

— Joy Bhattacharjya (@joybhattacharj) June 27, 2019
Rohit Sharma given out caught behind on the review. Looked like ball made contact with pad. #CWC19 #INDvWI

— Anand Vasu (@anandvasu) June 27, 2019
Virat Kohli scored a half-century but was not able to power on. Tidy bowling by the West Indies spinners, followed by a flourish from MS Dhoni at the end helped India post 269.
The moment Bhuvi was ruled out this was bound to happen. Your Nos. 5, 6, 7 are likely to be left undecided about when to time the final onslaught. India would have got 15 more today.

It will probably not be a bad idea to get Jadeja in to stop exactly this.#CWC19 #INDvWI #WIvIND

— Abhishek Mukherjee (@ovshake42) June 27, 2019
Rashid Khan had gone for 25 in 4 overs , gave away only 13 in his next 6 and today Fabian Allen had given 34 in 5 overs, only 18 in next 5. Can't be so defensive against the spinners.

— Virender Sehwag (@virendersehwag) June 27, 2019
Dhoni still below Dimuth Karunaratne on the World Cup strike rates chart 👀#CWC19

— Srinath (@srinathsripath) June 27, 2019
Did our RR ever touch 5 in this innings?

— if Shrikant,who can? (@HomerOpines) June 27, 2019
MSD bats in the 1st inn as though he is batting 2nd. He loves a target. He has a mental target in which he plays 2 overs and assesses the situation. We as viewers dont know that target. That is why we get frustrated while MSD bats first but while chasing we are fine. #mytheory

— Gaurav Sundararaman (@gaurav_sundar) June 27, 2019
38 off 25 in the last ten overs for MS Dhoni, including 16 off the final over. Who said he was slow in his approach 🙄. Yes, he got two lives but then he made runs, that's what more important at the end. #CWC19 #INDvsWI

— Niharika Raina (@niharika_raina) June 27, 2019
MS Dhoni 56 in 61 balls

first 20 runs in 40 balls R/o 50.00

next 36 runs in 21 balls R/o 171.43#CWC19#CWC2019#IndvWI#IndvsWI

— Mohandas Menon (@mohanstatsman) June 27, 2019
The Indian bowlers were exceptional throughout the run-chase. They kept chipping in with regular wickets and the West Indies batsmen were just not able to get away.
can't be said enough, this is a heck of a bowling unit...just relentless quality #INDvsWI #CWC19

— Gaurav Kalra (@gauravkalra75) June 27, 2019
Virat Kohli is probably the best odi batsman ever but if someone is picking an odi team right now, @Jaspritbumrah93 has to be the first pick even before Kohli!

— Akhil Ranade (@akhilranade) June 27, 2019
Double-wicket maiden against Afghanistan in his second spell.

Double-wicket maiden against West Indies in his second spell.

Jasprit Bumrah is awesome, version 1321.#CWC19

— Vinayakk (@vinayakkm) June 27, 2019
Last couple of games were dominated by our bowlers. Let the domination going! Well done #shami #bumrah #chahal #kuldeep 👍🏼 #WIvIND #CWC19

— Pragyan Prayas Ojha (@pragyanojha) June 27, 2019
They are quick. They are disciplined. They are fit. Most importantly they are intelligent. Indian fast bowlers continue to shine. BCCI needs to put their fast bowlers on a special A+ contract. They are true superstars, honest workhorses. #CWC19

— cricBC (@cricBC) June 27, 2019
True testament to the strength of the Indian bowling attack here. A good all-round performance by the bowlers. Never let West Indies in the game #CWC19 #INDvWI

— Nishad Pai Vaidya (@NishadPaiVaidya) June 27, 2019
Watching cricket in the seventies and eighties, we would always be at the receiving end of a torrid opening spell in a WI vs IN India match. Amazing to see that change. Shami and Bumrah making up for all the days of holding one's breath as Holding, Marshall or Ambrose ran in.

— Joy Bhattacharjya (@joybhattacharj) June 27, 2019
Bumrah is goddamn genius. Absolute genius..#CWC19

— The Bontiac Pandit (@ZeroIndexed) June 27, 2019
Oh what a sight! The indian batsmen of 1960s, 1970s, 1980s and 1990s will feel so good to see a West Indies batsman ducking! Remember the blows that India batsmen took in West Indies in 1962, 1976, 1983, 1989 and 1997! -#cricket#cwc19

— Chandresh Narayanan (@chand2579) June 27, 2019
At this rate, Mohammad Shami might even finish as the highest wicket-taker in all World Cups.#INDvWI #CWC19

— Suneer (@suneerchowdhary) June 27, 2019