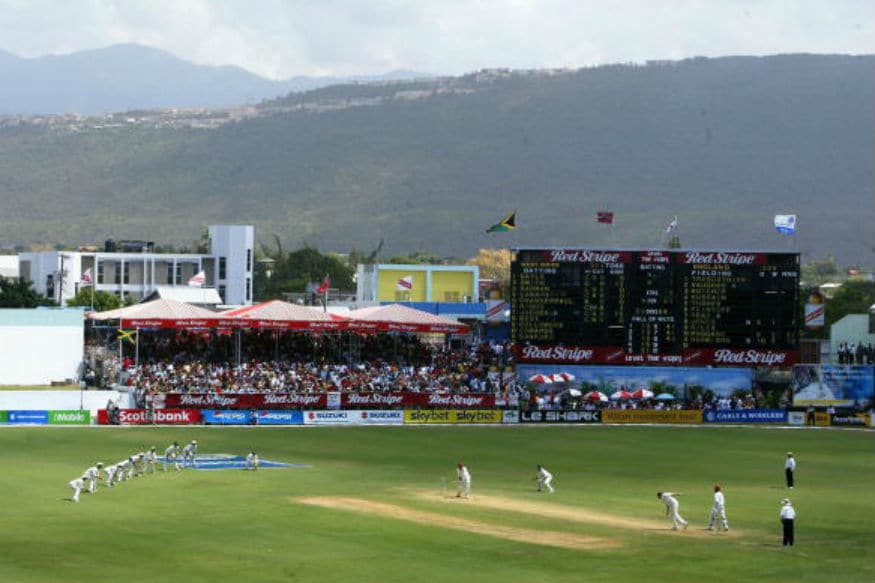 From Sir Gary Sobers' unbeaten 365 against Pakistan in 1958 to Courtney Walsh's 10-101 against India in 1989, from Brian Lara's magnificent 213 against Australia in 1999 to Rahul Dravid's twin fifties in a historic series win in 2006 – Sabina Park has witnessed it all!
Located in Kingston, Jamaica, Sabina Park has hosted 51 Tests - only Trinidad and Barbados have hosted more in the Caribbean.
But the venue has also had its share of controversy. In 1998 it witnessed one of the shortest matches in the history of Test cricket when the clash between hosts West Indies and England was abandoned courtesy an 'unsafe and dangerous pitch' after just 62 deliveries in the match.
It is the second-shortest Test match (in terms of total number of balls bowled) after the 2009 Test between the same two countries at North Sound (10 deliveries bowled).
As West Indies and India get ready to clash at the historic venue for the all-important second and final Test of the series which is a part of the World Test Championship, here are some of the numbers, players and performances that have stood out at Sabina Park in a career spanning 88 years.
Overall Records:
1.846: West Indies' win-loss ratio
West Indies have won 24, lost 13 and drawn 14 of the 51 Test matches played at Sabina Park.
849: Highest Innings Total – England (vs West Indies) in 1930.
47: Lowest Innings Total – West Indies (vs England) in 2004.
1354: Gary Sobers' aggregate runs – the highest
Sobers scored 1354 runs in just 11 Tests at an average of 104.15 including 5 hundreds at Sabina Park. Only one other batsman has aggregated more than 1000 at Sabina Park – Brian Lara.
430: Highest Aggregate by a non West Indian batsman – Rahul Dravid.
5: Number of hundreds scored by Gary Sobers and Clyde Walcott – the highest.
365 not out: The Highest Score – Gary Sobers (vs Pakistan) in 1958.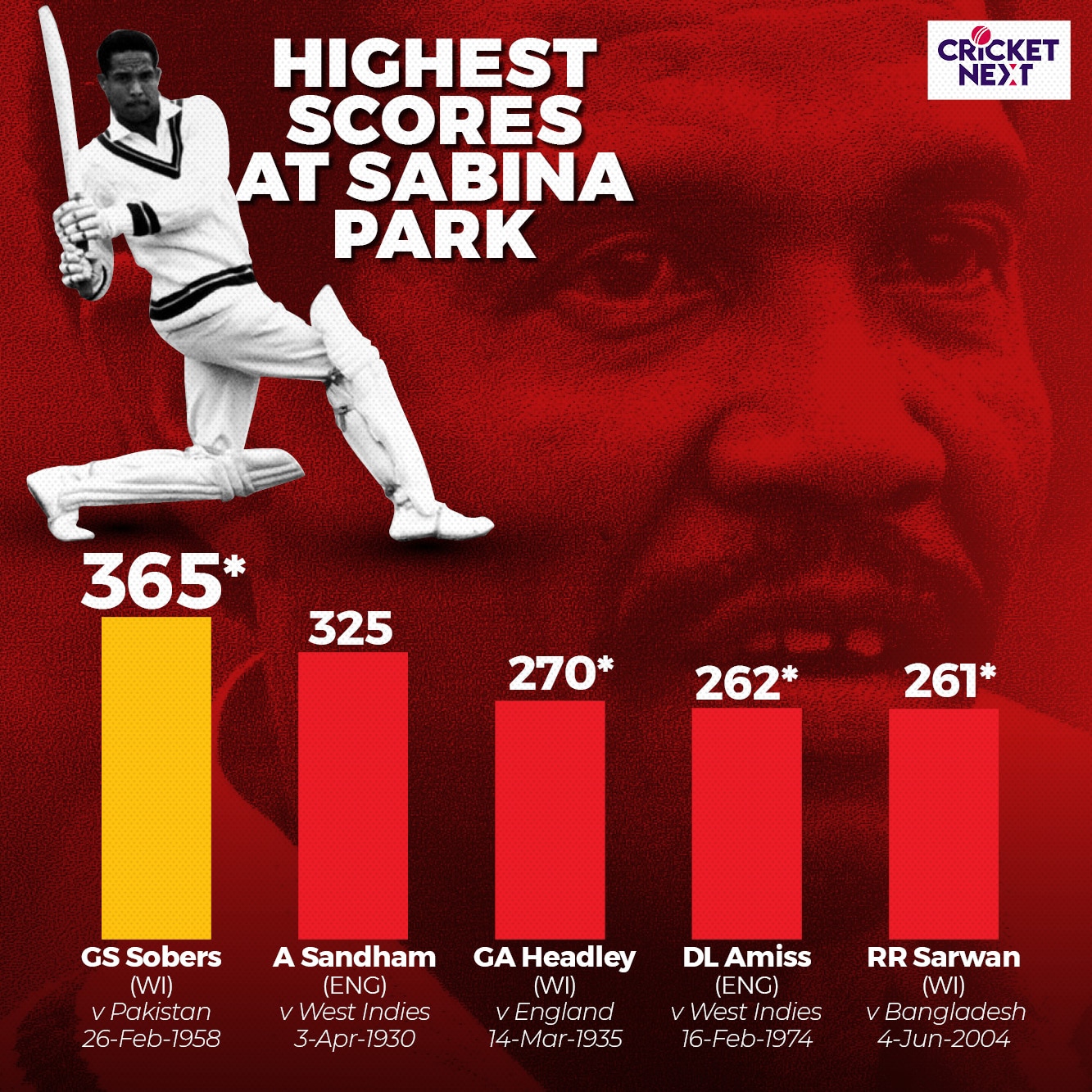 109.33: Highest Batting Average – Jimmy Adams. He is followed by Gary Sobers (104.15), Clyde Walcott (92.4), Larry Gomes (62.2) and Brian Lara (58.52).
446: Highest Partnership – Gary Sobers and Conrad Hunte (vs Pakistan) in 1958. It is the seventh-highest partnership in Test cricket history.
48: Maximum Wickets – Courtney Walsh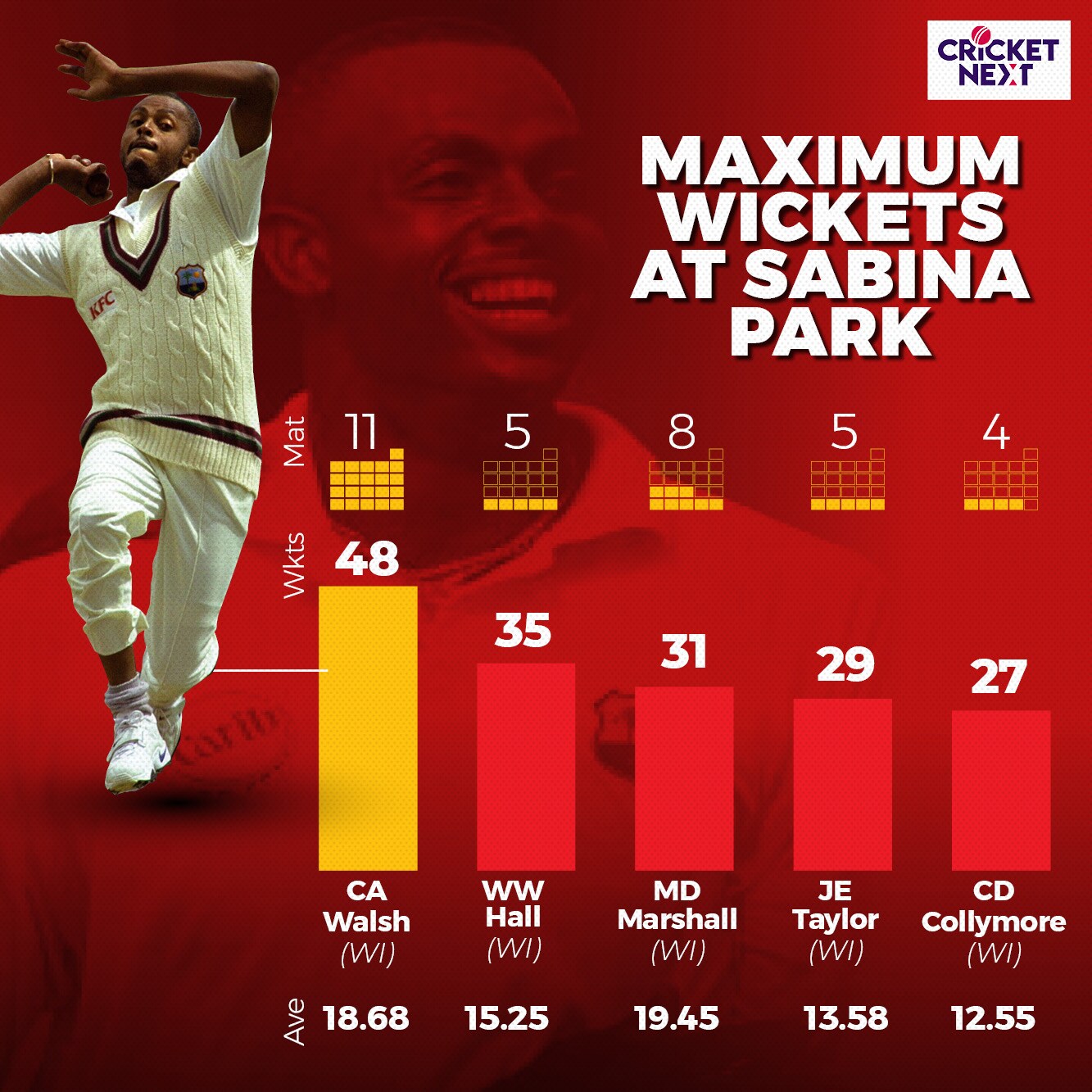 13.58: Best Bowling Average – Jerome Taylor
Taylor bagged 29 wickets in just 5 Tests at Sabina Park. He also has the best strike rate (32.4) at the ground.
7-12: Best Bowling in an Innings – Steve Harmison (vs West Indies) in 2004
Harmison's spell skittled the West Indies for 47 in the second innings – their lowest score in Test cricket.
11-103: Best Bowling in a Match – Jason Holder (vs Bangladesh) in 2018
There have been three other 10-plus wicket hauls at Sabina Park – Corey Collymore, Hines Johnson and Courtney Walsh.
India's History at Sabina Park:
India have played 12 Test matches at Sabina Park, Kingston and won just 2. They have lost 6 and drawn 4.
Vijay Hazare led India in its maiden Test at the venue in 1953 with Polly Umrigar, Vijay Manjrekar and Pankaj Roy all registering hundreds at the ground. It is only one of the 12 away matches in which three Indian batsmen have scored a hundred.
Dilip Sardesai hammered a double ton in 1971 – his 212 is one of the ten 200-plus scores by an Indian in Away Test matches.
India's first win at the venue was in 2006 when Rahul Dravid top-scored in each innings – 81 and 68 – and also captaining the side led the country to a 49-run victory in the fourth and final Test of the series. Interestingly, the second-highest score for India in the first innings was by Anil Kumble – 45 and the second innings – 19 by MS Dhoni.
Harbhajan Singh picked 5 wickets in the first innings while Kumble grabbed six in the second.
This was the only result Test of the four-match series. India won a historic series – only their second in the Caribbean (till then) after 1971.
India's second win in Jamaica came in 2011 (in the first Test), again, courtesy a brilliant 112 by Dravid in India's second innings. This, again, was the only result-match of the three-Test series. India won its second consecutive series in the Caribbean.
Indian Records at Sabina Park:
500 for 9 declared: Highest Team Score (in 2016)
97: Lowest Team Score (in 1976)
430: Highest Aggregate Runs – Rahul Dravid
212: Highest Score – Dilip Sardesai (in 1971)
237: Highest Partnership – Pankaj Roy and Vijay Manjrekar (in 1953)
16: Maximum Number of Wickets – Harbhajan Singh
6-78: Best Bowling in an Innings – Anil Kumble (in 2006)
8-118: Best Bowling in a Match – Kapil Dev (in 1983)
Recent Trends at Sabina Park (last 10 Tests):
Average score in 1st innings (1st and 2nd innings of match): 296
Average score in 2nd innings (3rd and 4th innings of match): 181
Toss Win: Bat First 7 times
Bat First Advantage: Teams batting first have won 60% of the total matches
Pace vs Spin: Pace has accounted for 63.48% of total wickets; Spin – 36.52%