Shikhar Dhawan has had two failures in the ongoing T20I series against the West Indies in Lauderhill and is going through a minor slump in international T20 cricket for India.
Dhawan was unable to get going in the series opener and played five consecutive dot balls to Sheldon Cottrell before going for an uncharacteristic hack across the line only to be plumb leg before wicket. He was dismissed for 1 off 7 balls.
The story was no different in the second T20I. The left-hander looked uncomfortable in the very first over against Oshane Thomas – he was beaten for pace and cramped for room trying to play an uppercut to a short-pitched delivery before being again beaten on the drive to a length ball.
Although he played a few good shots and got a few boundaries, his timing was all awry and there was no flow to his innings. Mistimed drives and unable to pierce the field, Dhawan's struggle finally came to an end as he was castled by a full and straight delivery by Keemo Paul once again attempting an ungainly hoick across the line. He departed for 23 off 16 deliveries and did not look at ease for the most of the innings.
Dhawan hasn't had the best of run in T20I cricket for India in 2019 with scores of 29 (18 balls), 30 (31), 5 (4), 14 (24), 1(7) and 23 (16) – that is an aggregate of just 102 runs in 6 innings at an average of 17 and strike rate of 102. He has only managed to hit 9 fours and 3 sixes in this period.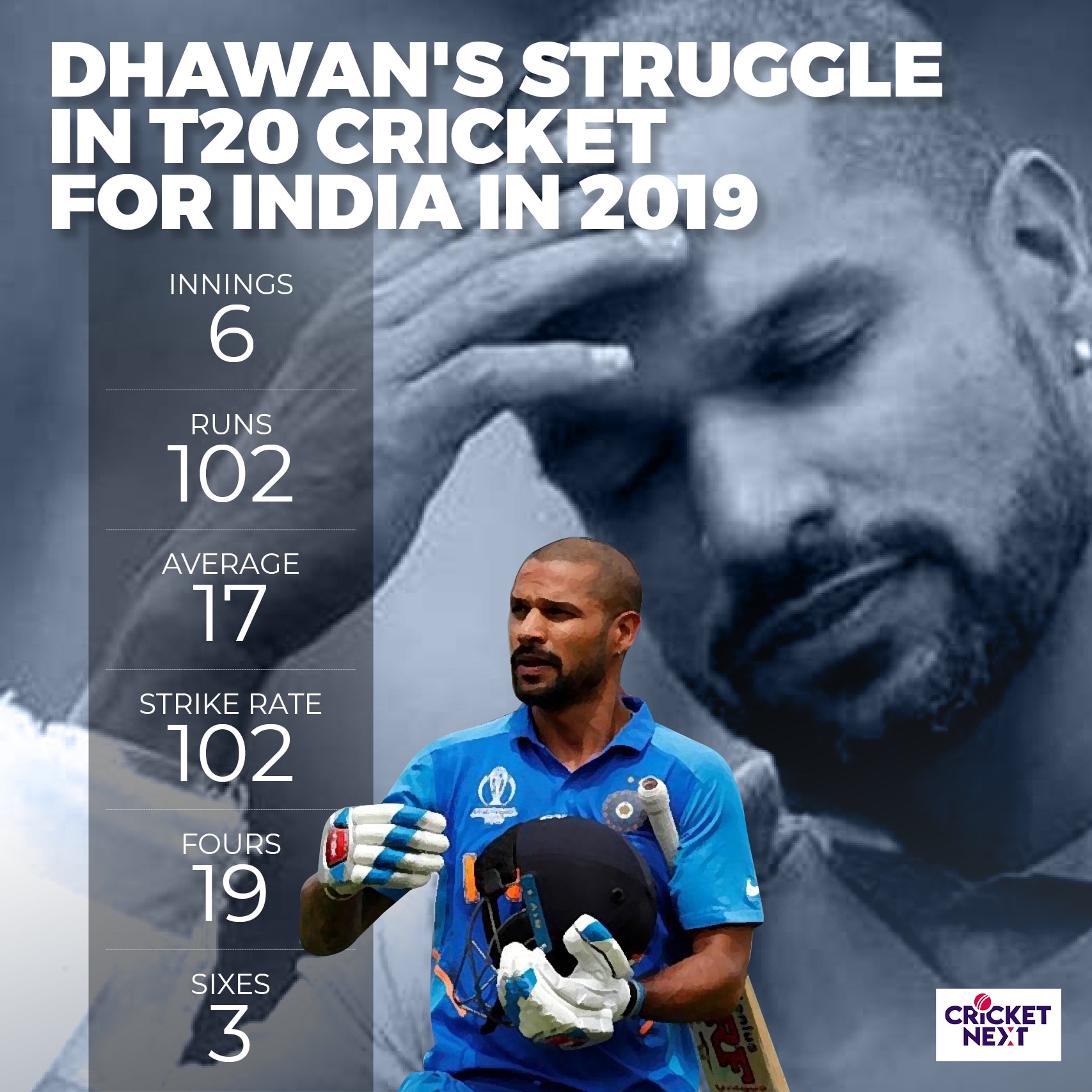 He was bowled by a Lockie Ferguson yorker in Wellington before mistiming a pull and getting beaten by the pace succumbing to him again at Auckland. Dhawan fell to Mitchell Santner in the very first over at Hamilton attempting a slog sweep only to hole out at deep mid-wicket – for just 5.
Dhawan made another painful 14 off 24 deliveries against Australia in the second T20I in Bengaluru – he played as many as 13 dot deliveries and never looked settled at the crease – there were mistimed shots, plays and misses and inside edges. Of the 24 deliveries he faced in the innings he was in control for only 10 of them. He was beaten or mistimed the ball 14 times – ie on 58.33% of the times he was not in control of the attempted shot – it was a poor innings by Dhawan.
Although Dhawan was the highest scorer for Delhi Capitals in the 2019 IPL with 521 runs in 16 innings at an average of 34.73 and strike rate of 135.67, including 5 fifties, his form tapered towards the end of their campaign and he returned with scores of 19 (13), 16(12), 17 (16) and 18 (14).
Combining his last 4 innings in the IPL with his last 6 innings in T20 cricket for India and Dhawan has aggregated just 172 runs in these 10 innings at an average of 17.2 with a highest score of 30!
His rate of scoring has also fallen dramatically – his strike rate in these matches has been just 110.97.
He has played as many as 43.23% of dot deliveries and only 55.81% of his total runs have come in boundaries in these matches.
Dhawan has been caught 5 times, bowled on three occasions and stumped and leg before wicket on one instance each in these 10 innings.
Moreover, he has 9 below-25 scores in his last 10 innings (ODIs, other one-days, T20Is and T20s). Barring his magnificent 117 against Australia at The Oval in the World Cup, Dhawan has failed in all the remaining innings with as many as 4 single-digit scores.
With an in-form KL Rahul waiting in the wings, India are paying a high opportunity cost if they keep persisting with Dhawan.
(Note: Stats are updated until after the second T20I vs West Indies)