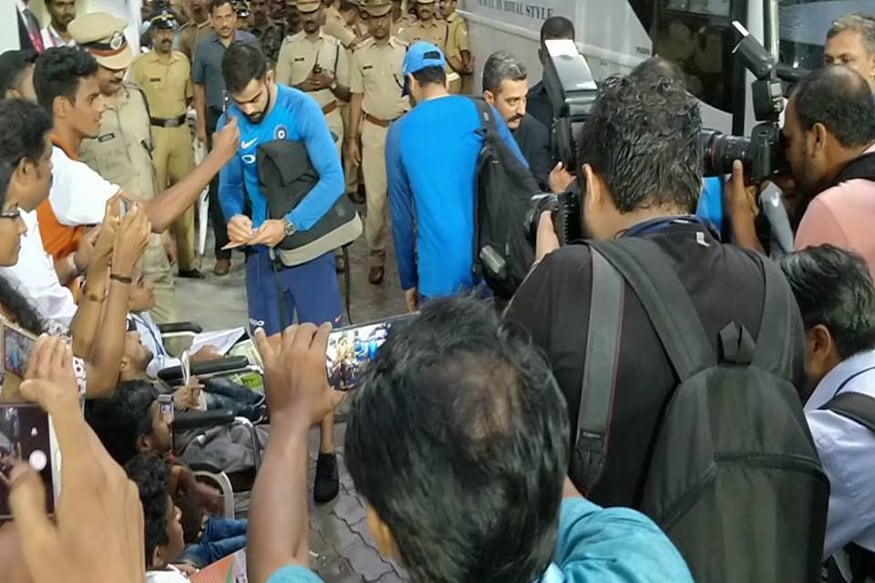 Well known to be destructive and ruthless on the field, Indian captain Virat Kohli's warm gestures ahead of India's third T20 international against New Zealand in Thiruvananthapuram brought a smile and warmth to some very lucky fans.
When Kohli stepped out of the team bus under high security he had only the match in mind, but soon realised that before the crucial decider there were some rather special fans waiting to meet him.
These were a set of differently-abled children from Amrithavarshini - a society for Osteogenesis Imperfecta. They suffered from brittle-bone disease and their biggest dream was to meet the inimitable Virat Kohli in person.
When the Indian captain saw them armed with their notebooks and heart-warming smiles waiting for an autograph, he stopped to greet them.
The cheers, as expected, got louder as he obliged the children by giving autographs and shaking hands. For the children their day was made and the dream was realised, and what was the icing on the cake was that most of the team followed suit.
While the children were fulfilling one of their biggest dreams, a middle-aged woman stood behind them, with folded hands.
Sharing the video on her Facebook page, Latha Nair, who is reportedly the founder of Amrithavarshini, wrote about the "wonderful gift" the children received.
"Every year we ask the children to share their desires. This year the request that came from them was for laptops, medical aid, instances of meeting celebrities etc. The requests are plenty and many remained unfulfilled. I was pleasantly surprised to see six of them showed their great passion to meet the cricket stars. I kept mum because I did not know, how I could make their dreams come true. I contacted many ,but in vain. Anoop always kept on asking, "Aunty did anything work out?" I was always in a positive mind and replied " Yes it will happen," she wrote.
Based on her colleague Latha Rajeev's suggestion, she reached out to ADGP B Sandhya with this request.
"The rest was all a dream. To my surprise, Sandhya Ma'am along with the entire team made the children's dream a reality," Latha wrote.