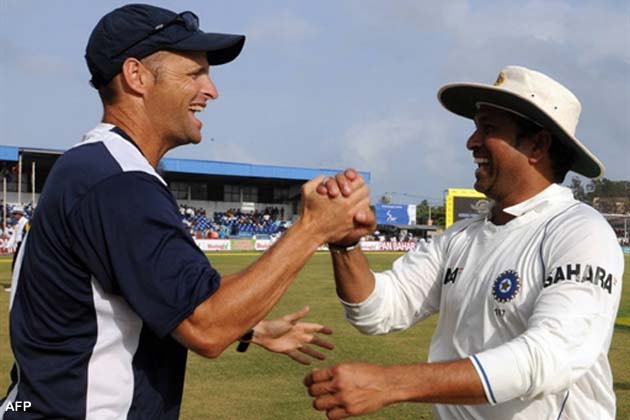 New Delhi: Ten years after India began its affair with an overseas coach, which transpired in November 2000 with the New Zealander John Wright making his international coaching debut in Dhaka, an abhorrent experiment in the Indian context has become a precedent. But it was Wright's way of fostering a young team that the incumbent Gary Kirsten chose to use as a foundation to help an incensed unit forget its tryst with Greg Chappell and become champions.
A striking parallel is easily discernible in the way Wright and Kirsten went about their job. Both were quick to establish the Indian public's penchant for cricket and understood that it's not just a game but a religion for them. Add to that, Wright and Kirsten's fondness to stay in the background and a success potion was ready to be served.
Sandwiched between the Wright and Kirsten eras were two conflict-ridden years with the Australian legend Greg Chappell who refused to accept Wright's legacy and wanted to be a headmaster. Eventually, a coaching stint turned into a smear campaign after the 2007 World Cup debacle in the Caribbean, leading to his culpable exit.
During the period following Chappell's resignation and preceding Kirsten's appointment came the surprise victory in the Twenty20 World Cup in South Africa. The team – managed by Lalchand Rajput – was not only without a coach but also without the services of Sachin Tendulkar, Sourav Ganguly and Rahul Dravid, who opted out of the ultra-limited format to allow youngsters a look in.
A young brigade, led by a charismatic individual in Mahendra Singh Dhoni, did the unthinkable and the Ranchi lad's theory of 'no-fear' cricket and throwing youngsters in the line of fire was not only an instant hit but brought extraordinary results, the first of which was the World Twenty20 crown.
But the melancholy after Chappell's ignominious removal still persisted and the Indian team was in urgent need of a spirited coach, one with the king-making traits and a level head like John Wright and an expertise comparable to Greg Chappell. Subsequently, the BCCI put up hasty advertisements inviting applications and in that haste, Graham Ford was named the new coach, who turned down the offer later and left the Indian Board red-faced.
It won't be wrong to admit that Kirsten's name emerged out of the blue. But as soon as it cropped up, it didn't take time for the BCCI to get consents and consensus and the South African was perched at the most enviable but challenging job in world cricket.
If we allow the Chappell era to hit the sack, a comparison between Wright and Kirsten would be the best way to analyse how Team India evolved, right from the ground-breaking Ganguly-Wright combo to a toned up Kumble/Dhoni-Kirsten partnership.
Wright enjoyed a successful coaching career with India, from 2000 to 2005, soon after Sachin Tendulkar gave up captaincy and the reign fell in the hands of Sourav Ganguly. With the team looking to come out of match-fixing allegations and youngsters like Yuvraj Singh, Zaheer Khan and Harbhajan Singh trying to find their mark, it was a rebuilding phase for India.
But Ganguly and Wright immediately struck a chord and while the former embedded that missing killer instinct in his boys, the latter chalked out a blueprint of taking India to the peaks it has been able to scale now under Dhoni and Kirsten.
Many famous Indian wins – including coming back from a follow-on to win the Kolkata Test against the 'then invincible' Australia, drawing Steve Waugh's swan-song Test series 1-1 in Australia, winning the Natwest trophy in England and reaching the 2003 World Cup Final in South Africa – were all shepherded by Wright's astuteness and Ganguly's aggression.
But after the 2003 World Cup, the team experienced a dip in form and subsequently Wright's replacement was sought.
Kirsten shook hand with the team – led by Anil Kumble in Tests and Dhoni in ODIs and T20s – Down Under soon after the Sydney 'monkeygate' and helped the team script a dramatic turnaround victory in Perth.
Though Kirsten started as a tyro – trying to get a hang of the world's most difficult cricket assignment – his camaraderie with Kumble, Dhoni and the rest of team was immediately evident. The Protean didn't break a sweat to fathom how to handle a team of demi-Gods and like Wright, knew when to intervene and when to stay put and allow his players take charge.
I think where both Wright and Kirsten scored over a much more experienced Chappell was in their man-management skills, as you can't teach Sachin Tendulkar how to play a cover drive or ask Rahul Dravid to correct his defence. It's more about telling them about their role in the team, which is what Wright and Kirsten did, especially in the ODIs that have seen the back of Ganguly, Dravid and VVS Laxman and influx of youngsters since Kirsten took over.
Drawing his first full series as coach 1-1 against his home country South Africa in March-April 2008, winning the Asia Cup and Border-Gavaskar trophy and India's first bilateral ODI series victory against Sri Lanka in Sri Lanka and against New Zealand in New Zealand after 40 years are the most notable bullet points in Kirsten's resume.
Kirsten's contract ends with the World Cup in February-March 2011 but the Indian players haven't minced words in letting the BCCI know that the South African still has a role to play. And with South Africa making their intentions of roping in Kirsten clear, the Protean – who has virtually embedded an Indian within him – may feel a pull between leaving a team he helped become No. 1 in Tests and a call from his motherland.
Though the past decade – which saw two out of three foreigners meet unprecedented success – may have settled the score in favour of expats as Team India coach, a World Cup victory would be an absolute clincher.