New Delhi: BCCI member and Indian Premier League chairman Rajeev Shukla made a faux pas while congratulating the Indian women's team after the 'Women in Blue' stunned Australia to reach the final of the ICC Women's World Cup on Thursday.
Riding on Harmanpreet Kaur's scintillating 171* off 115 deliveries, India crushed the defending champions by 36 runs to reach only their second final in the competitions history. The entire nation erupted in joy and started wishing the women team on social media.
Shukla too joined the bandwagon in congratulating the team but he erred in doing so. Shukla's post read: "Congratulations to @BCCIWomen team for making it into the Champions Trophy Final by beating Australia. Great knock by @imharmanpreet.
However, after realising his mistake, Shukla quickly deleted his post and sent out a series of new tweets appreciating the Indian team.
Congrats @BCCIWomen cricket team for the comprehensive victory against Australia #WomensWorldCup2017 . Well played @ImHarmanpreet

— Rajeev Shukla (@ShuklaRajiv) July 20, 2017
Best Wishes to @BCCIWomen cricket team for the #WomensWorldCup2017 final match. A defining moment for Indian Cricket @M_Raj03 #BCCI

— Rajeev Shukla (@ShuklaRajiv) July 20, 2017
This is not the first time that something like this has happened as earlier, Indian cricket captain Virat Kohli posted a photograph of Indian women's team opener Punam Raut while congratulating women's cricket team captain Mithali Raj for becoming the first woman to breach the 6000-run mark in ODI cricket.
Kohli posted: "A great moment for Indian Cricket, @M_Raj03 becomes the highest run scorer in Women's ODI Cricket History today. Champion Stuff!" alongside an image of an India women's player in action.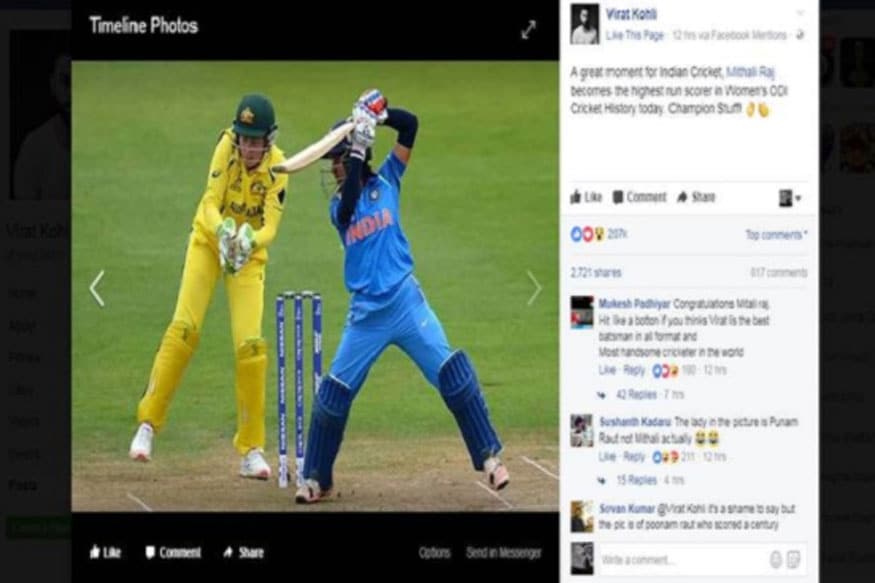 (Courtesy: Virat Kohli Facebook Page)
That woman cricketer was not Mithali Raj, but her teammate Punam Raut, who scored a brilliant century against Australia but her efforts went in vain as the India went down by 8 wickets in an ICC Women's World Cup match.