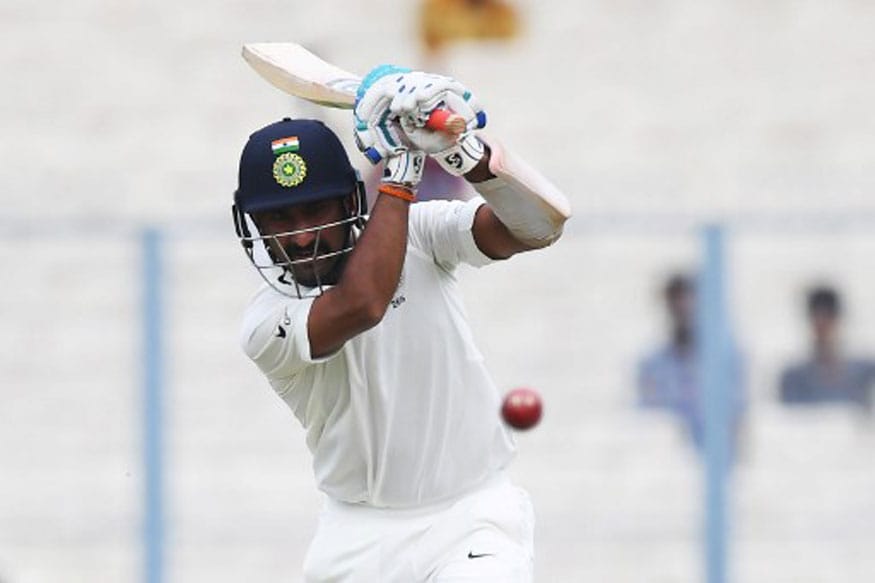 New Delhi: The charm of Test batsmanship is not in bang-bang big strokes that are the staple of limited overs cricket. Rather, this lies in the ability of the batsman to overcome grim situations, using skill, imagination and mental toughness.
Only Cheteshwar Pujara among the specialist batsmen emerged with credit from India's first innings collapse at the Eden Gardens. In fact, he raised his stock in international cricket a couple of notches for the high level of technical proficiency and concentration he showed.
Pujara adapted superbly to counter difficulties posed by overcast conditions and a spiteful pitch. Head right over the balls pitched full, or going back and across swiftly when bowlers pitched short, playing late all times to make last minute adjustments.
He may have made only 52, but it was a masterpiece from Pujara. When conditions and circumstances favour bowlers, defence and vigilance carry more value than low-percentage aggression. In sport, as in life, vainglory can leave one badly bruised.
India's collapse in the first innings against Sri Lanka was as unedifying as it was unexpected. Almost every pundit predicted a cakewalk for Virat Kohli & Co in the three-match series, but the first round of the battle hardly went to script.
The top order appeared as resilient as papadum as the innings hobbled precariously on the first and second days. Play on both days was truncated because of inclement weather, which was just as well, for the batsmen were struggling badly.
Mind you, batting wasn't easy on the first couple of days. Overcast conditions helped swing bowlers and the pitch provided considerable seam movement too. This would have tested the best.
Barring Pujara, however, none from the top order showed ability to negotiate through difficult passages of play. True, some deliveries that got wickets were unplayable, but there were some loose shots too suggesting some unwarranted overconfidence.
India have been on a roll in the past couple of years (in all formats) and only recently thrashed Sri Lanka 3-0 in a Test series. Perhaps the strategy was to bulldoze the opponents, aim to win through intimidation, but in hostile conditions for batting, this backfired.
I would desist, however, from being overly critical based on one bad performance, with the caveat that something positive is drawn from it. Even the occasional setback must be used as opportunity for major learning.
All told, the first innings debacle at the Eden Gardens does throw up some searching questions about India's top order in bowler-friendly conditions. This is important because most of India's engagements after the current series against Sri Lanka will be overseas.
Come January is the tour of South Africa, in mid-1918 the team goes to England and the tour of Australia comes up by the end of next-year. Each of these assignments carry a difficulty quotient which the players and team management can't be unaware of.
India lost the Test series when they last toured these three countries, adding to the belief that outside of the sub-continent, the prowess of India's players – so wonderfully expressed at home -- gets considerably diminished.
Whether the problem is of ability or mindset or a combination of the two, this is a major hurdle to be overcome. And particularly now, when India are ranked no.1 by the ICC. Protecting this position will be impossible if the overseas Test series in 2018 are lost.
But it is not just about rankings alone. The more pertinent aspect, in my opinion, is that India have never won a Test series in South Africa or Australia. Never. The upcoming series affords a magnificent opportunity to correct this imbalance.
I'd go further and say that if Kohli and Co win the Test series in either of these two countries, the team will rate as the best-ever from India. That's a mighty laurel to aspire to, and requires players to be at their best – technically, temperamentally and in ambition.
But that's in the future. For the present, there's the ongoing Test at the Eden Gardens to salvage.