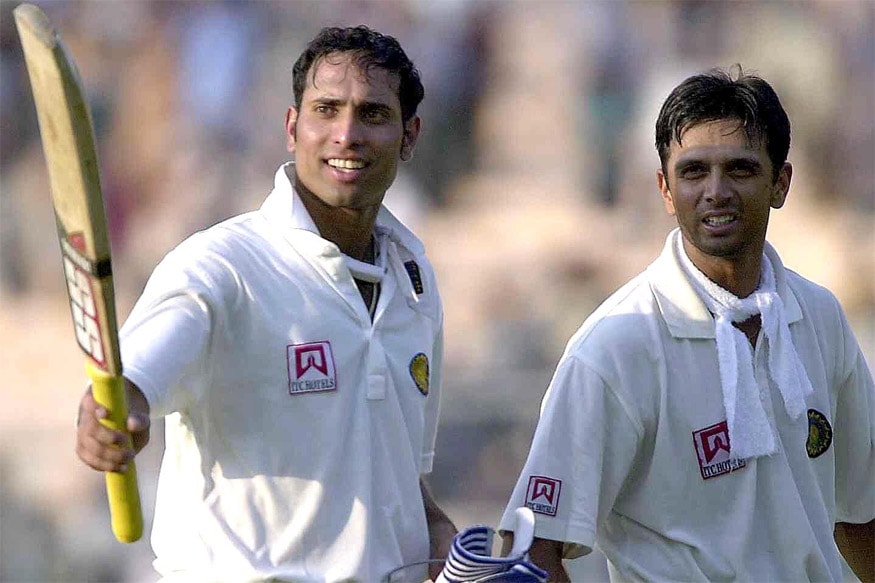 India started playing Test cricket in June 1932. They lost that match against England by 158 runs. While CK Nayudu's side won the respect of the spectators with their skills against an impressive English side - just to remind our listeners, these were the Bodyline guys, including Douglas Jardine, but minus Harold Larwood -  they eventually fell short of their target of 346 in the fourth innings. I guess we never did tour England well. Even during times when a Sunday was a rest day, and the matches would resume on Monday. Some reports said the Indian players unfortunately weren't fit enough for that tour. It would take 20 years for India to achieve their first win in Test cricket. That victory came against England in February 1952 in Chennai.
Since June 1932, India have played a total of 529 Test matches. We have won 148 matches and lost 164. That's right, we still have more losses than victories. India have also drawn 216 Tests. we've drawn a whopping 40% of the matches played, with a win percentage of around 27%. In comparison, Australia have won ~47% of the 814 Tests they have played; England have won around 35% of their 1004 Test matches. The West Indies have a win percentage of just over 31%. What about Pakistan, you ask? 32.37%.
Indian cricket has come a long way from those early days. The diffidence of the olden days has been replaced by a combativeness that is, dare I say, refreshing. And a lot of that can be traced to one man's captaincy. You know whom I'm talking about. Sourav Ganguly.
In the wake of the match-fixing scandal in the year 2000, which led to huge turmoil in Indian cricket, Sachin Tendulkar declined the role of captain. Vice-captain Ganguly was promoted to captain, making that one of the smartest decisions by a cricket board that is not famous for good decisions. Ganguly's tenure as captain, from 2000 to 2005, saw a massive change in the Indian cricket team's culture, attitudes and playing styles. Steve Waugh, a dyed-in-the-wool Australian cricketer if there ever was one, would later say about his counterpart, "Ganguly was the first captain that changed the perception of the way India played their cricket. Now, there is not much difference between the Indian and Australian teams." Waugh would know better than most. After all, he was at the receiving end of Dada's mind games on many occasions.   
It is not surprising then that one of India's greatest Test match wins, if not the greatest, came under such an astute and driven captain. India's win over Australia in the second Test at Kolkata in 2001 will always remain a watershed moment. Bundled out in the first innings by a champion side that had 16 consecutive Test match wins under their belt, then asked to follow on, India carved a memorable, character-building win that set the tone for the future. It also led to an entire generation of Test cricket captains giving up on the idea of follow ons.
Today, we will revisit those five days of the very best Test cricket had to offer.
Setting the stage
March 11, 2001.
On the eve of the second Test, one could surmise that Australia's tour of India was going well. Steve Waugh, looking for a series win in his 'final frontier', had drawn first blood.  Australia had crushed India within three days in the first Test at the Wankhede Stadium in Mumbai. It was a record consecutive 16th win, and the 18 consecutive wins they were aiming for looked comfortably within reach. India changed their bowling after the thrashing in Mumbai. Ajit Agarkar and Javagal Srinath were replaced by Zaheer Khan and Venkatesh Prasad. Venkatapathy Raju was drafted in as the second spinner in place of Rahul Sanghvi, who debuted in the Mumbai game.
Here's an interesting factoid for fans of cricket trivia: Sanghvi's debut Test was his only Test appearance. 49 of the 294 cricketers who played Test cricket for India have appeared in just one match. Meaning, approximately one in six Indian cricketers does not get a second Test match.
Test cricket can be quite unforgiving.
And the Australians were the undisputed kings of this unforgiving sport in 2001.
Steve Waugh won the toss in Kolkata, and chose to bat first. Australia had terrific opening batsmen - Michael Slater, and the imposing Matthew Hayden. India's medium pace bowling attack, with Zaheer Khan and Venkatesh Prasad, posed no real threat to the opening pair who made 103 runs in around 28 overs. Zaheer finally broke that partnership after Slater nicked one back to keeper Nayan Mongia. But there was to be no respite. Justin Langer walked in and added 90 runs for the second wicket with Hayden in just 26 overs.
Matthew Hayden was in particularly good form. The tall left-hander had scored a century in the first Test and looked set for another in Kolkata. However, on the cusp of his second century fo the tour, Haydos holed out to Hemang Badani off an innocuous off-spinner from Harbhajan Singh. His assertive 97 runs included three sixes and 14 boundaries. Typical Matthew Hayden there. His wicket then led to a mini collapse. From 193/2 in the 54th over, Australia were reduced to 269/8 by the 79th over, thanks to some canny bowling by Harbhajan. He got rid of Mark Waugh, who was yet to find form in the series. He also claimed the wickets of Ricky Ponting and Adam Gilchrist in two consecutive deliveries. GIlchrist had scored a dominating century in Mumbai that turned the match in Australia's favor. Ganguly recalled many years later, "I still remember the innings Adam Gilchrist played in Mumbai. That was the best knock I have seen on a tuning pitch. It turned, it bounced and he smashed everything." In Kolkata, Bhajji had him lbw first ball.  The very next ball, he claimed Shane Warne's wicket as well. The Australian spinner was caught plumb in front of the wicket. Harbhajan became the first Indian bowler to claim a hattrick in Test cricket.
Harbhajan said, "I was thinking...am I dreaming or what?...I had never taken five wickets in a Test match. I had not played for India in one and a half years, and it was my comeback series…"
It was perhaps a portent of the things to come.
India must have fancied their chances at that point, perhaps even thinking they could get the Aussies for under 300.  But Australia weren't done just yet. They had a habit of fighting back from seemingly impossible situations. Steve Waugh, all ruthlessness and steely determined, was still at the crease. Tugga was in the form of his life, and an old hand at rescuing his side's batting. Four months later, he would make 157 in the fourth Ashes test at Headingley, nursing an injury that would eventually require treatment for Deep Vein Thrombosis. The man's will to win was legendary.
Waugh was joined by Jason Gillespie with Australia at 269/8. They partnership first frustrated India till the end of play on day one. Day two saw Waugh and Gillespie bring up the 300 in the 95th over. Gillespie played his best ever Test match innings (until then) in the company of his captain who had hunkered down for a characteristically gritty innings. Waught scored 50 off 119 balls. None of India's bowlers were able to break through and, by lunch on day two, Australia were comfortably placed at 383/8. After batting together for 45 overs, their partnership was finally broken by Harbhajan. Gillespie had rescued Australia, scoring 46 from 147 balls, one of the greatest Test batting performances by a bowler. With 402 on the board, Glenn McGrath, walked out to the crease. Day two was going so badly for India that even McGrath, a man who could give New Zealand's Chris Martin competition for the role of the most ungainly tailender ever (Mohammed Shami is clearly targeting Martin's leadership in this regard), also scored 21 off 28 balls. Meanwhile, Steve Waugh brought up his 25th Test century in yet another rescue act that helped Australia reach a formidable total of 445. He finally fell to Harbhajan, declared lbw on 110. Bhajji had taken 7 of the 10 Australian wickets in the first innings.
India's inner demons
India's first innings got off to a terrible, but not entirely unexpected, start. Sadagoppan Ramesh fell for a duck off the third ball of the first over, nicking a Jason Gillespie outswinger to Ponting in the slips. India were 0/1 after chasing leather all morning. Would the Australian bowling run rampant once again?
Rahul Dravid joined Shiv Sunder Das at the crease. (For those wondering why VIrender Sehwag didn't open the batting, Sehwag would make his Test debut eight months later in November.) Dravid's arrival brought some calm to the proceedings after the initial anxiety attack. But that would prove to be short lived. In the 13th over, with the score on 34, Das is caught behind off Glenn McGrath. Next in was Sachin Tendulkar. Usually, Tendulkar and Dravid at the crease makes for comfortable viewing for Indian fans, in some cases even a drab steadiness that had pulled India out of many sticky situations. Sachin had scored 76 and 65 in the previous match and looked good for a big score in Kolkata. And the situation was tailor-made for him. Dravid, who had looked scratchy in Mumbai, was due a proper Rahul Dravid innings.
Both failed. Six overs after Das's wicket, McGrath get Tendulkar out lbw for just 10. Ganguly walks out with the score at 48/3. India look tentative and fans prepare for a redux of the Mumbai thumping. Ganguly and Dravid scratch together a 40-run partnership before Dravid falls for 25. Worryingly, Rahul is outfoxed and bowled by Shane Warne after a less than fluent stint on the pitch. The old fears were now surfacing for India - all the opposition had to do was raise their game for one session and India would just fold. VVS Laxman, who averaged 27 in Test cricket, joined Ganguly at the crease. The 167 in Sydney the previous year seems a far cry, considering he had less than 50 runs from the two innings in Mumbai. Ganguly loses his wicket four balls later, and at 88/4, India looked done and dusted. Nayan Mongia came to the crease. I recall many fans doing that thing us Indians do...reminding ourselves that Mongia had scored a century against Australia four years prior...Mongia lasted four balls. 92/6. India now needed teh tail to wag. Which, of course, it did not. Harbhajan departed four overs later. 97/7. Zaheer Khan comes out to bat and manages to work with Laxman for a full five overs until he was clean bowled by McGrath. Venkatapathy Raju has a similar turn with the bat, lasting four overs. India were 129/9 when last man Venkatesh Prasad walks out to the crease. All the while,
Laxman looked in good touch at the other end, the only Indian batsman who seems untroubled by Australia's bowling.
Prasad batted 47 balls, giving company to Laxman who was scoring more freely. VVS brought up his 50 in 67 balls on the morning of day three. He was eventually caught by Matthew Hayden off Shane Warne, finishing with 59 in 83 balls. India were all out for 171. The last pair had a partnership of 42 runs, the highest in the Indian innings.
The home team were 274 runs short of the Australian total. Their confidence was shot. Steve Waugh, the man who could do no wrong, enforced the follow on.
There they go again
Kapil Dev had once said, "Cricket is very simple... you play till you can sustain." That was pretty much what was on the minds of India's batsmen on that hot day in Kolkata, I suppose. Sustain. Stay the distance.
The batsmen, low on confidence and faced with a rampaging bowling attack that wanted a second go at the line up they had just routed, needed to dig deep and find a way through. The openers, Ramesh and Das, weathered the tumult of the opening spell and held things together till lunch to get India to 45 without the loss of a wicket.
After lunch, Australia's bowlers looked determined to wrap things up quickly. In the fifth over after the break, Ramesh fell to the bowling of Warne after scoring 30 runs. And the jitters were back. Something needed to change if India had to have any hope of salvaging the Test and not slumping to another defeat. Coach John Wright suggested sending VVS Laxman, the top scorer in the first innings, in at number three instead of Rahul Dravid. Sourav Ganguly concurred, and Laxman was promoted ahead of Rahul Dravid.
That move steadied the innings for a while. Laxman continued his form from the morning, scoring without much trouble. The other batsmen were a lot less comfortable. The other opener, Das, fell on 39 in embarrassing fashion. Batting on the back foot, he got out hit wicket, bringing an otherwise steady stint at the crease to an ignominious end.  Two down for 97. Out came Tendulkar, with a situation that demanded the best out of the best batsman in the Indian team. He lasted six overs before getting caught behind off Gillespie's bowling. Australia had pried out Tendulkar's wicket for just 10 runs in each of the innings. You could smell the fear in the Indian dressing room at this point.
Looking back at the match, Gillespie told ESPNCricinfo, "...having forced them to follow on, we felt we had won the game, having picked up early wickets during their second innings."
With Tendulkar gone, defeat looked imminent. Dravid wasn't in form, heck, he'd been demoted in favor of Laxman. Ganguly wasn't in great nick either. With the score at 115/3, India still trailed Australia by 159 runs, let alone make them bat again. They were staring at an innings defeat.
India needed someone to partner Laxman who looked fluent and was holding down on end of the batting. Captain Sourav Ganguly strode out to the middle and took the fight to the opposition. He partnered with VVS to take India to Tea with the score reading 122/3. The two then added 117 runs for the fourth wicket, looking confident and striking the ball clean. One got the feeling India might just turn this one around. But fortunes shifted once again.
McGrath had Ganguly caught behind for 48. It was a classic McGrath dismissal - the ball bowled in that channel outside off stump with metronomic regularity eventually found the edge of Ganguly's bat. Despite a fighting innings from the captain, India still needed 42 runs to level with Australia's score, with four batsmen back in the pavilion.
Redemption
At around 4pm on March 13th, day three of the Kolkata Test, Rahul Dravid walked out into the blazing hot cauldron that was the Eden Gardens. It was the 67th over of India's second innings. After a humiliating loss in Mumbai, and questions about his own performance, being demoted from number 3 to number 6 in the second innings, Dravid was under pressure.
His partner at the other end, VVS Laxman, had just scored a sublime century, as if batting on an entirely different pitch and facing a much easier bowling attack. His 100 came in just 166 balls as the rest of the batting barely held together. It looked like the Australian bowlers, save for Jason Gillespie, had given up trying to get Laxman out. Even Shane Warne was made to look ordinary. Laxman repeatedly stepped inside the line of the ball, driving the leg-spinner out through the cover region! Warne spoke about Laxman's innings, saying, "He was hitting the same ball through cover or whipping it through midwicket." Talk about audacity. Glenn McGrath, the consummate line-and-length bowler, shrugged his shoulders and went about targeting the other batsmen.
The next morning, Laxman began where he left off, scoring easily and settling into a good rhythm. On the other hand, Dravid doggedly scratched around, scoring just 9 runs from his first 50 deliveries. Seven of those had come the previous evening in 27 deliveries. Had Rahul gone into one of his shells again, delaying the inevitable?
Peter Willey, one of the umpires in the match, was part of the England team that had pulled off the impossible in 1981 at Headingley, defending 130 against Australia. He said, "On the fourth morning the new ball was due. We thought we could be finished by the next morning. As an umpire, if a team is forced to follow-on, you want to get a day free ideally. But that was not to be the case."
From ball number 50 to 100, Dravid then scored 33 runs. No reclusive shell thing happening here. Day four of that Test would change Indian cricket permanently. It is the reason all Indian cricket fans talk about "the Kolkata Test". The Wall had dug in for a fight, and he had a man in great form at the other end who was steering the innings masterfully.
Gillespie recalled, "Dravid and Laxman together, we knew they were very good players, but we thought if we kept at them, they wouldn't be able to deal with the pressure. But they counterattacked perfectly. I remember Dravid just playing in the V with a very straight bat and providing wonderful support to Laxman. It was a wonderful piece of batting from both players and we could not dislodge them."
India overhauled the lead of 274 and reached 300 in the 90th over. How much of a lead can the two manage? Will they be able to hold Australia off till tea? Laxman was in no mood to relent. He cut, drove and slashed his way to 150, raising the hopes for a team that was almost down for the count. It was dazzling stroke play, aggressive but silken smooth. Steve Waugh said Sachin himself could not have played better that that. Indeed, many years later, Sachin would compare his own legendary knock in Sharjah, a certain Desert Storm, to Laxman's Kolkata innings.
The overs came and went, and the bowlers changed, but Laxman and Dravid kept going. The 350 came in the 97th over. Dravid brought up his own half century in 121 balls. India went into lunch on day four at 376/4, with VVS on 171 and Dravid on 50. From an innings defeat, thoughts had now shifted to fancying a face-saving draw. Six overs later, the 400 came up. The two batsmen were scoring at a fair clip by this time. And the Australians began to look a bit worried. But Laxman was unstoppable. He reached 200 in the second session of day four. It could not have come at a better time for India. Seven runs later, he went past the previous highest individual score by an Indian batsman against Australia- Ravi Shastri's 206 in 1992.
India kept scoring runs, reaching 450 in 124 overs. Rahul Dravid, the go-to man for India in troublesome situations, had once again proved his mettle, digging India out of a hole. His ninth test century - a hard fought 100 scored in 205 balls - would catapult him into the highest league of Test cricket batting. His partnership with Laxman was taking India away from a humiliating loss towards a very unexpected victory. India go to tea with 491 on the scoreboard. Laxman was 227 not out, and Dravid was on 106.
That tea break was the only respite for Australia that afternoon. They were back on the field a few minutes later and resumed chasing leather. The 500 came up four over after the break. Things were looking ominous for Steve Waugh and Australia now. But the bowlers had no answers for the predicament. Warne recalled, "...their concentration in that innings was superb. We gave them everything. They were unbelievable - that partnership was as good a partnership as there has ever been in the game….And I was actually bowling well."
Laxman went past 236, the highest individual score for an Indian batsman in Test cricket until that time, scored by one Sunil Gavaskar in 1983. He was batting with supreme ease, bringing up the 250 in 392 balls. Dravid brought up his 250. Meanwhile, the team had another problem. Laxman's and Dravid's health. The Kolkata heat and humidity were taking a toll and the batsmen were cramping. Also, Laxman's back was an issue. What most didn't know at the time was that Laxman had a bad back. Zaheer Khan, who shared a room with him, said, "He played that match with back spasms. Throughout the Test he slept on the floor because of his back. His disc was tilted to one side. Everyone could see that he could not stand straight. In tough situations he would somehow find an extra focus, a determination to do well."
Physio Andrew Leipus recalls, "He was 'listed over', meaning shoulders are not above (the) pelvis, they are off to one side...Before play, at lunch, tea and in the evenings we would do manual therapy. Through it all his smile never disappeared."
India ended the day on 589/4. Laxman finished a full day of batting unbeaten on 275, within striking distance of becoming India's first Test batsman to score 300. Dravid had redeemed himself, and the Indian team, scoring a determined 155 not out. Together, they had given India a lead of 315 runs on day four. Steve Waugh was at a loss for ideas. He even turned to part time bowlers like Matthew Hayden and Ricky Ponting, hoping they'd have some luck on the day. It was not to be. Gillespie recalled, "Steve Waugh threw the ball to every possible player except himself and Gilly. Michael Slater bowled...I hadn't seen Matty Hayden bowl in the nets for years and all of a sudden he is bowling in a Test match. I suppose that gives you an indication of how much we were struggling: Matty Hayden and Justin Langer had to come up and bowl." .
It was a dominating performance that turned around India's self belief.
At the end of day four, Sourav Ganguly recalls, "...we had to put saline on Dravid and VVS. There were 2 physio tables and both of them were on the tables, getting some water into the body. They got dehydrated batting in the month of March."
On day five, Laxman added six runs to his overnight score, finishing at 281. It would remain the highest individual score for an Indian Test batsman until Sehwag's triple century years later. When Laxman got out, the score read 608/5. When Dravid had joined Laxman on day three, the score was 232/4. Dravid was run out at 180 and Ganguly declared India's innings at 657/7.
Triumph
Australia were faced with a target of 384 on the final day. Any other team would have settled for a draw. But not this one. They were capable of chasing it down, even if it seemed improbable. And they began in earnest. Michael Slater and Matthew Hayden flayed India's bowlers, scoring 74 in 24 overs. In the 27th over, as the score read 107/2, Tony Greig in the commentary box wondered if they the Aussies were going for the win. With Waugh, Ponting and Gilchrist still to bat, anything was possible.
Venkatapathy Raju got rid of Mark Waugh but Steve Waugh soldiered on with Matthew Hayden for company. The tenacious Australian captain fell for 24 with the score on 166, allowing India to start thinking of victory. Harbhajan has Ponting lbw in the same over and Tendulkar claimed the wicket of Adam GIlchrist three balls later. GIlchrist had first-ball ducks in both innings.
It now fell to Hayden and Shane Warne to stave off a spectacular defeat. That was not to be. Tendulkar trapped Hayden lbw two overs later, and Warne another two overs after that. Jason Gillespie would not repeat the heroics of the first innings, and at 191/9, Australia's resistance was all but gone. Michael Kasprowicz and Glenn McGrath fended off Harbhajan's bowling for around nine overs, but McGrath eventually got out lbw to the wily off spinner.
Australia were all out for 212. They had lost the last eight wickets for 106 runs.
India had followed-on and won the second Test by 171 runs. It was impossible turnaround from just two days prior. They had ended the glorious run of a champion team. And it was all done on the back of three fantastic performances - Laxman's 281, which won him the Man of the Match award; Dravid's 180; and Harbhajan's 13 wickets in the match, including 6 wickets on day five.
But what will be remembered down the ages is the fightback, and that special 281. As VVS Laxman himself put it, "It changed our mindset as a team. It instilled in us the belief that we must never give up... (the) 281 altered the cricket world's perception of India."
Australia's coach on that tour, John Buchanan, told ESPNCricinfo, "In the end he broke the back of that Australian attack, and in a sense he broke the will of the team not only to forge a win but also to secure a draw."
Ricky Ponting recalled, "Rahul Dravid played the perfect counterpoint innings to Laxman, and his contribution should not be forgotten. Steve Waugh threw me the ball at one point and to this day I still think I had Rahul lbw. It was not my day!"
The Kolkata Test changed the way India would play cricket henceforth. As Laxman said, "During my career, the team was to be in such situations many times later, including in Adelaide in 2003-04. We remembered what happened in Kolkata, and the rest, as they say, is history."
The same team would go on to have other famous wins - in Adelaide, in Multan, in the West Indies, in New Zealand etc. India's batting order would go on to what many consider the golden age of India as a touring test side. Their team culture, and desire for success, is the DNA of today's Indian cricket that hungers for success.
The Kolkata Test of 2001 is the stuff of cricket fairytales. If you ever wanted an example of the romance of cricket, this is one of the prime contenders. A mighty opponent to bring out the best in the protagonists who are aching for glory. A loss in the previous test that shook the Indian team's confidence. A shaky start and capitulation before the mighty opponent. A fortuitous decision that led to redemption and, eventually, triumph that would transform the way India watched and played cricket.