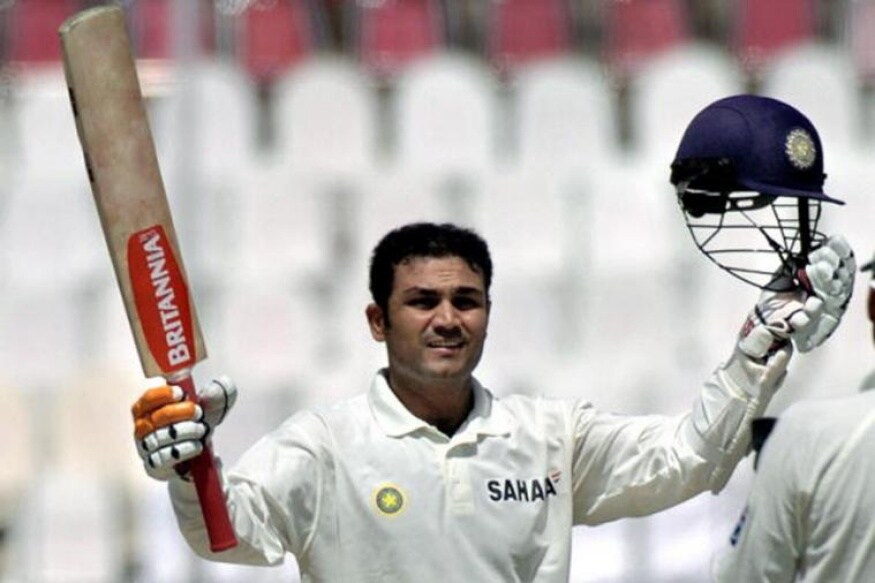 Historically, the Indian cricket team has travelled poorly. For the longest time, the first aim of the Indian cricket team was to see if they could avoid defeat. Every draw they could manage abroad was something very much like a victory. If one takes away Wadekar's 1971 team, which made the whole of India dream - briefly - of world domination, the tours abroad had followed a pattern where the team lost the first Test and hence the initiative, and then went on to lose more Tests, or at least the series!
With Sourav Ganguly coming in as captain, there was a perceptible difference in the attitude of the team, and the desire to win abroad was evident. And there was the expectation that things would change.
The tour to Pakistan in 2004 went a long way in taking this forward.
This tour was different in many ways. For one thing, there were no drawn matches. But even before that, coming as the tour did in the wake of an attempt on Pakistan President Musharraf's life, the already assumed tension was increased, almost palpable.
India was coming into this series from a tour to Australia where the Test series was a moral victory. For one, the four-Test series was drawn 1-1 and it could reasonably be argued that they should have had the fourth Test too, if only some of the LBW decisions had gone favourably. Anyway.... the point is that virtually the entire team was coming to Pakistan on a high. Rahul Dravid had scored a wonderful double century in, as often, a winning cause; Tendulkar too had scored a Double C, in the final Test, in a curious innings that saw him cut out virtually all offside play.
In the high-scoring one-day series preceding the Tests in Pakistan, India had prevailed 3-2, with everyone contributing, preparing the ground for an absorbing series. And India couldn't have dreamt of a better start to a series abroad, with a devastating batting performance straight out.
On the morning of March 28, 2004, Ganguly found himself unfit. Stand-in captain Dravid won the toss, and promptly chose to bat on a wicket prepared to yield runs. The innings started sedately, with Akash Chopra playing off a maiden from Shoaib Akhtar. Virender Sehwag played three deliveries before clipping Mohammed Sami off his legs for the first runs and boundary.
While Chopra expectedly began to meditate at one end, Sehwag started off in blistering fashion, outscoring Chopra 4:1. As Shoaib Akhtar steamed in and bowled his 90 mph thunderbolts, Sehwag kept sending them to the boundary at the same pace. Sehwag reached his fifty off 60 balls with 9 fours and a six. In comparison, Chopra was on a patient 14 at the other end, having played five more balls than Sehwag.
If Sehwag proceeded this way, there was surely going to be mayhem. And then, Pakistan made their first costly mistake. With the score on 95, Sehwag swung Saqlain Mushtaq to leg, and Sami put down a sitter at midwicket. Eleven runs later came costly mistake No 2, as Sehwag clipped Akhtar off his legs and was dropped at wide mid on. Not that Sehwag was perturbed. The next over, he swung Saqlain over midwicket for a six. It wasn't long before he uppercut Shoaib Akhtar for a six to reach his century. It was his sixth Test century and his fourth outside India.
As the situation threatened to turn desperate, Pakistan struck through Saqlain, when Chopra turned the ball straight into forward short leg. In came Dravid, straight off a terrific Australia tour, and promptly cut Saqlain to the boundary. But he went on to play an ill-advised hook off Sami from outside the off stump and the ball lobbed up to Yasir Hameed at backward square for an easy catch. That set the stage for Tendulkar, and what was to be an epic partnership. Not that India was new to epic partnerships, with the most epic of them, the one between Laxman and Dravid at Kolkata, having had a pivotal role in the rejuvenation of Indian cricket. At the crease now, at Multan, were two of destiny's children, both capable of putting a bowling attack to the sword.
Tendulkar, very much like Dravid, started off with a boundary, glancing the ball fine. But it was clearly the Sehwag show, the avowed student very much being the master. Again and again, the bat came down smoothly in a beautiful arc from the high backlift, meeting the ball at the ideal point and the correct moment, as boundaries continued on either side of the wicket. The ominousness of Sehwag for Pakistan – and the good omen for India fans – came through the breathtaking shot with which he reached his 150. Shoaib Akhtar, bowling his heart out, belted out another thunderbolt short of a good length, and Sehwag, standing tall on his toes, played a punch off the backfoot that saw the bowler move aside for it to scream through to the straight boundary. 151 off 151, with Sehwag actually improving his strike rate to around hundred.
Tendulkar meanwhile was getting well into the groove, cutting, pulling, driving. One sometimes felt even a strange monotony watching this batting display, with both batsmen, similar in many ways, being completely at ease with the bowling and sending the ball regularly to the boundary. Boring!!
But, really! This was a rare treat for the India fan – an Indian Test team playing two consecutive series abroad at a level never seen before in decades!
Sehwag's double hundred, his first of many in Tests, was by now a foregone conclusion, and duly arrived when he pushed a ball behind square on the leg side for a two. 201 off 222, with 26 fours and five sixes – two-thirds of his runs coming through boundaries. India at 296 for 2, with Sehwag scoring two-thirds of the runs.
By now, Tendulkar was very much settled, with two exquisite cover drives demonstrating his form and intent. By now, Pakistan was also much settled, waiting for either of the batsmen to make a mistake to capitalize on. Not happening, though! It was, rather, a matter of counting the milestones. Tendulkar, a musing 50 off 112 balls with a more reasonable seven fours. Followed by Sehwag 221, the highest Indian Test score in Pakistan, beating Sanjay Manjrekar's score in 1989 during his phenomenal series, which was also Tendulkar's debut series. Sehwag played on, showing hardly a hint of tiredness and reaching his 250 off 299 balls.
With the Test being just over a day old, excitement was now building over the possibility of India's first Test 300. Hearts raced across the country, fingers were crossed, fingernails were chewed, prayers were muttered, pujas were done at homes and temples – another possible milestone, as India's magical journey continued.
New ball, old ball, nothing made a difference, as Tendulkar reached his 33rd Test hundred with another typical turn to leg. Sehwag was on 274, just shy of the highest Indian Test score, when his attempted forcing shot off a Shabbir Ahmed delivery ended up as a thick edge. Mistake No 3 - with first slip reacting late, a relatively easy catch streaked off the fielder's hand for four. Not that Sehwag was fazed; he followed that by sending the next two balls to the boundary, in the process beating Laxman's 281. One of those cheering prominently was Laxman from the players' box. With people at the edge of their seats and Sehwag on 292… lunch was taken. 40 minutes of agony. Wickets often fell after a break, thought people, whether superstitious or not.
Sehwag and Tendulkar walked out after lunch, and time moved excruciatingly slowly as Tendulkar hit two fours and Sehwag inched his way to 295. One stroke away, as commentators would go. And say what, one stroke it was. Sehwag stepped out to Saqlain Mushtaq and with his trademark swing of the bat, deposited the ball well over the long on boundary. And history was made. Sehwag's first 300, India's first 300.
It is such moments that make a nation's sporting history. The celebration was typical Sehwag, a grin, a glove-punch and hug with Tendulkar, and some mid-pitch banter. All in a day's work… as if! In his recently released autobiography, Laxman has talked about how Sehwag believed even before he had played his first Test that he would be the first Indian to break 300. That was the confidence of the man who rewrote the rules of Test batting, the man the nation came to adore.
If one thought this was the most memorable moment of the Test, well, no. The drama was just beginning. Sehwag soon edged to slip, and Pakistan finally held on to one from Sehwag. Laxman's innings, which followed, was a period for spectators to relieve their tension before shifting their focus to Tendulkar.
When Yuvraj Singh came out to bat, Tendulkar was on 155 off 302 balls. When he was out on a brisk 59 off 66 balls, Tendulkar was on a tantalizing 194. The way he was batting he would get to his 200 in perhaps the next couple of overs. And then, the declaration came!! It had never happened before in Indian cricket, a declaration with a batsman on the cusp of a double hundred. It was arguably the most controversial decision ever, and emotions ran high. It has been much written about, with the 'for' argument stating that India needed to think about a win rather than individual milestones. The 'against' argument has said that Tendulkar was scoring briskly at that juncture, with a strike rate of 75-80, and wouldn't have taken more than two overs to reach the mark. India's coach at the time, John Wright too has mentioned in his book, John Wright's Indian Summers, of the tensions the decision had created and how captain Dravid proceeded to set things right.
But that was that, and Pakistan now had a handful of overs to play out, which they did. The third morning, Pakistan started positively, maintaining a good run rate, but Taufeeq Umar was out to an impressive Irfan Pathan soon after they reached. A second wicket soon after put them on the backfoot. However, a young Yasir Hameed and the experienced Inzamam Ul Haq went about putting the innings in order. In good time, they put up a 150 run partnership with the help of precise shots and elegant boundaries both sides of the wicket, neither looking remotely in trouble. Just as it looked as if Pakistan had seen through the tough patch, very much against the run of play, Inzamam Ul Haq was out to a sharp catch at forward short leg by Akash Chopra. Inzamam took an eternity to get off the ground, his demeanour suggesting he thought he had been wrongly given out. To make matters worse, Yasir, on a well-made 91 and looking good for a hundred and more, was caught behind off Pathan. Just three Tests old, Pathan was showing that Indian fast bowling was in safe hands.
The third day ended dramatically. Moin Khan had come to the crease and had scored three boundaries off a Zaheer Khan over. It was imperative that India take another wicket before close to ensure they had only the tail to mop up on Day 4. You did not want two fresh and bonafide batsmen coming in next day.
For the last over of the day, Dravid tossed the ball to Tendulkar the Dependable. The first five balls passed without incident, and everyone was prepared to switch off, when Tendulkar produced a loopy googly that a nervous Moin Khan prodded at in front on his legs, completely squared up. The ball sneaked in between Moin's legs and hit the leg stump, for a crucial breakthrough to start Day 4 with the initiative.
After that, there was meaningful resistance only from Abdul Razzaq, as Pakistan kept losing wickets to finally fold 268 runs short and eligible to be asked to follow on. And that's the bold and aggressive decision India took, even though they had been on the field for 126 overs.
If anyone had any doubt as to whether Pakistan would stage a comeback in their second innings and save the Test, that was put to rest by a resurgent Kumble who quickly became a rampant Kumble. With Yousuf Youhana holding one end up to get to a brilliant century with some scintillating strokeplay, it was Kumble going at the batsmen at the other end. Nobody apart from Youhana crossed even 25, as Pakistan folded for 216 to hand India a heady win by an innings and 52 runs.
India went on to lose the next Test, but the team showed their confidence and resilience by bouncing back to win the third Test and the series.
What is it that makes this one of India's great wins? For one, it came in the middle of a great run for the team, first drawing against Australia in Australia, and now winning the first Test against Pakistan in Pakistan. India got its first triple centurion, and what a knock that was! After a mammoth score, the bowlers were equal to the task, showing great heart particularly in the second innings after making Pakistan follow on. It was an authoritative victory, coming off a rare all-round display – strong batting and bowling performances backed up by excellent fielding. For a team habituated to getting off on the wrong foot by losing the first Test of a series abroad, winning the first comprehensively was a dramatic change. And to cap it all, beating Pakistan in Pakistan without ever seeming tentative, showed that this team was ready to shed its diffidence and win consistently abroad.