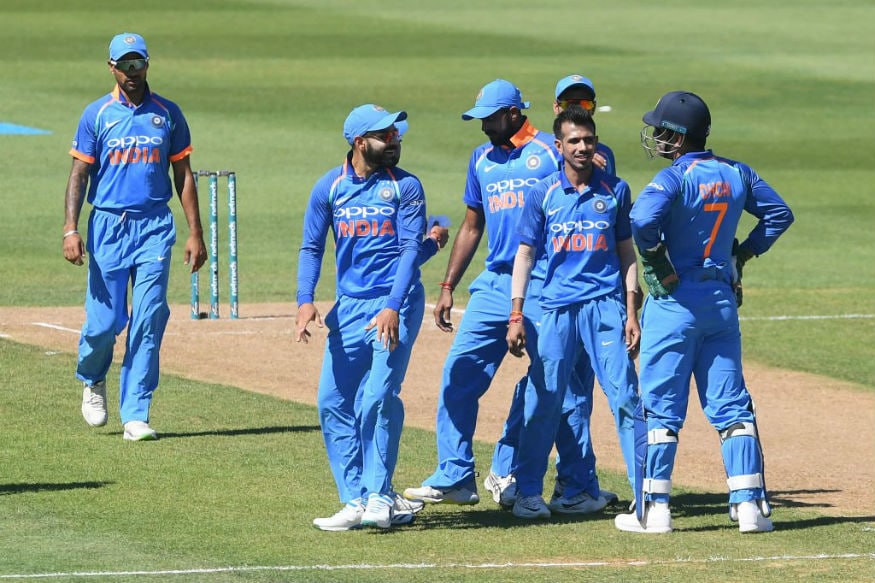 India have been in ominous form in limited overs cricket in the last two to three years. They have a sensational record in both ODIs and T20Is in this period. If we combine this with their Test record, which has also been fairly impressive during this time-frame (they are currently the Number 1 ranked Test side), it can be inferred that India are currently enjoying their most dominant period in history, across formats.

ODI cricket

India have won 41 of the 57 matches they have played since the beginning of 2017 – they have lost just 13. Their win-loss ratio of 3.153 is the best for India for any period (minimum matches played 20), amongst the 12 most significant periods we have identified for India in their ODI cricket history. Their winning percentage (matches won/matches played as a percentage) is also the second-best in this period after August 2005-May 2006, when they won 22 of the 30 matches played.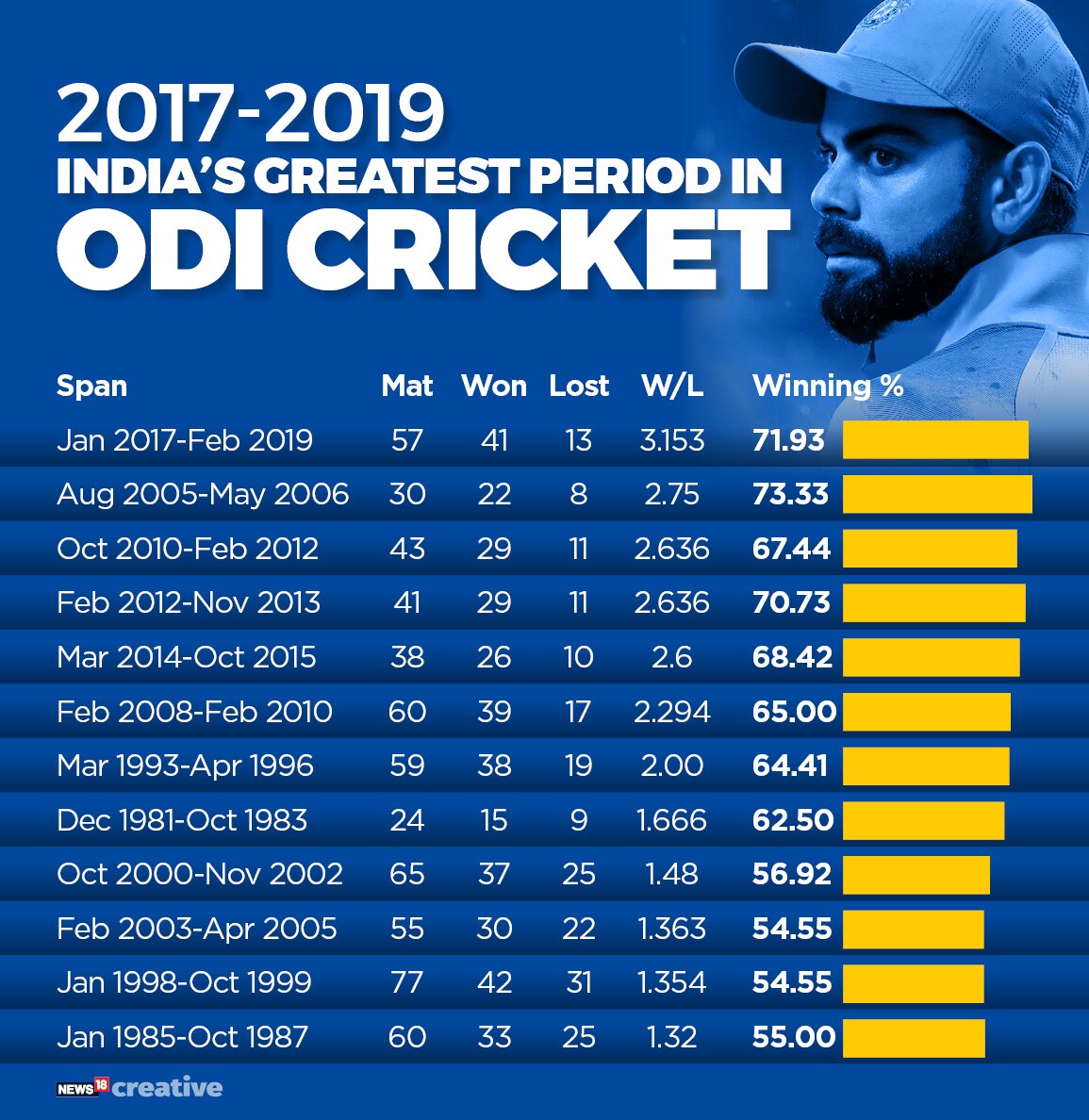 India's win-loss ratio in this period is marginally second only to England (32 wins and 10 losses in 44 matches) – the number 1 ranked team in ODI cricket today. There is a massive difference between India and third-ranked South Africa (win-loss ratio of 1.562) in this time-frame.

Two Years of Domination: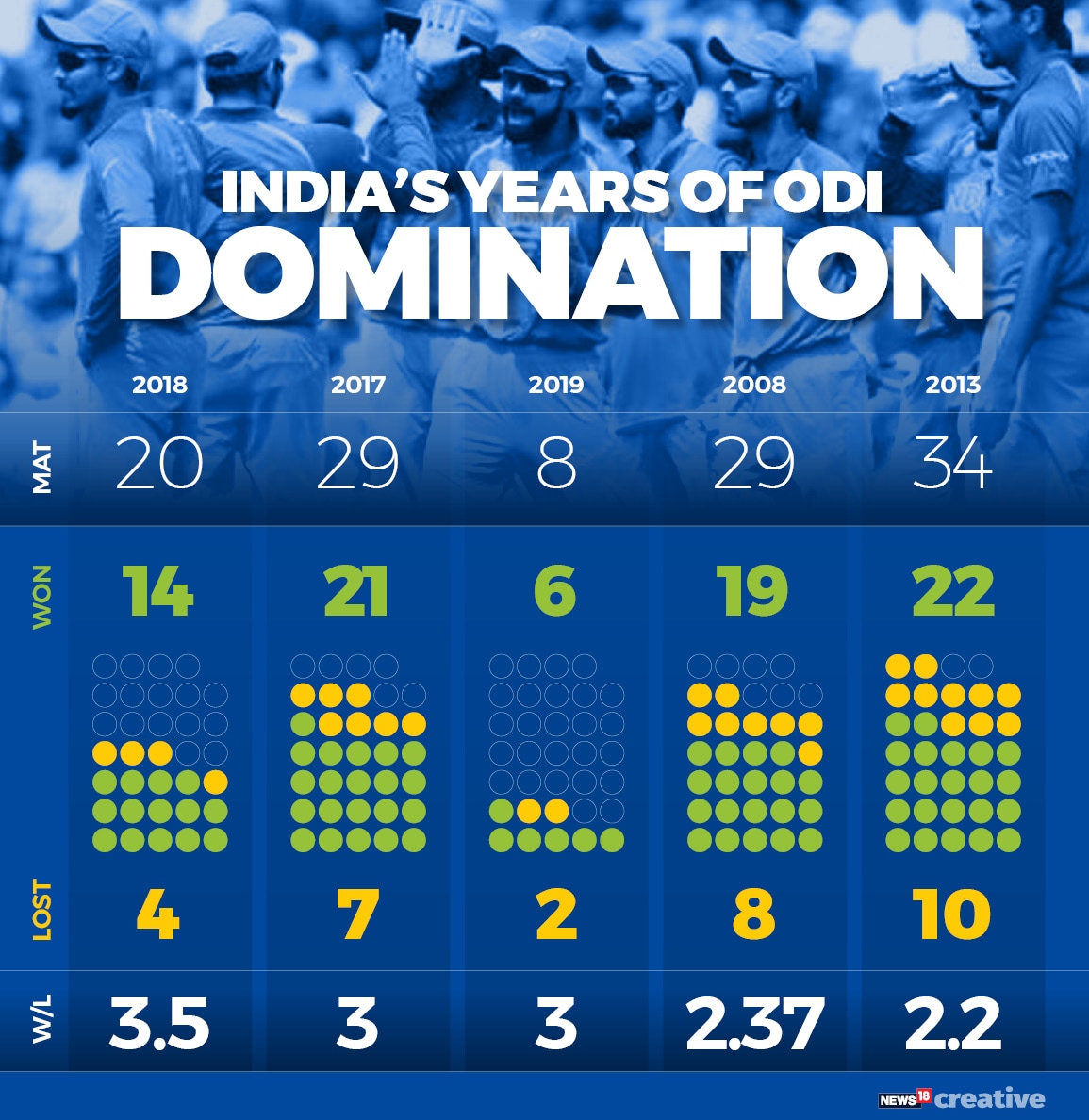 India have had an incredible two years in ODI cricket. In fact, 2018 and 2017 (in that order) have been the most successful years for them in terms of win-loss ratio (of matches) in history.

India won 6 bilateral series in 2017. In fact the only series/tournament they did not win was the Champions Trophy where they lost to Pakistan in the final.

The manner in which India have demolished oppositions has been significant – in the three five-match ODI series India played in 2017, the scorelines read: 5-0 (Sri Lanka), 4-1 (Australia) and 3-1 (West Indies).

India's domination over the opposition can also be seen in the difference between batting and bowling averages in each of the six victorious series.

2.54, 19.8, 25.25, 37.37, 11.32, 5, 16.66: These were the differences in Batting Average between India and the opposition/opposition teams in the six series and one tournament India played in 2017 – clearly suggesting the supremacy of the Indian batting in this time-frame.

What was a revelation to see was the emergence of India as a potent and world class bowling unit dominating the best attacks of the world. The Indian bowlers out-numbered the opposition's in 6 of the 7 series (barring against England) in 2017. The difference in bowling averages was more than 14 in 5 of these 7 series.

India bettered their performance in 2018.

They thrashed South Africa in their own backyard 5-1 (batting average difference 29.4, bowling average difference 39.35), were unbeaten in the Asia Cup (5-0; batting difference 19.56, bowling difference 23.97) and beat West Indies 3-1 at home (batting difference 29.49, bowling difference 30.57). The only series they lost was to the best team in the world – England (1-2).

Note: For Bowling Average Difference we are mentioning the Absolute Difference - in all the series mentioned above, India had a better (lower) Bowling Average

2019 has also started well for India – they have won 6 of the 8 matches they have played this year – these include two series victories in Australia (2-1) and New Zealand (4-1) – the latter being another dominating performance.

To sum up, India have won 11 of the 13 ODI series they have played since January 2017. They have completely dominated the opposition in 7 of these.

The fact that this period of success for India has come under the leadership of Kohli is no mere coincidence. Kohli took over the captaincy permanently from 15th January 2017 – and there began India's great run in the format.

Kohli has been India's most successful captain in ODI cricket, and by some distance, even if we consider his entire tenure (from 2013).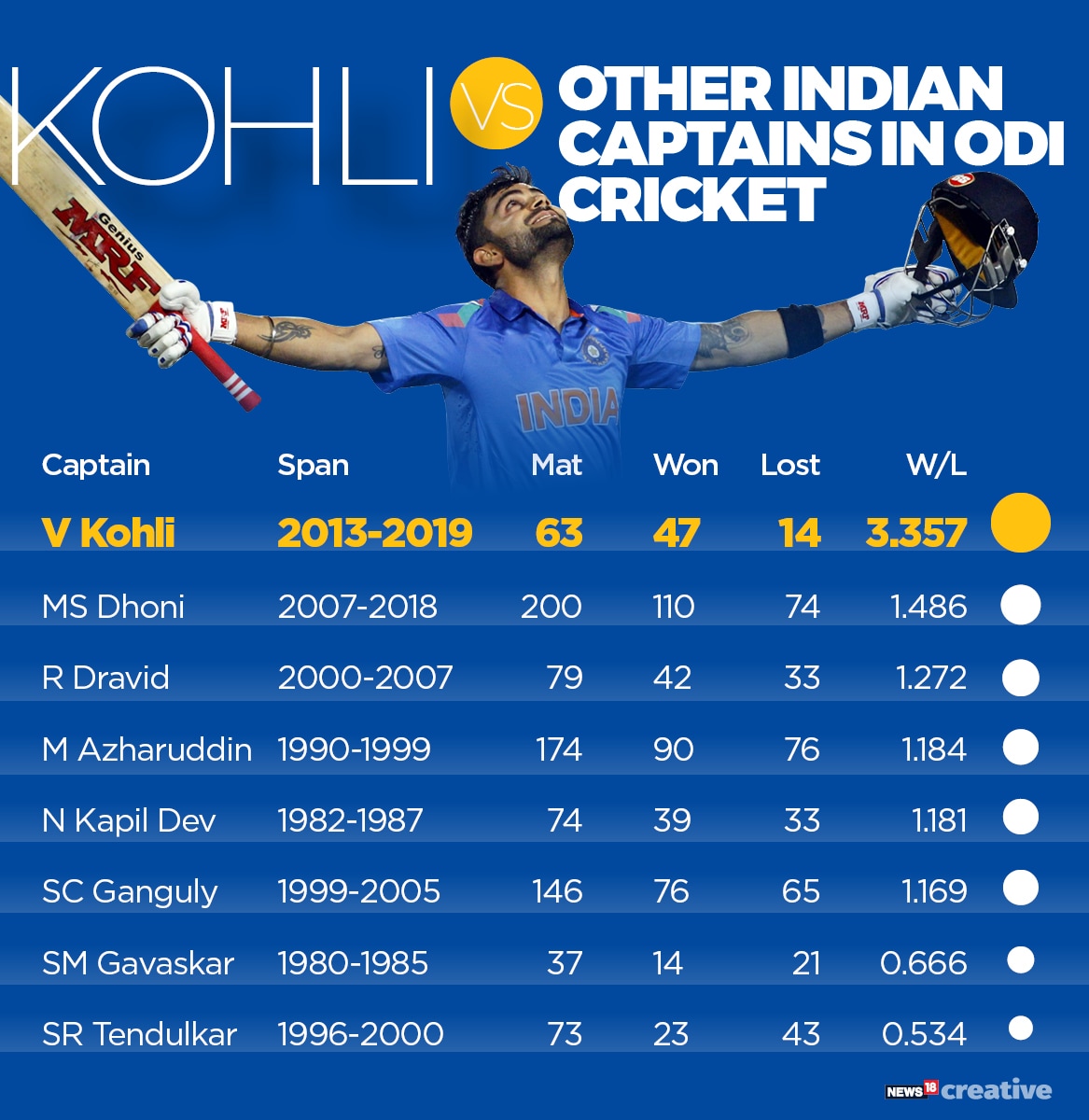 Kohli is in a league of his own as the numbers above suggest. India's win-loss ratio in ODI cricket under Kohli is more than double of what it was under Dhoni – the second-best on this count.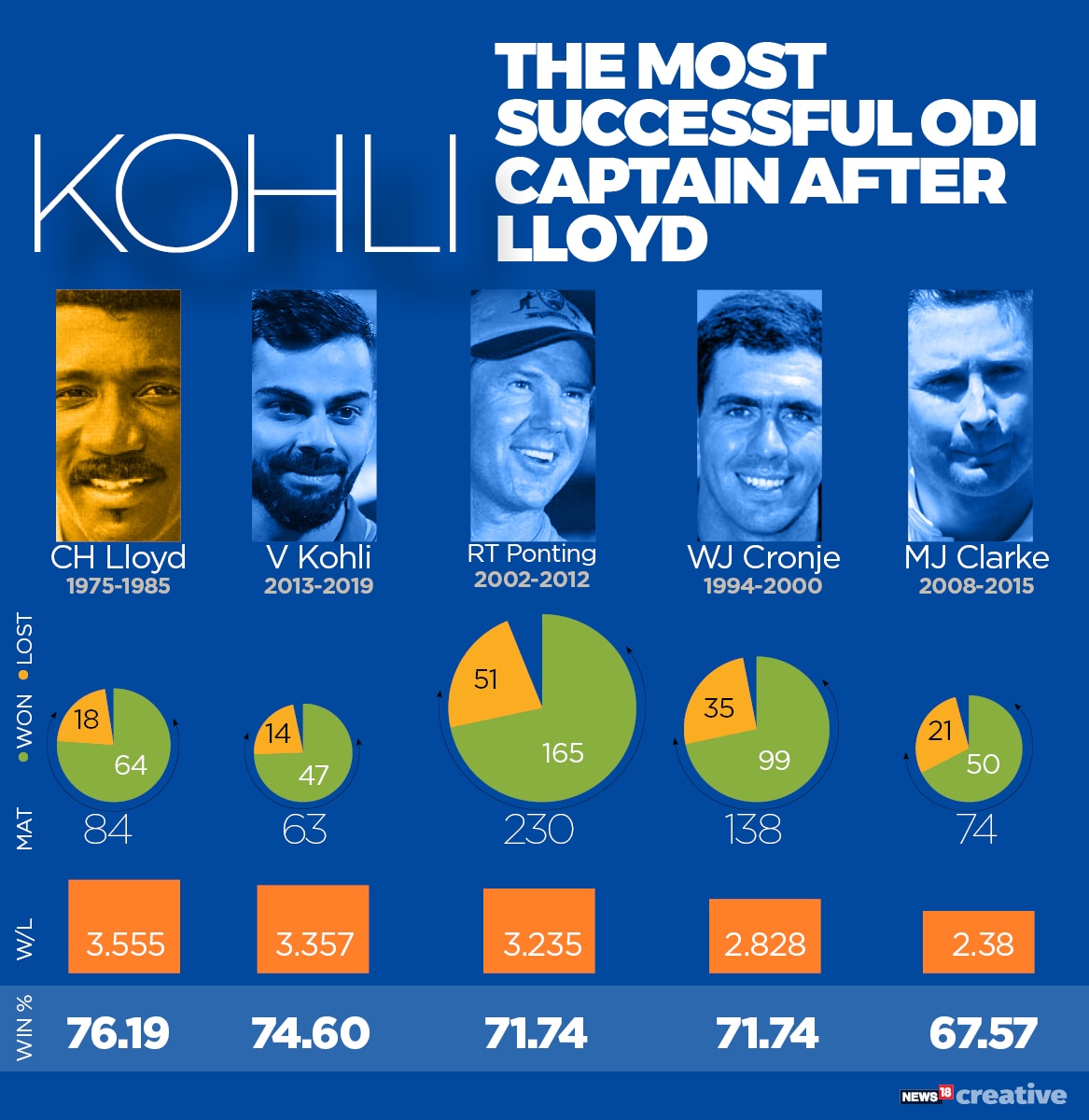 In fact, both in terms of win-loss ratio and winning percentage, Kohli is the second-most successful captain in ODI cricket history (min. 30 matches as captain) after Clive Lloyd. He has a better record than Ponting, Cronje and Clarke – that is how good India have been under Kohli.

India's top 3 – Kohli, Rohit Sharma and Shikhar Dhawan - have dominated the batting charts in the last couple of years. They occupy the first three slots as far as run-scoring is concerned since January, 2017 – Kohli (2963), Rohit (2677), Dhawan (2100). The combined average of India's top-3 is 60.73, which is 13 runs per dismissal more than second-best England – 47.25 – another indicator of the supremacy of India's top-order.

No batsman has scored more hundreds than Kohli (13) and Rohit (12) in this period.

In fact, while Kohli's mind-boggling average of 87.14 is the highest in the world in this period, Rohit has by far been the most successful opener in the world in this period – if we take a combination of runs scored, average and strike rate.

What has been a revelation for India is their bowling. The Indian attack has aggregated the maximum wickets in this period and has the best bowling average (30.78) and strike rate (35.9).

The Indian spinners, led by Yuzvendra Chahal and Kuldeep Yadav, have been exceptional in this period and have the best bowling average and strike rate amongst all major teams in the world.

Kuldeep has been the second-highest wicket-taker in ODI cricket (after Rashid Khan) in this time-frame and has picked 77 wickets in just 37 innings at a phenomenal average of 20.64 and strike rate of 25.9. He has also been very restrictive conceding just 4.77 runs per over. Chahal has also picked 65 wickets at 24.84 apiece in this period.

Jasprit Bumrah has been the leading pace bowler in limited-overs cricket during this period. He has picked 61 ODI wickets in 36 innings at an average of 22.78 – the best amongst all major teams in the world. His economy is also the lowest (4.63) in this period (min. innings 15 and wickets 25).

T20I cricket

India have won 39 of the 56 T20Is they have played since 2016. Their win-loss ratio is second only to Pakistan (just marginally behind) in this period (win-loss ratio of 2.615 and 2.6). The only other period where India had a similar successful stretch was between June 2010 and April 2014, when they had won 18 of the 26 matches they had played (win-loss ratio 2.25).

In particular, 2018 and 2016 have been the most successful years (minimum matches 5 in a year) for India in T20I cricket in terms of winning percentage.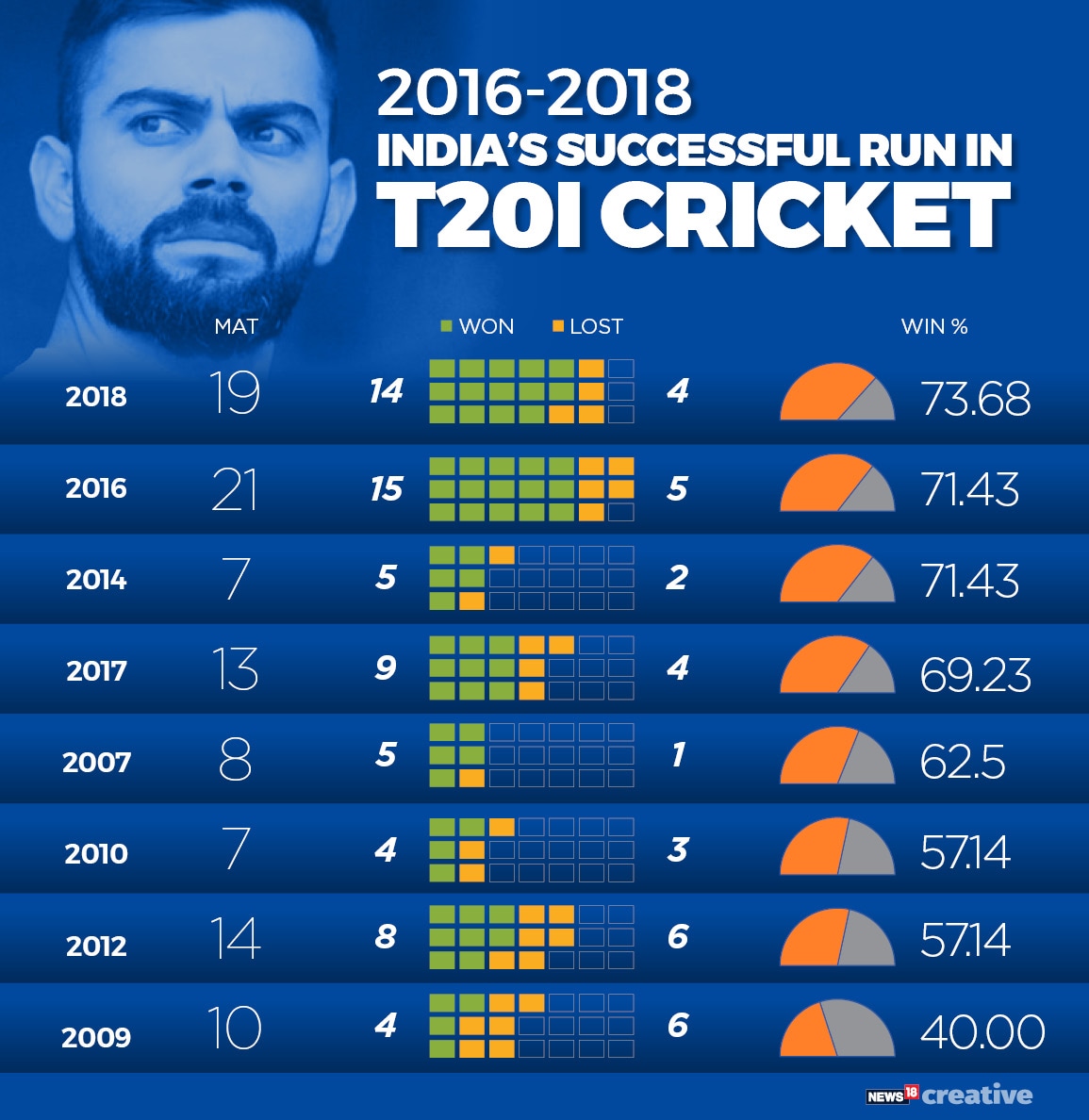 India's big 3 – Rohit, Dhawan and Kohli – again dominate numbers in T20I cricket too. While Rohit has the highest run aggregate since 2016 (1459 runs in 48 innings at an average of 32.42 and strike rate of 144.59) and the joint- maximum number of hundreds (3) in this period, it is Kohli who towers above the rest with his batting average of 54.80. Both he and Dhawan, along with Rohit are amongst the only six batsmen to have scored more than 1000 runs in the format in this period.

Bumrah is the leading wicket-taker amongst fast bowlers in T20I cricket in this time-frame. His 48 wickets in 40 innings have cost him 20.47 apiece. He has also been extremely restrictive giving away just 6.77 runs per over.

Chahal has been the second-highest wicket-taker amongst spinners and has tallied 45 wickets in 29 innings at 19.93 apiece. Kuldeep has the best bowling strike – a stunning 11.5 (35 wickets in just 18 innings) during this period.

If we combine the two formats, then it is India who are by far the best limited-overs side in world cricket today. India have a win-loss ratio of 2.559 and there is a huge gap between them and number two placed England (win-loss ratio of 1.897) in this period.

What is remarkable is the fact that they have a more than decent record in Test cricket too in the last three years. In fact 2016 was their most rewarding year in Test cricket (in terms of win-loss ratio) – they won 9 of the 12 Tests they played in the year and lost none. In 2017 too, they won 7 of the 11 Tests they played and lost just one. It does not come as a surprise then than Kohli is not only the most successful captain India has had in Test cricket but also the seventh-most successful captain in Test history (in terms of winning percentage; amongst the 79 captains who have led in at least 20 Tests).

Cumulatively, across the three formats, India have won 110 of the 164 matches they have played since 2016 (and lost just 42). Their win-loss ratio of 2.619 and winning percentage of 67.07% is the best for any country, and by some distance in this period. South Africa, who are the second-best in both the parameters have a win-loss ratio of 1.714 and winning percentage of 60.5% during these three years (won 72 and lost 42 of the 119 matches played).

India are going through a golden run in their cricketing history. What they have achieved in these last two to three years is no mean feat.

First Published: February 12, 2019, 7:19 PM IST