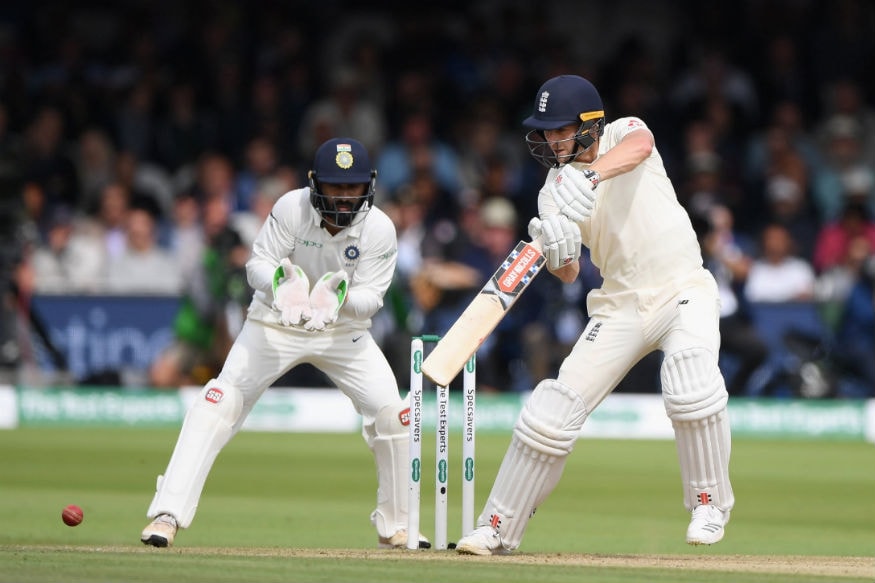 Ian Botham, Keith Miller, Gubby Allen, Stuart Broad and Chris Woakes? Not a five-a-side team from some half-remembered dream but instead an elite foursome who on Saturday became a quintet – the only five men in cricket's long history to earn their place on all three Lord's honours boards.
Five wickets in an innings? Tick, twice in fact – both innings against Pakistan in 2016. Ten wickets in a match? Tick – and if you've been paying attention you'll have worked out when. Now the third has been ticked off. Chris Woakes has a Test century at Lord's.
The photocopier, the whistle, the x-ray scanner, even the bicycle bell – Birmingham can lay claim to being the birthplace of countless things, but on day three at Lord's none were more valuable than Woakes.
Perhaps it is the nearby canals of Little Venice but Woakes seems to find himself at home at Lord's, this is now his third Test at the ground and he's taken 16 wickets at average of 9.93 and made 244 runs at 122.00.
Before this match there was concern about how England would cope without Ben Stokes – now you wonder how they ever managed without Woakes.
In one innings he has made more runs than Stokes has in his last three Tests, while on Friday his mastery of swing was comparable to James Anderson. Only the rain, which has washed out at least a day and a half, has had more impact on this Test than Woakes, and it's still a close run thing.
When Woakes came to the crease England were, if not in trouble – India's capitulation on Friday for 107 meant that was already off the table – at the least undergoing the latest performance from a top order that refuses to be anything other than shaky.
England were 131/5 when Jos Buttler departed LBW for 24 and the match very much belonged to the bowlers. Indeed no batsman had made more than 29 and the overall batting average in the game stood at 14.93 – the lowest for a Test in England since 1958.
Together with Jonny Bairstow, Woakes soon set about turning that around. He was fortunate to enter the fray with the ball no longer swinging as it had throughout the match and India's bowling attack – undoubtedly rueing the decision to pick two spinners – either tiring or ineffective.
Credit for the latter should at least partially be assigned to Woakes, he defended well, played strongly on the drive through the offside and looked more than a match for anything India had to offer – as if mild-mannerly showing the world that the nine first class centuries he has for Warwickshire were not acquired by accident.
An almost obligatory slightly sticky spell in the 90s aside, it was a near-chanceless innings –Woakes missed just 3.8% of his deliveries, the least of any batsman in this series – but equally never shied away from playing his shots, ending the day, by CricViz calculations, having played 31% attacking shots – the most he's ever played in a Test innings of 15 or more balls.
But this innings was about so much more than just plain numbers, and as Woakes scampered home for the last of the three runs that he needed to bring up his century, you could see just how much it meant to him and his teammates.
With an exuberance tinged with a little awkwardness he punched the air with his bat, like a man playing an exceptionally wristy forehand in tennis, before raising both hands in the air and celebrating towards a dressing room whose delight in his achievement spoke volumes about his standing in this England side.
It is not hard to see why, in fact it is difficult to imagine anyone having a problem with Woakes, but it has not been his undoubted niceness that has propelled him to this point in his career – rather a steely resolve and determination to constantly improve.
He was written off as too slow for Test cricket, so he went away and added a few yards of pace. He has battled against injuries and the vagaries of selection, coming back stronger each time. Now he has answered any questions about his batting with a Test century at Lord's.
In the end only bad light could stop him, but by then England were 250 ahead – the day and the match firmly belonged to Woakes.