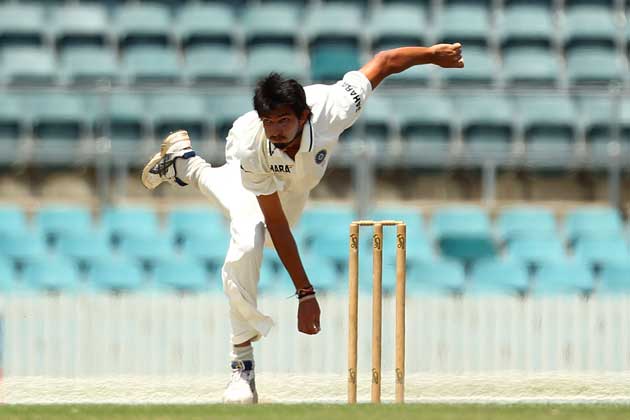 Fresh from a four-wicket haul against Bengal in the ongoing Challenger Trophy which set up an eight-wicket win for India A in Rajkot, Ishant Sharma has expressed confidence at his form ahead of the domestic season starting November 2.
"I trained hard and the results are showing, and I am pleased with the way it's all coming together after a long absence from the game. The injury lay-off was obviously frustrating and disappointing, but I am pleased with my progress since making a return to competitive cricket," he told Cricketnext. "The Moin-ud-Dowla, then the Irani Trophy and now the Challenger Trophy. It's all coming together well and I hope to channel this into my performances should I be selected to play England in November."
Though he was recalled to India's Test squad to face New Zealand recently, Ishant did not get a match. His first competitive match on return from injury – his previous match was for Delhi in a 50-over match on February 28 - was the Irani Trophy, the curtain-raiser to the domestic first-class season, and Ishant did well in Rest of India's massive win over Ranji Trophy holders Rajasthan. In the first innings he had figures of 12-6-17-2 which included the early wicket of Vineet Saxena, and then in the afternoon Ishant snapped a threatening stand when he bowled Rashmi Parida.
What was prominent during those spells on the first day in Bangalore was how Ishant was experimenting with his lengths, and how he used the straighter delivery. Ishant admitted to having worked on this delivery, having found it a successful option in the West Indies in 2011.
"I've worked on developing a straighter one, which has taken time. Last year in the West Indies it was happening a bit but I wasn't always in control of it. This worked well for me against Rest of India in the Irani Trophy, and it was an added advantage to my stock delivery, the inswinger," he said. "When I was out of the Indian team with injury I had a lot of time to bowl in the nets and I used this time to develop my varieties, including the straighter one. Having executed it well in the nets, I was able to use this in the Irani Trophy."
In the second innings it was again Ishant who dealt the early blow, and he finished with figures of 13-3-38-1. While it was not a grand display, Ishant said he was happy to have bowled 25 overs in the match. Just before the Irani Trophy, he participated in the Moin-ud-Dowla tournament in Hyderabad where he took 12 wickets in five matches for eventual runners-up Delhi. That experience, he felt, helped him go into the Irani Trophy in a good frame of mind. "It was a very important tournament for me, considering I missed the IPL. It was a chance to get back to peak fitness before the domestic season and the chance to bowl good overs helped me gauge my fitness," he said.
Experts have often mentioned how inconsistency with lengths has been a major drawback for Ishant and that how after five years of international cricket it appears he is still finding himself. However, the 6'8" fast bowler did not seek to respond to criticism and instead said that reinventing himself was not on the agenda, having earlier tried to copy Zaheer Khan with poor results.
"I have learned a lot in my time as an international cricketer, and do believe this is a need to reinvent," he said. "You must figure out what works for you, and not try to imitate others. I know that. People may talk about my struggling to find my length, but that is not always the case. You can bowl whatever length you choose, but you must first figure out the wicket. If the wicket is slow you will have to pitch the ball up; if it's harder you will have to hit a length. Once you figure out the wicket and bowl to your best abilities, you have a good chance of taking wickets. If I have not been able to do that consistently then I must try harder. It's as simple as that."
Ishant also sought to snub the perception that he is an unlucky bowler, in that he has often bowled eye-catching spells but not got the reward. "I don't think so. You cannot blame anyone else. When you bowl, there are times when you are not getting support but equally there will be times when the other guy is bowling well and you are not," he said. "Everyone has off days. It's a part of the game. I don't think I am unlucky. I need to work harder and keep improving. I can only hold myself accountable for my success in this game."