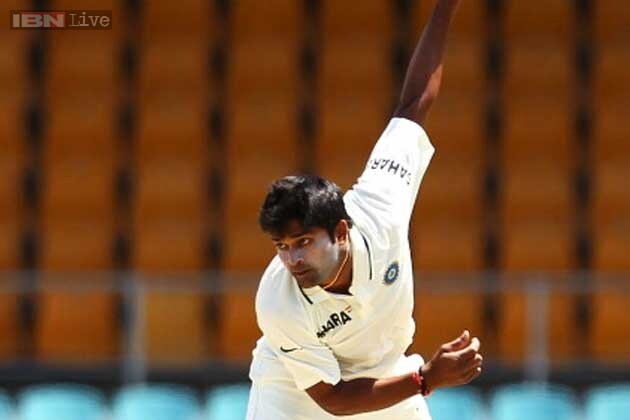 To say that Karnataka are having a dream period in domestic cricket would be an understatement. After winning three major domestic tournaments - the Ranji Trophy, Irani Trophy and the Vijay Hazare Trophy - in the 2013-14 season, Karnataka started this year by defending the one-day championship, and are now in the semifinal of the Ranji Trophy.
One of the key reasons for Karnataka's success is R Vinay Kumar, their captain. He has not only led them admirably, but also played a key role with the ball, picking up 34 wickets from eight matches so far. He spoke to Wisden India about the team's dream run, his leadership and career.
Here are the excerpts:
Q: Karnataka has always been a big team, but the trophies were elusive. That seems to have changed now, with Karnataka winning across formats.
Everyone in the Karnataka side wants to play for India. That's the biggest advantage for us in our team. We have the same team for the last five or six years. There have been one or two changes but the team is more or less the same. Most of the players are experienced, but at the same time, they are youngsters. When we lost the Ranji Trophy final against Mumbai in Mysore (2010), it was a similar side but most of them were very young.
Now, most of them are established. Apart from me, only S Arvind is the relatively older person in the side. The team spirit, giving importance to the team over self and taking that extra bit of responsibility for the side has made everyone mature. Most of them are now mature to handle different situations and that has helped in wins across formats.
Nowadays, cricket is all about mindset. There are many formats and tournaments now and it's all about how you think and adjust to different situations quickly. There is also the Indian Premier League. Most of us play in the IPL and as soon as it finishes, a player has to play one-dayers or Test matches. The adjustment is crucial and the boys have done that well.
Q: The victories have resulted in many Karnataka players playing for India, or being on the fringes of selection.
At the end of the day, whoever performs has to be rewarded. But a few more guys should have played for India. When I played for India last, it was before the Ranji Trophy victory last year. Some of us have made it to the national team, but after winning four trophies, it could have been better. But that's not in our control.
We're happy with what we have and the only aim now is to win the trophy again. It's not easy to retain the title, but we're really working hard towards that.
Q: What is your style of leadership?
Keep it simple. That's what I always tell my team. I try to make sure that each and every player will be comfortable in the side. It's very difficult for me to change players completely at this stage, but I look to give them the freedom to be themselves. Only when I feel someone is doing something wrong, I talk to him. But at the same time, I look to give them their space. I think that helps the players.
Q: Does being a pacer help you in leadership, given Karnataka's success is built around the pacers?
Being a fast-bowler, I know exactly how much load I can give the other pacers. I understand their strengths and weaknesses better because I bowl with them. It is also easy for me to know a bowler's mindset. After playing so many years with Abhimanyu Mithun, Arvind and HS Sharath, I know when exactly they can attack, what kind of batsmen they can go hard at and what kind of fields to set for each bowler. When I see an opposition batsman, I try and think which of our bowlers he will find difficult to face, and accordingly, I will use my resources. These are some small things, but I can understand 60-70% what they think. At the same time, that has helped me in my bowling also, because I'm constantly thinking about it.
Q: This victory streak has coincided with BCCI using sporting tracks across the country. Has that helped Karnataka's pace attack?
In ten games, we get only around three or four tracks that are good for bowling. The remaining matches are batting-friendly wickets only. But in our team, we have bowlers who are good enough to trouble the batsmen on flat tracks as well. In our league match against Madhya Pradesh in Indore, it was a completely flat track but our seamers got six wickets in the first innings (Vinay 2, Mithun 4). The key for us is that we have a good attack, but also good back-up. Ronit More came in for the match against Baroda and he performed immediately. Sharath is a good prospect as well. We are lucky to have a bunch of fast bowlers like this.
Q: Karnataka has had many legends in the past. How has that influenced this side?
People like Anil Kumble, Javagal Srinath, Venkatesh Prasad, Rahul Dravid, Sunil Joshi etc., till the last match they played, they trained hard with full intensity every single time, whether it was batting or bowling. We have grown up seeing that and it's something very rare in other teams. It's a big inspiration for us.
They have set the standard for us. We have learnt a lot about the mindsets and how to train from them. When a new player comes into the side, he already knows what to do at this level as the system is already in place. They set a standard on how to maintain the fitness, strength and aggression and we just look to follow it. The legacy they left for us is very important and it's our duty to continue that. We also have a responsibility to make sure that the future bunch of guys continue it.
Q: As captain, what's the legacy you want to leave for Karnataka team?
I love to play hard cricket. It doesn't matter if we lose the game also, but the fighting spirit should be there in every team member. Even if we concede first-innings lead in a Ranji Trophy match, we should try and fight back. It's easy to relax after conceding lead and be happy with one point, especially if you qualify for the knockouts, but we always try to play hard and keep fighting. That's the kind of cricket we want to play and it's amazing to see that we've done it so far.
Other teams sometimes play just for three points and look for draws. But our team is completely different, the coaches also keep stressing on going for outright victories, and if we end up with a chance of an outright victory, we push ourselves for a bonus point. That fighting spirit is very important for us, and that's the legacy I want to leave for future Karnataka players.
Q: Personally, where do you think you stand in your career is at the moment?
I think this is the peak time for me. The ages 27 to 33 are usually the peak time for fast bowlers, but Ryan Harris is playing superbly for Australia even at the age of 35. I'm only 30 and feeling very strong and fit. I've lost around five kilos and can feel the difference. Every game is going really well, I'm averaging five wickets per match and getting the breakthroughs whenever the team needs it. I love challenges and love bowling irrespective of how flat the pitches are. I have a lot of cricket in me. I have a good five or six years at least and I'm just enjoying my cricket at the moment.
Q: Do you feel frustrated that you're seen as a limited-overs bowler, despite being very successful in Ranji Trophy?
Sometimes I do get irritated and there is some frustration. Being a swing bowler, it's easier for me to bowl with the red ball and trouble the batsmen with my movements. I got only one chance in Test cricket. Even though I bowled well, David Warner was going so well in that game and you can't help it. In the first game that Shane Warne played, he conceded more than 150 runs for just one wicket. I recently read a tweet saying if Warne was given only one chance in Tests, he wouldn't have become the legend that he turned out to be. But I'm still confident that I will get another opportunity, and when it comes, I will make sure I will grab it.
Q: Do you think it's time for India to build an attack for Test cricket on swing, rather than going for pace, which is clearly not their strength?
I would say it should be a mixture. We need some bowlers with raw pace but at the same time, we also need bowlers who can bowl 130 to 135 (kph) and move the ball around. You can't go with only swing bowlers or with only raw pace. It is all up to selectors, what kind of combinations they are looking at, where they are playing etc. But whoever performs well at the domestic level should get the opportunities they deserve.