IPL 2015: Another disappointing year for Delhi Daredevils
DD broke their bank at Rs 16 crore, the most a team had paid any player at the auction. Two half-centuries in 13 innings didn't help either Yuvraj's reputation or DD's cause.
Updated: May 18, 2015, 3:04 PM IST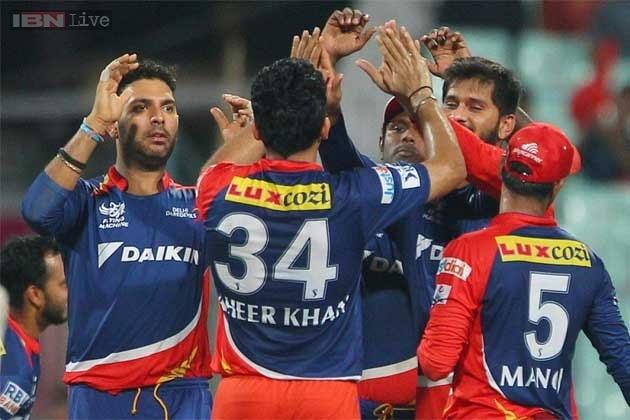 Delhi Daredevils looked like a side transformed, a side much superior to the one that fell apart without a fight last year. It looked a unit capable of giving the top sides a run for their money. But they could only live up to their billing in patches, and by the time they found their bearings, it was too late. The result - a seventh-place finish with five wins that meant the side missed the playoffs for the third successive season.
Over the last eight seasons, team composition has often been Delhi's major concern. While they managed to stock up their resources sufficiently this time around, an untimely ankle injury to Mohammed Shami, a much improved pacer since he last wore the team's crest in 2014, threw their plans off gear. That meant the JP Duminy-led team had to exercise their other foreign option in Nathan Coulter-Nile to fill that void.
With two overseas bowlers, the other being Imran Tahir, the South African legspinner, in their ranks, the team was sufficiently thin on batting resources. Team dynamics had to be rejigged in such a manner that Quinton de Kock, a dynamic young wicketkeeper-batsman, had to be benched for a majority of their season, with Kedar Jadhav being used as a makeshift option behind the stumps. When de Kock finally got his opportunities towards the fag end, he scored two fifties in three outings to further prove why leaving him out in the first place was a mistake.
But that was just one part of Delhi's problem. The inability of two of their biggest draws at the auction to fire created a big dent in their hopes. That Yuvraj Singh isn't the force he used to be has been spoken about a number of times, and with merit too. But Delhi broke their bank at Rs 16 crore, the most a team had paid any player at the auction. Two half-centuries in 13 innings didn't help either Yuvraj's reputation or Delhi's cause.
The other half of the 'big-ticket' combine was Angelo Mathews, the Sri Lankan captain. Secured at Rs 7.5 crore, Mathews was to be the lower-order muscleman to go along with his useful seam-ups, tactical acumen and of course energy on the field. But his uninspiring show - 144 runs and seven sporadic wickets - threw a big spanner in their works.
That young Shreyas Iyer, the uncapped 20-year-old, scored more runs than two of Delhi's biggest buys combined, tells you a story. Iyer, audacious sometimes, but authoritative and supreme at other times, missed Paul Valthaty's record of 464 runs, the most by an uncapped Indian player in IPL history, by not many. More than his tally of 439 runs that included four fifties and a highest of 83, it was the manner in which accrued them that was most impressive.
So impressed was Duminy, the captain, that he admitted it would highly disappointing if Iyer didn't earn the India cap within the next three years. The manner in which he married aggression and form to consistently score runs at the top of the order was heartening, but as is the case with most youngsters, the challenge will be for him to sustain the same form in his second season.
For starters, there was an effort to adopt the Rajasthan Royals model of empowering some of the young players like Iyer and Mayank Agarwal. While those moves promise to pay dividends in the long run, what Delhi needed was to be in the present. They may have ended with their first double-digit points tally in three seasons, but even that was scant consolation.
---
---
Team Rankings
Rank
Team
Points
Rating
1
Australia
3028
116
2
New Zealand
2406
115
3
India
3085
114
4
England
3882
105
5
Sri Lanka
2454
91
FULL Ranking
Rank
Team
Points
Rating
1
England
5405
123
2
India
5819
119
3
New Zealand
3716
116
4
Australia
3941
109
5
South Africa
3345
108
FULL Ranking
Rank
Team
Points
Rating
1
Australia
6047
275
2
England
5959
271
3
India
9319
266
4
Pakistan
6009
261
5
South Africa
4380
258
FULL Ranking
Upcoming Matches