IPL 2015: Is Ashish Nehra the most improved veteran?
Nehra believed that stats confirm this is his best IPL season. He has taken 22 wickets this season and is number three on the wicket-takers' list.
Updated: August 17, 2015, 12:16 AM IST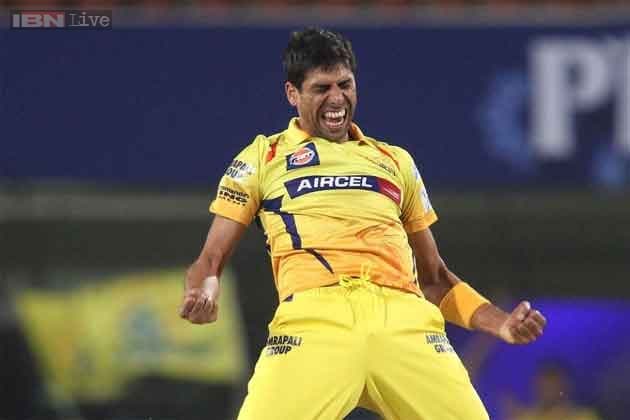 The second IPL-8 qualifier between Chennai Super Kings and Royal Challengers Bangalore on Friday once again proved the old adage 'age is just a number' true to the core as Nehra and a retired professional from Australia, Michael Hussey, stole all the limelight en route CSK's march into their sixth IPL final.
Nehra is 36 years old while Hussey is 39 and both look good to play for another couple of years.
While speaking to iplt20.com after taking three wickets in Chennai's win over Bangalore, Nehra believed that stats confirm this is his best IPL season. The left-arm pacer has taken 22 wickets this season and is number three on the wicket-takers' list.
"If you see stats-wise, then definitely yes. But I can't just say that this is the best IPL I have had till date. Even in 2008 when I played for Mumbai Indians or for the Delhi Daredevils in 2009 and 2010, I was bowling really well. At that time obviously I was five years younger as well. But when you pick wickets, people remember you more. In T20 sometimes it happens that you are bowling really well but you don't get wickets. This time I am among the wickets and I am picking up wickets upfront which has really helped my team.
"I have got three or four Man-of-the-Match awards this season and that says it all. For a fast bowler to pick up that many awards in one season is not easy," Nehra opened up while speaking about his success.
Much of his success has come against Royal Challengers Bangalore this season and Nehra seems to be well aware of it.
"That is just a coincidence, you know. I knew you will ask me this but it is just a coincidence. Having said that, a lot of preparation goes into each game. Every game you play, you do a lot of homework against your opposition. The batsmen too prepare themselves to bat against the opposition bowlers. You have to realise that if you are playing 14 to 15 games, you are not going to perform (all the time), but majority of the times you are going to perform if you are on top of your game," Nehra concluded with a laugh.
Talking about the pitch at the JSCA stadium in Ranchi on Friday, Nehra said, "It was a very slow pitch and picking up wickets and getting their top order was crucial. We were successful in doing that by picking up Virat Kohli and AB de Villiers; otherwise they would have scored at least 160. Chasing that much would have been really difficult. You could see that even chasing 140 we went right till the last over. It was a slow pitch and it was a lot helpful for a wrist spinner like Yuzvendra Chahal. Once the ball got old, it was a much better pitch to bowl on for a spinner than a fast bowler."
Being one of the strike bowlers for CSK, Nehra's role with the new ball is very crucial for his team. Speaking about his job and the thrill to be the man behind Virat Kohli's dismissal, the former India seamer said, "On a pitch like this, it is very difficult to bowl slower deliveries in the first six overs because you have only two fielders outside the circle. But once the six overs are finished, you have to bowl well in the 6-18 over window. That is the time when you have to bowl a lot of slower balls or yorkers. You have to mix it up. Earlier in his knock [on Friday], Kohli hit a good length ball for a six and the ball with which I got the wicket wasn't a great ball, but I got a wicket. Such things will happen in T20 but you have to be on top of your game at all times.
"This is the first time in my life that I have had my wicket-keeper stand up to the stumps. I wasn't too sure about that move. But Dhoni came to me and said Virat is stepping out because the pitch is too slow and if he stood up to the wicket, it will stop him from stepping out. I agreed to that decision and Dhoni came up for one ball and I got the wicket. We all know that Kohli is an on-side player but at times when you bowl to his strength, there will be deliveries which will go for runs. On a bad day that wicket delivery would have gone for a boundary, but at the same time the ball which went for six, on a good day, could have been nicked," Nehra opined.
Needing only five runs to win off the last over, there is nothing much Harshal Patel could have done and Nehra only went on to vindicate that point as he went on to say, "Five runs in the final over is always gettable, but it would have been a different story if we had had only one or two wickets in hand. Even after Dhoni got out, we knew we had (Ravichandran) Ashwin who can bat well. It is not easy being a bowler in that situation. I don't think there was much left for the bowler when you have only five runs to defend. Had I been Harshal Patel, I would have done the same thing that he did. But Harshal is more of a slower ball kind of a bowler; I would have instead looked to bowl more yorkers like what Mitchell Starc did."
Nehra's season so far has been his best and the Delhi paceman reckons, "I have been bowling well over the last few years. Last year I managed to play only four games for CSK because I had a side strain after the first game. But even that time I did manage to play and came back in the last three games to pick up eight wickets. It is not that Ashish Nehra has changed. People are noticing it more because I am 36 and a guy at this age is doing something unbelievable in T20s. But I have been doing the same things that I have been doing over the last ten years."
Talking about the final against Mumbai Indians, Nehra left on a note that can make the CSK fans optimistic of winning their third title.
"Absolutely! It will be a great atmosphere at the Eden Gardens with seventy to eighty thousand people. We lost against Mumbai Indians in the league stage and we will look to win. It will be an even contest but if we play to our potential, we can beat Mumbai Indians and lift the trophy."
Nehra has 44 wickets in Tests and 157 in ODIs, and like fellow left-arm veteran Zaheer Khan is trying to make one last comeback to the national team.
---
---
Team Rankings
Rank
Team
Points
Rating
1
Australia
3028
116
2
New Zealand
2406
115
3
India
3085
114
4
England
3882
105
5
Sri Lanka
2454
91
FULL Ranking
Rank
Team
Points
Rating
1
England
5405
123
2
India
5819
119
3
New Zealand
3716
116
4
Australia
3941
109
5
South Africa
3345
108
FULL Ranking
Rank
Team
Points
Rating
1
Australia
6047
275
2
England
5959
271
3
India
9319
266
4
Pakistan
6009
261
5
South Africa
4380
258
FULL Ranking