IPL 2015: We missed our home advantage, says Paddy Upton
One thing we've noticed the second year is that we've given away a lot of home-ground advantage, feels Paddy Upton.
Updated: May 21, 2015, 3:33 PM IST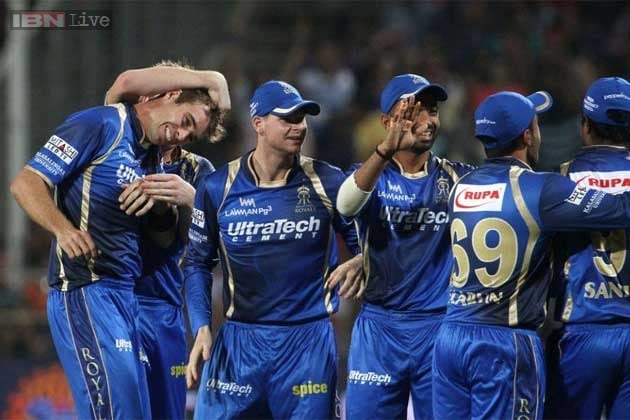 "It was a tale of two halves."
That was how Paddy Upton, the Rajasthan Royals coach, described his side's Pepsi IPL 2015 season. Rajasthan had a five-game winning streak at the start, and only lost their sixth match in a Super Over against Kings XI Punjab. Thereafter, the results were more mixed, with defeats outnumbering victories.
A Shane Watson century in their must-win final league game against Kolkata Knight Riders meant Rajasthan were through to the play-offs, but, up against a red-hot Royal Challengers Bangalore side, they subsided to a 71-run defeat on Wednesday (May 20).
Upton explained that getting off the blocks quickly was not just part of Rajasthan's strategy, but also part of the fabric of how the team was set up.
"Because of the way we set the team up, the way we work - Rahul Dravid, the other coaches and myself - we were able to get the team together and start really well very soon," he said. "It took the other teams, who probably had bigger players, some time to find their rhythm and we knew we'd have the advantage if we found our rhythm quicker, which is what happened and we won five out of five. The other teams then found their rhythm at which point we took a bit of a dip in the second half."
Upton also acknowledged that not having a home base - Rajasthan haven't played a match in Jaipur since 2013 - had resulted in the team losing some of the advantage it could have potentially had.
"One thing we've noticed the second year is that we've given away a lot of home-ground advantage. We arrive at a venue just like the opposition, trying to understand the conditions," said Upton. "If we go back to our last game against Kolkata Knight Riders at the CCI (Brabourne Stadium), which was our third at the venue, that was the first game we felt going into the game that we had a slight advantage over our opponents because we understood the conditions better. It's only when we got to that stage that we realised, 'Hang on, this is an advantage that we really have been missing.' Two years back we had won 13 out 13 (eight home games in the IPL and five Champions League matches) because we really understood the kind of cricket we needed to play at Jaipur."
That apart, Rajasthan's death bowling has been of considerable concern too this year. That came back to haunt them in the Eliminator, Bangalore ransacking 86 runs in the last six overs to power their way to a formidable 180 for 4. Upton acknowledged that this was a problem area, and said one of the things the think tank would look at rectifying before the team got together again.
"It's no secret we have struggled in that department," began Upton. "We put in a lot of work on it, practiced well and did a lot of thinking. But the weakness just kept flashing regularly. Other teams noticed that and took advantage of it by putting pressure on our death bowling. If we are conceding such big runs at the end, we're giving away an advantage to the opposition. It's probably part selection, part execution and part strategy that we need to look at and tidy those departments up."
Among other strategies for the future, Upton said team balance would also be scrutinised. Rajasthan's playing XI nearly always had depth, with a batting line-up that ran long and several bowling options, but Upton pointed to the success achieved by the likes of Mumbai Indians and Bangalore in having only five trusted bowlers to do the job.
"We've gone into most games this season with nine batsmen and seven bowlers. We look at Mumbai or Bangalore, and they have five bowlers who do their job. Do we really need such a deep batting line-up or so many bowlers? If you're batting down to No.9 you're in trouble anyway, so in terms of our strategies that's something we'll look at."
In spite of the heavy defeat to Bangalore though, Rajasthan will be reasonably happy with a finish in the top four, especially given the heartbreak of 2014, when they were pipped to a play-off spot at the last minute by Mumbai Indians. And in the Eliminator, Upton conceded that while there had been areas his side could have done better, the batting by AB de Villiers and Mandeep Singh had been outstanding.
"I think we had very good build-up to the game today. At nine overs, we had them 47 for 2, which was a very good first quarter. Then Mandeep came and played a very good innings and with AB at the crease we knew there was going to be trouble if we didn't get him out fairly soon," said Upton. "The second half of their innings they scored over 130 runs plus in 11 overs, which was just unbelievable batting. I don't think we played badly or we bowled poorly or missed any catches. You've really got to give a lot of credit to Mandeep and AB for the way they batted.
"We needed someone to bat a long time because the longer one stayed out there, the easier it got," he went on. "We saw how AB played, it took a long time for him to get settled. Ajinkya (Rahane, who top-scored for Rajasthan with 42) batted for a fair while, but his partners kept changing. As we fell further and further behind the run-rate, it forced the new batsmen to take the bowlers on instantly which was not easy on this wicket. As soon we were behind the game, which happened very quickly, the pressure mounted."
---
---
Team Rankings
Rank
Team
Points
Rating
1
Australia
3028
116
2
New Zealand
2406
115
3
India
3085
114
4
England
3882
105
5
Sri Lanka
2454
91
FULL Ranking
Rank
Team
Points
Rating
1
England
5405
123
2
India
5819
119
3
New Zealand
3716
116
4
Australia
3941
109
5
South Africa
3345
108
FULL Ranking
Rank
Team
Points
Rating
1
Australia
6047
275
2
England
5959
271
3
India
9319
266
4
Pakistan
6009
261
5
South Africa
4380
258
FULL Ranking