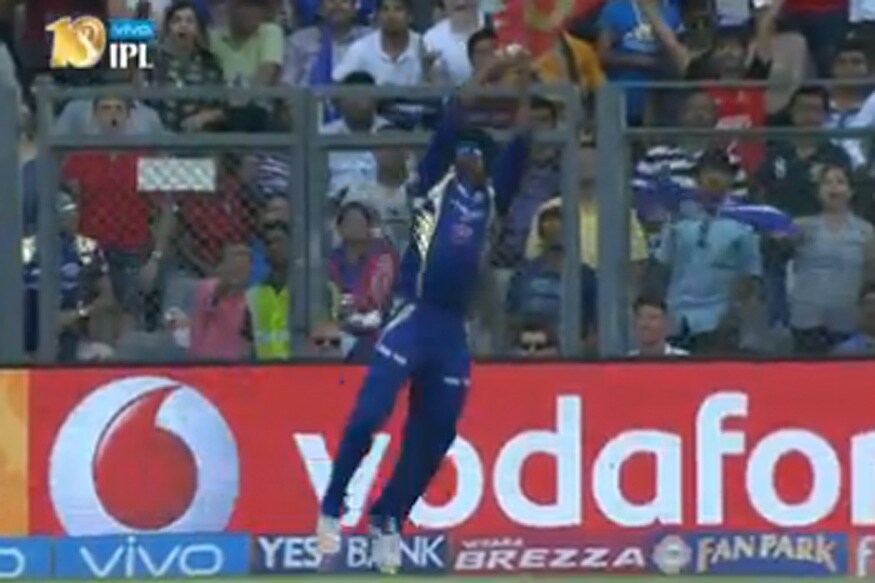 New Delhi: Mumbai Indians star Kieron Pollard may be regarded as one of the most destructive batsman in world but the West Indian is also one of the best fielders in the game. Against Royal Challengers Bangalore on Monday, Pollard's brilliance in the outfield helped Mumbai keep a check on RCB's scoring rate in the final few deliveries of the innings.
Bangalore batsmen Pawan Negi and Kedar Jadhav batted well in the last few overs and helped the team cross the 150-run mark. However, on the penultimate ball of the last over, Pollard's stunner saved six runs for Mumbai and also ended the partnership between Negi and Jadhav.
Mitchell McClenaghan bowled a short delivery and Jadhav flat-batted it towards the long-off boundary. Just when it seemed that the ball will sail over the boundary comfortably, Pollard flew in the air and took the catch with great aplomb.
It can be said that the catch was crucial as it helped Mumbai reduce their target by atleast six runs. And as Mumbai's chase went right down to the wire and they won the match with just a ball to spare, who knows which side would have come out victorious had Pollard not taken the catch.
The victory helped Mumbai win their eight match of the season and they now sit comfortably at the top of the IPL table with 16 points from 10 matches.