IPL 2017, GL vs KKR: Lynn and Gambhir Annihilate Gujarat Lions in Their Den
CONCLUDED
GUJ vs KOL Cricket Scorecard (T20)
Match 3 T20, Saurashtra Cricket Association Stadium, Rajkot, 07 April, 2017
Kolkata Knight Riders beat Gujarat Lions by 10 wickets
HIGHLIGHTS
SIXXXXXX! Another one muscled over the long-on fielder. Lynn has been dealing in sixes. This was his 8th as KKR's score reads 179/0

DROPPED! McCullum drops that one at long-off to give Lynn another six. More importantly, KKR's score reaches 169/0, the highest partnership for the opening wicket in the history of IPL. Gayle and Dilshan had made 167 against Pune in 2013

HUGEEEEEE! Lynn welcomes Kaushik back to the bowling crease with another maximum. That soars into the long-on stands. KKR's score reads 159/0

Gauti and Lynn are now looking to pick the singles and keep the scoreboard ticking. Great advantage for KKR to up the run-rate going into the tournament. KKR's score reads 150/0 off 12.3 overs

50 for skipper Gauti here. Just walks down the wicket and hits that one from Jakati to the long-on fielder and picks the single. He reaches his 50 off just 33 balls. 32nd 50 for the KKR skipper. KKR's score reads 116/0

The doctor is getting some treatment here. Lynn has torn Smith apart in this over. That went 6,4,0,6,6,1. Brilliant from Lynn here. Also bring up his 50 off just 19 balls. KKR's score reads 96/0

Maximum here for Lynn. In his business zone as Smith bowls a loosener and Lynn goes over the top and straight into the long-on stands. Huge one here. KKR's score reads 83/0
23:01 (IST)
Openers dazzle in opening match! 👏😍
This is now a record partnership for the first wicket in #IPL history overtaking 167 (Gayle-Dilshan). pic.twitter.com/hFLn4kbEW9

— KolkataKnightRiders (@KKRiders) April 7, 2017
23:00 (IST)
A couple to take KKR home. This is a 10-wicket win here for Kolkata. But the crowd wanted a maximum as the winning run, but Lynn just hits that to wide off extra cover and picks two runs. Lynn finishes on 93 off 41 balls and Gauti on 76 off 48. Carnage here
22:58 (IST)
SIXXXXXX! Another one muscled over the long-on fielder. Lynn has been dealing in sixes. This was his 8th as KKR's score reads 179/0
22:56 (IST)
DROPPED! McCullum drops that one at long-off to give Lynn another six. More importantly, KKR's score reaches 169/0, the highest partnership for the opening wicket in the history of IPL. Gayle and Dilshan had made 167 against Pune in 2013
22:54 (IST)
KKR are 162/0 after 14 overs with Gauti on 76 and Lynn on 73. Kolkata need another 22 from 36 balls. This is a carnage happening here.
22:49 (IST)
HUGEEEEEE! Lynn welcomes Kaushik back to the bowling crease with another maximum. That soars into the long-on stands. KKR's score reads 159/0
22:48 (IST)
Stunning stuff by Lynn-Gambhir. Gujarat being decimated, bowling thoroughly exposed.Cant see Bravo & Jadeja sitting out any longer #IPL2017

— Cricketwallah (@cricketwallah) April 7, 2017
22:48 (IST)
Power and Class for @KKRiders this could be the best opening pair in the tournament.

— Michael Clarke (@MClarke23) April 7, 2017
22:45 (IST)
Gauti and Lynn are now looking to pick the singles and keep the scoreboard ticking. Great advantage for KKR to up the run-rate going into the tournament. KKR's score reads 150/0 off 12.3 overs
22:44 (IST)
KKR 147/0 after 12 overs with Gauti on 72 and Lynn on 62. The visitors now need just 37 runs off 48 balls with 10 wickets in the bag.
22:41 (IST)
Another boundary here for Gauti and this time Jakati is at the receiving end. After two good overs from the spinner, Gauti decides he has had enough. Goes over covers and that is straight to the boundary. KKR's score reads 141/0
22:40 (IST)
Gauti finishes with a boundary over gully's head. Wide third-man to be precise here. KKR are running a riot here and Raina looks out of ideas. KKR's score reads 131/0
22:38 (IST)
Now one to the mid-wicket boundary. Pitches that short Gony and Gauti is too good a player to miss out on that one. KKR's score reads 127/0
22:37 (IST)
Gauti goes over the covers here. Gony has been ripped apart here. That was a classy shot with the weight on the backfoot and then going over covers on the front foot. Getting the perfect elevation. KKR's score reads 123/0
22:34 (IST)
50 for skipper Gauti here. Just walks down the wicket and hits that one from Jakati to the long-on fielder and picks the single. He reaches his 50 off just 33 balls. 32nd 50 for the KKR skipper. KKR's score reads 116/0
22:32 (IST)
Rare dot ball from Jakati here as both Gauti and Lynn have looked to hit everything out of the park. KKR's score reads 112/0
22:30 (IST)
Bottom edged boundary for Lynn. Nothing going right for Kaushik here. KKR having a ball in the middle. Gauti and Lynn have already put on 109 for the opening wicket. They need another 75 runs with 10 wickets in hand
22:26 (IST)
Seven runs off Jakati's first over here. That was quite a soft one considering Lynn's current mood. Looks like the batsmen are now looking to just milk the bowlers and complete the chase. KKR's score reads 103/0 after 8 overs with Lynn on 52 and Gauti on 45
22:22 (IST)
The doctor is getting some treatment here. Lynn has torn Smith apart in this over. That went 6,4,0,6,6,1. Brilliant from Lynn here. Also bring up his 50 off just 19 balls. KKR's score reads 96/0
22:20 (IST)
Maximum here for Lynn. In his business zone as Smith bowls a loosener and Lynn goes over the top and straight into the long-on stands. Huge one here. KKR's score reads 83/0
22:19 (IST)
Another boundary to finish the over. Gauti ends with another four. Kaushik has no clue what is happening here. KKR's score reads 73/0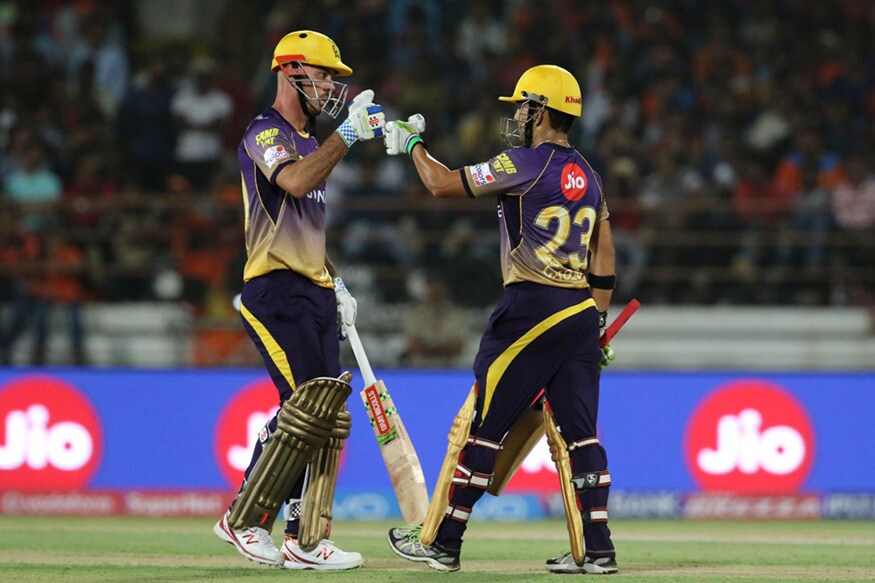 For Live blog, scroll down to bottom of the page.
Preview: A top-heavy Gujarat Lions would look to better their debut season's success and aim for a winning start against two-time champions Kolkata Knight Riders in an Indian Premier League match in Rajkot on Friday.
Gujarat Lions were the table-toppers at the end of the league stage in the last IPL, but finished third after defeats in the two Qualifiers against Royal Challengers Bangalore and Sunrisers Hyderabad.
But this time around, the Suresh Raina-led side would look to go one step up in only their second season of the IPL.