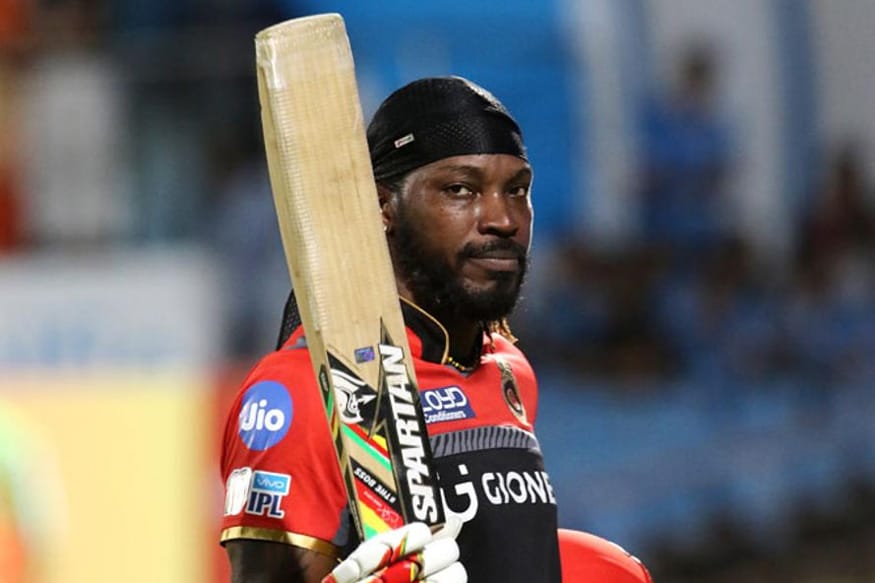 Not often has Chris Gayle experienced struggle and bad form when it comes to the T20 format of the game. But in this season of the IPL, Gayle has been a pale shadow of his old self. The runs have been hard to come and the movement on the pitch at its slowest. But all that changed on Tuesday as he hit 77 off 38 balls to set the stage for a 21-run win for Royal Challengers Bangalore.
Coming in to bat after Suresh Raina won the toss and put RCB in, Gayle started slowly and it took skipper Virat Kohli to take the initiative. In fact, he scored his 3rd run in the 4th over of the innings, in the process also becoming the 1st batsman to score 10,000 runs in T20 cricket. And that is when the storm arrived after the lull.
A full toss from Basil Thampi was sent over the mid-off fielder and landed on the rope for the first six of the innings for Gayle.
From there on, Gayle waited to send every bad delivery out of his sight. But things took another turn in the eighth over.
Ravindra Jadeja bore the full brunt of Gayle's assault as the Jamaican hit the left-arm spinner for two boundaries and six off the first off the first five deliveries of the over. Gayle went for the maximum on the last delivery again, but was caught brilliantly at the fence by Brendon McCullum, who jumped while running to take a great catch.
But the flap of McCullum's hat had touched the boundary rope and that gave Gayle a reprieve and also added another six to his name. There was no stopping Gayle from there on as he hit every ball out of sight.
He was finally dismissed by Thampi with the perfect yorker as the ball hit Gayle's pad before he could get his bat down. Gayle departed for a 38*ball 77 in the 13th over, but the damage had already been done.