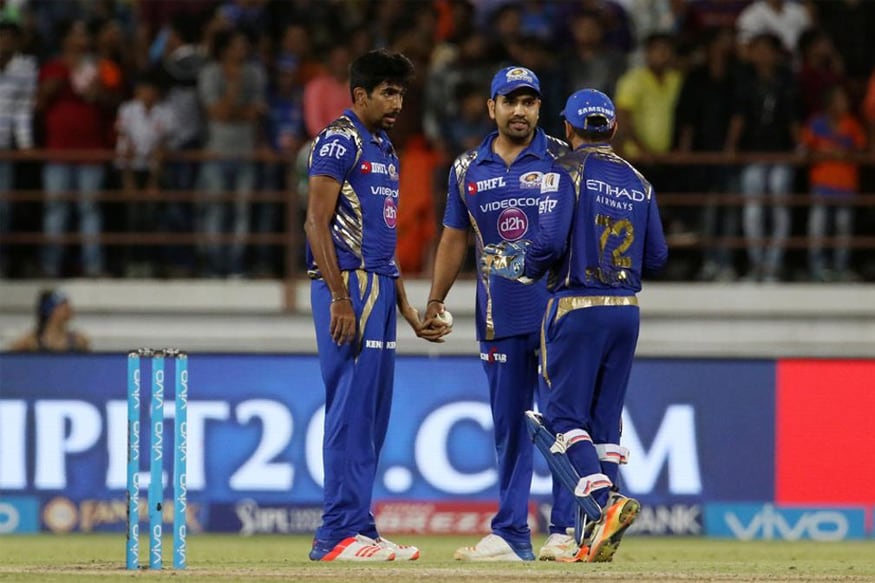 New Delhi: Saturday night could not have ended on a better note for cricket fans in the country as Mumbai Indians and Gujarat Lions played out a Super Over at the Saurashtra Cricket Association Stadium in Rajkot. In what turned out to be the best contest of the season, Mumbai Indians beat Gujarat Lions by 5 runs in the Super Over after the match ended in a tie with both teams scoring 154.
Bumrah stole the show as he gave Gujarat Lions just 6 runs with a volley of yorkers and a mix of reverse swing to go with it as Brendon McCullum and Aaron Finch failed to do much under the heat.
Mumbai Indians took first strike in the Super Over with Jos Buttler and Kieron Pollard taking strike against James Faulkner. Buttler took a single to start, but Pollard started with a boundary. He then went for a big one over long-on. Another attempt to clear the boundary saw Pollard caught by Aaron Finch at long-on for 10. Buttler went the very next ball, caught beautifully by Ishan Kishan at point. Mumbai Indians could manage only 11.
Needing 12, Gujarat sent out Brendon McCullum and Aaron Finch as Bumrah took the ball for MI. Bumrah started with a no-ball as Finch missed the yorker. The free hit was another yorker and Finch tried a ramp shot and missed it. Just one of the first ball. 10 needed from 5 with McCullum on strike. A wide as GL need 9 off 5. But another dot as GL need 9 off 4.
Bumrah bowls another beauty as McCullum misses and GL steal a single to make it 8 off 3. Bumrah bowls a dot. 8 now needed off 2 as Finch fails to hit the full toss as now need 7 off 1. McCullum at the crease and he manages just a single as Mumbai win by 5 runs.
Also Read: GL vs MI, As It Happened
Earlier, chasing 154 can always be dicey under lights, but the way Parthiv Patel and Jos Buttler started for Mumbai, it looked like they had a flight to catch. Parthiv was severe on the Gujarat bowlers and at one stage, MI's score reads 40/0 after 3 overs.
It finally took a run out to send Buttler (9) back to the hut. Parthiv hit the ball to Faulkner at point and they looked to run of the misfield. Faulkner gathered balance, aimed at one stump and hit. Buttler was short and walked back shaking his head.
Nitish Rana came in to join Parthiv and with the latter on cruise mode, Rana also started with a huge six off Suresh Raina. But post that hit, he was happy to just rotate the strike and let Parthiv take the attack to the Gujarat bowlers.
Things were going well for MI with the two putting on 39 off 34 balls when Ankit Soni hit Rana on the pads. Even though the ball had brushed the gloves, the umpire raised the finger. Rana went for a 16-ball 19. With the score reading 82/2, skipper Rohit Sharma came in to join Parthiv.
While Parthiv kept hitting the boundaries, Rohit looked a bit off colour. He was finally dismissed by Faulkner as Rohit (5) tried to nudge that past the wicket-keeper with third-man in the circle. Faulkner could have sent Kieron Pollard back soon after as he flicked the pacer straight to Basil Thampi at mid-wicket, only for Thampi to drop the sitter. Pollard was batting on 4 with MI still needing 46 off 39 balls.
But Faulkner got a sweeter birthday gift as he sent back Parthiv (70). Another attempted nudge to third-man and this time a sharp catch by Karthik behind the wicket. With Parthiv gone, Krunal Pandya joined Pollard in the middle and the two looked to take it easy as MI needed 45 off the last 6 overs.
Thampi though came back to dismiss Pollard (15) as the batsman hit it straight down the throat of Brendon McCullum at long-on. With 27 required off 23 balls, Hardik Pandya came in to join brother Krunal. But Thampi returned to send back Hardik off the first ball of the 19th over for 4 with the score reading 139/5.
MI still needed 15 off 11 balls as Harbhajan came in to join Krunal. But Thampi bowled a beauty to send back Harbhajan for a duck. And Irfan followed that with a brilliant direct hit from fine-leg to run out Mitchell McClenaghan for 1 as he came back for a double.
Mumbai needed 11 off 6 balls going into the last over and Irfan came back to bowl. Krunal welcomed him with a huge six back over the head. 5 now needed off 5 balls as Krunal and Jasprit Bumrah punched gloves. 4 needed off 4 as Krunal took a single. But Jadeja then ran out Bumrah with MI needing 4 off 3 balls.
With one wicket in the hand, Krunal cut Irfan for two to the backward point region. MI now needed 2 off 2 and Krunal took a single as Mumbai now needed 1 off 1 with Malinga on strike. Malinga missed and ran, but Jadeja hit the stumps and that tied the game with the Super Over coming up.
Raina had won the toss and decided to bat at the SCA Stadium in Rajkot. But the team did not get off to the best of starts as Lasith Malinga sent back Brendon McCullum for just 6. Looking to give himself room, McCullum missed and Malinga hit.
With the score reading 21/1, Raina joined a dangerous looking Ishan Kishan at the crease and while Kishan kept taking the attack to the Mumbai bowlers, picking 15 off Mitchell McClenaghan in the 3rd over, Raina did not look to comfortable and his stay finally ended when Kieron Pollard took a good catch at mid-off.
Jasprit Bumrah pitched this one up, but Raina looked more like poking at it and the lob was taken without any problem by Pollard. Raina walked back having scored just 1. Aaron Finch didn't disturb the scorers as he was cleaned up by Malinga for a duck.
Even though Kishan kept attacking the bowlers, he did not find much support as Dinesh Karthik too left for just 2 as Parthiv stumped him down the leg side. That was a wide from Krunal, but the wicket meant more than enough as the MI players celebrated.
Kishan found a good partner in Ravindra Jadeja and the two were scoring at 9 runs per over for a good three overs before Harbhajan Singh induced a false shot from Kishan (48) and Pollard completed the catch at long-off. Jadeja too left two overs later, caught and bowled by Krunal Pandya as Jadeja (28) went for a slog sweep.
Things went from bad to worse when Krunal sent back Irfan Pathan (2) as he looked to hit the spinner out of the park. The score read 101/7 in the 16th over. It finally took some power hitting from Andrew Tye (25 off 12 balls) in Faulkner's (21) company to help Gujarat reach a fightable total. Ankit Soni hit a six off the last ball as the Lions finished on 153/9.
@media only screen and (max-width:740px) {
.quote-box{font-size:18px; line-height:30px; color:#505050; margin-top:30px; padding:22px 20px 20px 70px; position:relative; font-style:italic; font-weight:bold}
.special-text{font-size:24px; line-height:32px; color:#505050; margin:20px 40px 20px 20px; border-left:8px solid #ee1b24; padding:10px 10px 10px 15px; font-style:italic; font-weight:bold}
.quote-box img{width:60px; left:6px}
.quote-box .quote-nam{font-size:16px; color:#5f5f5f; padding-top:30px; text-align:right; font-weight:normal}
.quote-box .quote-nam span{font-weight:bold; color:#ee1b24}
}