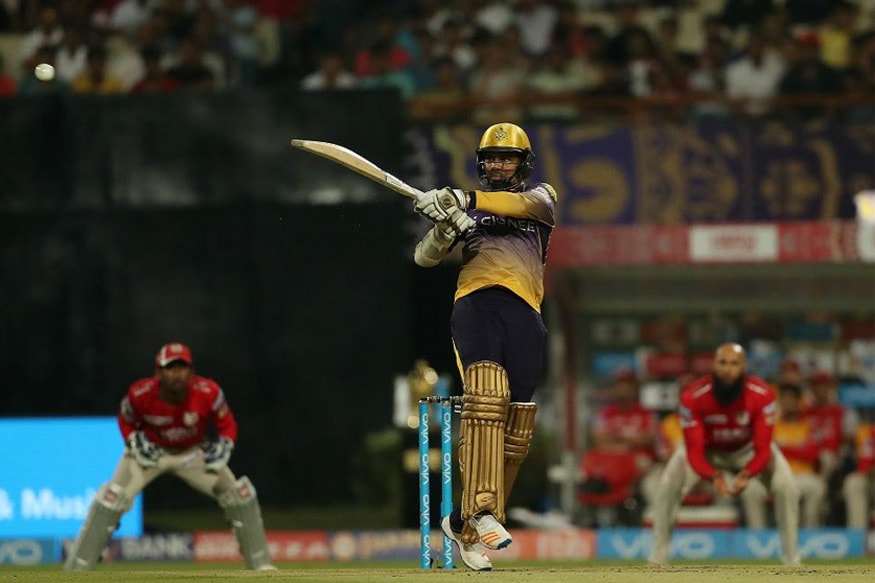 With Chris Lynn out injured, everyone expected Gautam Gambhir and Robin Uthappa to reunite at the top as Kolkata Knight Riders came out to chase Kings XI Punjab's score of 170/9 at the Eden Gardens on Thursday. But skipper Gambhir had other plans. He walked out with none other than Sunil Narine.
Narine had opened thrice in last year's Big Bash League for Melbourne Renegades, but nobody expected him to do that in the IPL, especially with Uthappa in the team. But as Gambhir put it post the game: "Narine can hit a big ball, we have a long batting line-up, and so we sent Sunil in at the top. He won't face many balls at No. 9 anyway."
Known for his bowling skills, Narine's promotion to the top of the batting line-up took everyone by surprise. And that is exactly what the West Indies mystery spinner took advantage of. He hit 37 off just 14 balls as KKR started on fifth gear.
Narine started with a boundary off the second ball of the innings off Sandeep Sharma, slashing the pacer over the top of the slip cordon.
Gambhir played all of the second over and Narine had to wait till the third over to get a chance at the batting crease and he made the most of the opportunity as he hit the first ball of the third over from Sandeep into the long-off stands.
Ishant troubled Narine a bit in the fourth over and kept him quiet, but then, Glenn Maxwell's decision to bowl himself hurt Punjab as Narine hit him for two boundaries. Gambhir too joined him in that over as Maxi leaked 18 runs.
But the best was stored for pacer Varun Aaron. Bowling at over 140kph, the first ball went into the long-off boundary. That was a 'see ball, hit ball' shot that even KXIP mentor Virender Sehwag would have been proud of.
The next one went flying into the long-on boundary and the third one was another boundary, this time pulling Aaron past the short fine-leg fielder.
But Aaron had the last laugh as another attempted pull landed in Axar Patel's lap at deep mid-wicket. Narine could not manage to control the pull and KXIP finally had something to rejoice.
By the time Narine was dismissed, KKR's score had reached 76 in the 6th over — their best display in the powerplay in 10 editions. While Aaron celebrated the wicket, it was a little too late in the day as Gambhir then guided Kolkata home with 21 balls to spare, hitting his 33rd fifty in the process.
First Published: April 13, 2017, 11:59 PM IST