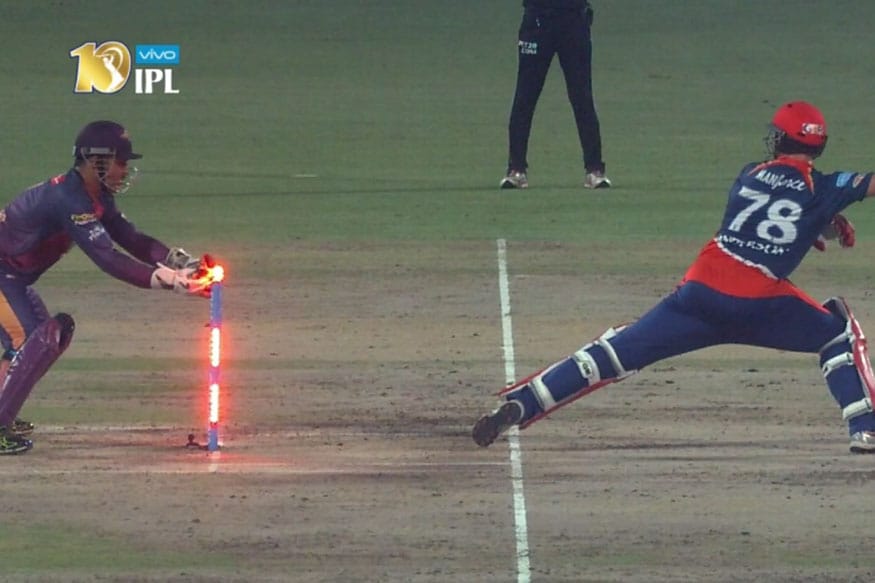 His fans may not believe it but Mahendra Singh Dhoni is a veteran cricketer at the age of 35, with his fittest years as a cricketer well past him. But as he has done several times in the recent past, MSD has again showed that age is just a number for him and he is still fit and agile enough to pull off great stunts on a cricket field.
Dhoni displayed his top notch wicket-keeping skills on Friday as he took a brilliant catch behind the wickets and also affected a blink and you miss stumping in his team's match against Delhi Daredevils.
His heroics weren't enough for Pune to win the match but Dhoni magic brought the Kotla on its feet.
Dhoni first took a brilliant single handed catch to dismiss the dangerous Marlon Samuels. The West Indian was striking the ball well when Dan Christian surprised him with a short delivery, Samuel looked to pull the delivery but only managed to get a top edge, which was pouched by Dhoni stretched arm behind the wicket.
He then ensured that the big-hitting Corey Anderson didn't get a chance to inflict much damage as affected a stumping in a flash, which left the Kiwi bemused. Pune spinner Washington Sundar bowled a delivery wide outside the off-stump, which Anderson failed to connect with.
The momentum ensured Anderson's foot was out of the batting crease for a fraction of a second and that was time enough for MS Dhoni to do his business.
Both these efforts played key roles in Pune restricting Delhi to a score of 168.
First Published: May 13, 2017, 11:53 AM IST