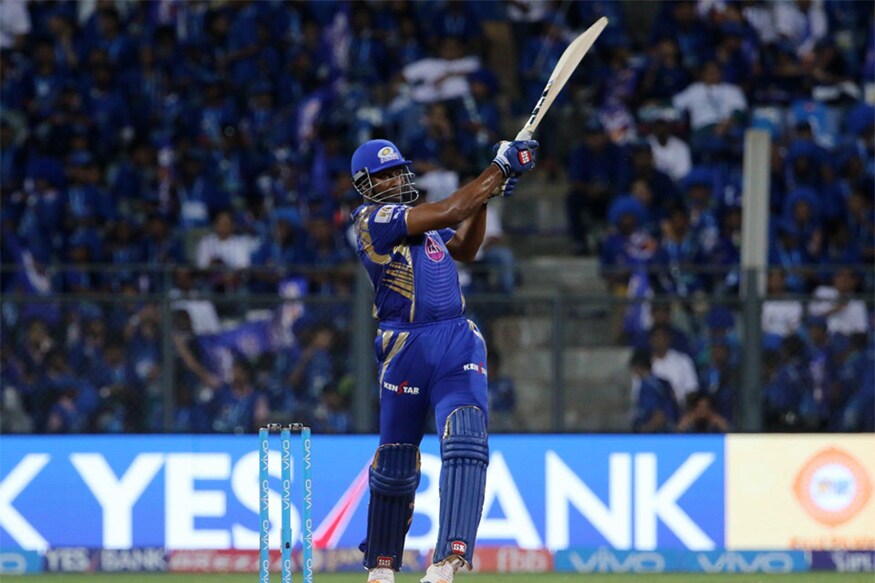 Mumbai: IPL table-toppers Mumbai Indians might have suffered back-to-back defeats after securing a play-off berth, but there was no need to press the panic button, said West Indian Kieron Pollard.

Mumbai Indians lost by seven runs last night to Kings XI Punjab in a high-scoring game here.

"It shows we are humans and can't win every game. As I said we keep improving. We had sort of a dismal performance against Sunrisers (Hyderabad). We have bounced back pretty well on a good wicket. We fought," said Pollard, who blasted an unbeaten 50 in 24 balls for a lost cause.

"We are playing against opposition, professionals in their own right. It's not always you will turn up and win a cricket game.


"(But) there is no need to panic. We will keep our heads high. We have qualified and the first step in every tournament is qualification. We have not taken our foot off the gas.


"(Loss) Just shows we can make mistakes as well. We lost two games in a row. If we pick up momentum and win the next three, then you will be asking how is the championship feeling," he retorted when asked how back-to-back losses could affect the team going into the play-offs.

The two-time champions began their campaign with a loss to Rising Pune Supergiant, had a great run of six successive wins before their trans-Sahyadri rivals again stopped the spree by beating them at the Wankhede Stadium here.

From then on it has been a mixed bag and the worst show was against the Sunrisers in Hyderabad when they were tied down to a low score of 138 for seven which was easily overhauled by their rivals with seven wickets to spare.

Yesterday, on an off day for most of their bowlers, MI allowed KXIP to rattle up a season-high score of 230-3 and then came very close to achieving the highest-ever successful run-chase in IPL history by reaching 223-6, thanks to opener Lendl Simmons' 32-ball 59 and Pollard's blistering knock that contained five towering sixes.

Had MI won, Punjab would have been knocked out of play- off contention, but they survived by the skin of the teeth despite rattling up a tall score.

The giant Trinidadian complimented rival stumper Wriddhiman Saha, who notched up 93 not out in 55 balls, and visiting team skipper Glen Maxwell (47 in 21 balls) for powering KXIP to the tall score, only the third time they have reached 230 in ten editions of IPL.


"It was a great game of cricket from both sides. We call it (Wankhede track) a bowlers' graveyard. It's good we stuck to our guns. These are the games you want going into the play- off rounds.


"Saha batted very well, Maxi as well. They took the initiative right from the start and we knew we were in for a tough game. As I said someone has to win, someone has to lose and we were the losing side," said Pollard, who brought MI closer to the target in the company of Hardik Pandya (30 in 13 balls).

The duo added 55 runs in less than four overs to send KXIP into a tizzy before the visitors gathered their wits in the last two overs to stop MI's surge just short of the target.

Pollard conceded that the Wankhede Stadium match track was a very good one to bat on, perhaps the best of the pitches laid out at this venue this season thus far.

"Yes, I think so. It was a very good wicket. As you can see runs were scored. It was a very good cricket match as well. In T20 cricket when a side scores 230, more often than not they don't give you a chance. We came as close as possible."

Pollard said he did not feel much pressure as he was out in the middle and trying to concentrate on the job in hand.

"These are the moments you practice for. This is what professional sport and cricket is all about. Once you are in the middle the pressure is not as hard as actually watching it from the dug-out. I was in the middle and so it was pretty easy," he said.

"I don't know how others were feeling in the dug-out. I know when I am in the dug-out I feel the pressure. Once you are in the middle the pressure is different there is a job to do and you try to do the job to your best (ability)," he concluded.

First Published: May 12, 2017, 11:25 AM IST