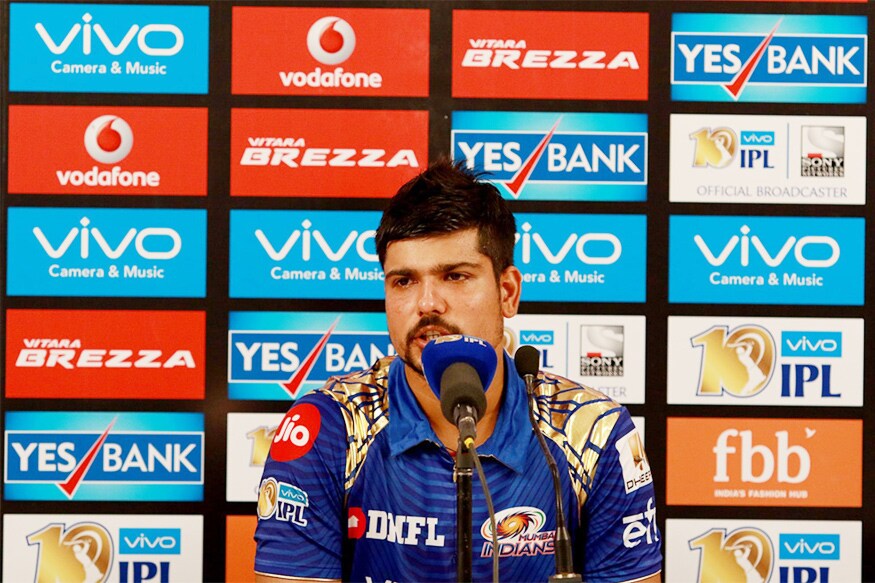 Mumbai: Leg-spinner Karn Sharma on Monday said Mumbai Indians should not take the remaining four round-robin games lightly and carry the momentum into the knockout stage of the Indian Premier League.
MI defeated Royal Challengers Bangalore by five wickets to seal their spot in the IPL play-offs.
"We have qualified (for the play-offs), but we can't take these four matches lightly also, we need to take momentum to the knock out stage," Sharma told reporters at the post-match conference after Mumbai defeated Royal Challengers Bangalore by five wickets.
In reply to RCB's modest 162-8, Mumbai scored 165-5 with one ball to spare, courtesy skipper and man of the match Rohit Sharma's well-measured innings of 56 not out in 37 balls, that included one six and six fours.
It was MI's eighth win out of 10 games, and they have lost twice only to Rising Pune Supergiant, including the only defeat in their home venue Wankhede Stadium.
The 29-year-old Meerut-born Sharma, who took one RCB wicket, feels leg-spinners have got more purchase from the tracks and hence they have been successful in the T20 League this season.
"Imran Tahir is number one bowler in T20 and I learnt a lot from him (while interacting with him when Pune played against Mumbai here). In T20, the leg spinners get (more) grip from the wickets, even if it is flat or otherwise," said the UP player who had turned out in one Test without much success when India toured Australia a few years ago.
Seasoned off-spinner Harbhajan Singh missed Monday's game and Sharma said Singh had some problem in the left-foot.
"Harbhajan had some problem on the left foot, he will be fine for the next match. Krunal (Pandya) is fine."
Pandya took two wickets in four overs but fell over the ball while chasing a delivery and left the field. He, however, came in to bat at no. 6 only to retire hurt at the 14th over after finding it difficult to run properly.
RCB pace bowler Aniket Choudhary, who bowled impressively till his last over, conceded that the total put up by his team was short of par for the course.
"I don't think so (when asked was it enough). We batted first and we understood how it behaved. I think if we had bowled more slow balls, we could have stopped them from getting to the target. It was a decent wicket, but we bowled a few bad balls here and there."
With MI needing 30 runs from last 18 balls, Choudhary bowled the 18th over and he conceded just six runs in the first five balls but he bowled a wide next and was blasted by Hardik Pandya for a six off the extra ball.
"As far as last ball is concerned, I was wondering whether to bowl him (Hardik Pandya) the slower one or the fast one. Maybe it was a match-changing point," Choudhary said.
"So I went to and asked him (de Villiers) 'what should I bowl?' And he said 'maybe he is ready for the slower one, so I think you should go with the hard length.'
"And when someone as great as AB tells you do to something, such a world class player and if he is giving you a suggestion, it's very hard to go against it. And I thought he is right.
"And (captain) Virat (Kohli) wasn't happy with what I bowled. He thought I did the wrong thing and I should have bowled full and slow," he explained.
The Rajasthan pacer had bowled to the Indian batsmen at the nets prior to the Test rubbers against New Zealand, Bangladesh and Australia.
Asked what he had gained from the experience, he misunderstood the question and said: "Gain is that I got Rs 2 crore! (at IPL auction)."
He soon realized his mistake and added: "It was a very good experience, if you are bowling to top Indian batsmen and getting them out, that's where I got noticed by Virat that I'm from Rajasthan and I am bowling well.
"Once you bowl to the best and get them out, I don't think there is a better way of gaining confidence than that.
After that whichever domestic competition you go, like when I played Ranji Trophy, I was very confident. It appeared a lot easier then."
Asked why such a star-studded unit like RCB has flopped totally this season and have no chance to qualify for the play-offs, Choudhary blamed it on misfortune.
"Maybe bad luck ... Things didn't go our way. Things happen quite fast in T20 and when things don't go your way (the team fails)," he said.
@media only screen and (max-width:740px) {
.quote-box{font-size:18px; line-height:30px; color:#505050; margin-top:30px; padding:22px 20px 20px 70px; position:relative; font-style:italic; font-weight:bold}
.special-text{font-size:24px; line-height:32px; color:#505050; margin:20px 40px 20px 20px; border-left:8px solid #ee1b24; padding:10px 10px 10px 15px; font-style:italic; font-weight:bold}
.quote-box img{width:60px; left:6px}
.quote-box .quote-nam{font-size:16px; color:#5f5f5f; padding-top:30px; text-align:right; font-weight:normal}
.quote-box .quote-nam span{font-weight:bold; color:#ee1b24}
}