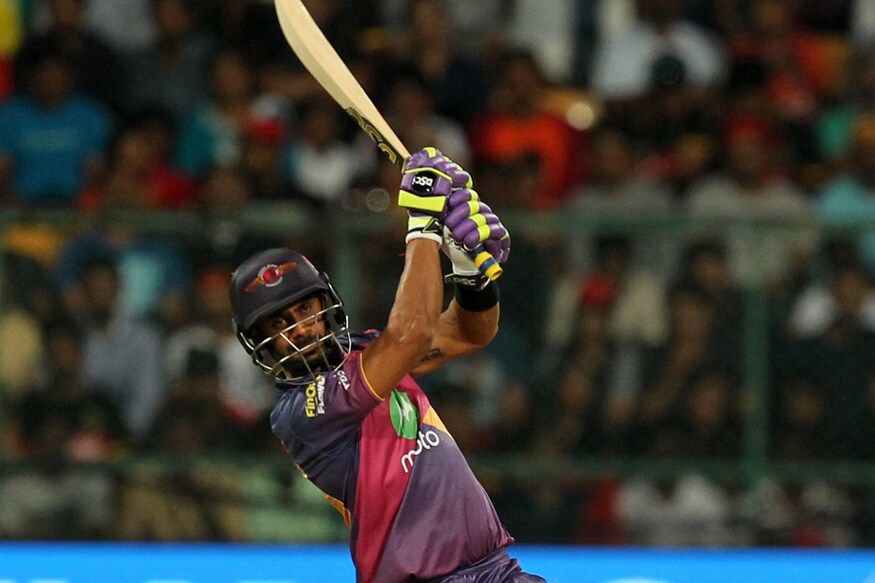 Bengaluru: Rising Pune Supergiant batsman Manoj Tiwary described his 27-run cameo as one of the turning points of his side's IPL match against Royal Challengers Bangalore here and expressed happiness at the role he played in the win.
Tiwary struck 27 from just 11 balls after RPS suffered a middle order collapse to take the team score to 161 for 8. RPS then restricted RCB to 134 for 9 to notch up a 27-run win.
There were lot of turning points. My innings at the end was important, that made 20-odd runs difference. Obviously we had a collapse in the middle order. We lost the momentum from there", Tiwary said.
"It was not easy for batsman to rotate the strike. Obviously my innings proved important to the team and also the contributions of others. It was a team effort," he told reporters after the match.
Tiwary said he was not surprised with his side's 161/8 after being sent into bat because he knew the wicket was very difficult to play on. He said the bowlers did a fantastic job to restrict RCB to 134 for nine.
"To be honest, I am not surprised because the amount of runs we put on was just enough. Rest was left for the bowlers to execute, and they executed the plan very well by bowling a lot of slow deliveries and slow cutters," he said.
Tiwary said reading bowlers' mind was very important for him in the last phase of his side's innings.
He said before coming into this IPL season, he had made up his mind to build innings and go for aggressive strokes at the same time to have good strike rate, which is very important for a batsman in shorter versions of the game.
"Strike rate is obviously at the back of my mind. In domestic matches, I had a very high strike rate because it is the demand of this format. Before I came here, I had a plan to build my innings if the situation demanded and be aggressive at the same time," he said.
On Ben Stokes and Shardul Thakur, Tiwary said both bowled exceptionally well because it is not easy to bowl to Virat Kohli, AB de Villiers and others.
Asked how much pressure was on him to make a comeback in IPL, Tiwary said there were a lot of expectations from people to score 1,000 runs at the start of every season, but even after scoring 700 runs, the performance was not appreciated enough.
"For me, every season is important. Somehow there are lot of expectations. People want me to do well. They want me to score 1000 runs every season but people should understand even getting 700-odd runs also is good enough. I have decided no matter what people say, I will not get bogged down by them," he said.
@media only screen and (max-width:740px) {
.quote-box{font-size:18px; line-height:30px; color:#505050; margin-top:30px; padding:22px 20px 20px 70px; position:relative; font-style:italic; font-weight:bold}
.special-text{font-size:24px; line-height:32px; color:#505050; margin:20px 40px 20px 20px; border-left:8px solid #ee1b24; padding:10px 10px 10px 15px; font-style:italic; font-weight:bold}
.quote-box img{width:60px; left:6px}
.quote-box .quote-nam{font-size:16px; color:#5f5f5f; padding-top:30px; text-align:right; font-weight:normal}
.quote-box .quote-nam span{font-weight:bold; color:#ee1b24}
}