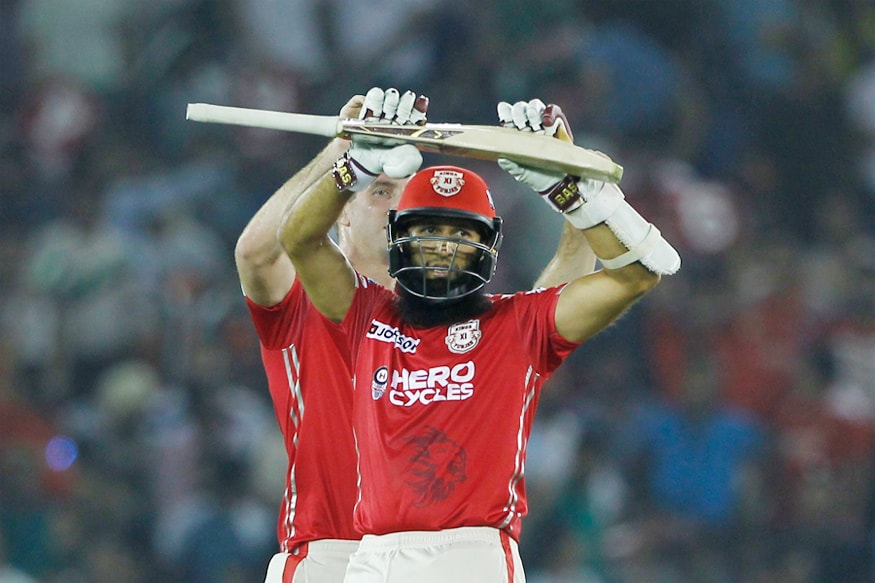 Mohali: Veteran South African player Hashim Amla feels that the IPL has become a lot more accommodating for 'orthodox' batsmen like him and says that one can score big runs in T20 format with proper cricketing shots.

Kings XI Punjab opener Amla hit a brilliant 104 off just 60 balls, which was studded with five sixes and eight fours, though for a losing cause as his side lost to Gujarat Lions by six wickets on Sunday.

As his wont, Amla, a Test-mould player, mostly stuck to traditional cricketing shots to score the ton. This was his second century for KXIP this season, the previous one being against Mumbai Indians.

When told that many think T20 cricket is all about hitting fours and sixes almost every ball, Amla said the format forced every player to get a way out to "maximise each ball".

"Everybody who plays T20 cricket has to find a way of how to maximise each ball they faces. You will find many examples of better cricketers who have been successful in T20 cricket without necessarily looking agricultural, as they say. They have played good cricketing shots and managed to get runs," Amla said at the post-match press conference.


The 34-year-old veteran of 104 Tests, who has a triple ton to his credit, said every now and then when a batsman, who is not known for lusty hitting, scores big in T20 cricket, such talks crop up.


"So, I think over the ten years of IPL and T20 cricket around the world, I know it comes up every time someone who has got his runs who is not known or is not a massive six hitter. But this has been happening for many years now. I think guys are becoming a lot more accommodating for players like that," Amla said.


Talking about KXIP's match against Gujarat Lions, he said setting a target of 190 for the visiting side was a pretty decent one, but gave full credit to the opponents for chasing down the total.


"Obviously, it is very disappointing to lose, target of 190 was a pretty decent score. But you've got to give credit to Gujarat, in the way they came out and they played so positively and managed to kind of negate whatever advantage we had earlier on," Amla said.

KXIP were also sloppy in their fielding, giving two lives to Dwayne Smith, who hit a 39-ball 74 to help Gujarat Lions win the match, but Amla said dropped chances were part of the game.

"Dropped catches are part of game, it's going to happen now and then. Before this game, we have done exceptionally well on the field and had great fielding efforts throughout the campaign. But this is one game when we haven't been at our best and that happens.

"Guys who drop catches, you know how brilliant fielders they are, so it's only natural that they are allowed to drop couple here and there. But I said it's part of the game.

Unfortunately in this game, it (the result) didn't go in our favour," he said.

Asked about his side's inconsistency, Amla said, "We know any team that is going to be successful has to be consistent.

I like to think that our bowlers have done exceptional job at times, but you've got to get credit to Gujarat. Defending here in Mohali is very difficult, it's a big field, the wicket was playing pretty good. I will not be too critical about our bowling unit, I like to acknowledge Gujarat's fine batting display to get to a good score."

"We were not at our best against Gujarat. It's just about finding consistency. We are still in the competition, which is a wonderful thing. If we manage to win the remaining of our games, cause some upsets here and there, then we get to reach the final four," Amla said, exuding hope that KXIP can still make it to the play-offs.

KXIP's upcoming match will be against Kolkata Knight Riders. KKR openers Sunil Narine (54 of 17 balls) and Chris Lynn (50 from 22 balls) destroyed the Royal Challengers Bangalore bowling attack to seal their eighth win from 12 matches.

Asked how would rate KKR, Amla said, "We watched that innings in the change room before we went out to play. It was great to see those guys bat like that. Every ball seemed like either four or a six, which is quite entertaining. In T20 cricket, that's what happens. There are certain things when you play attacking cricket, you end up with some brilliant performances like these two guys (Narine and Lynn)".



First Published: May 8, 2017, 2:15 PM IST