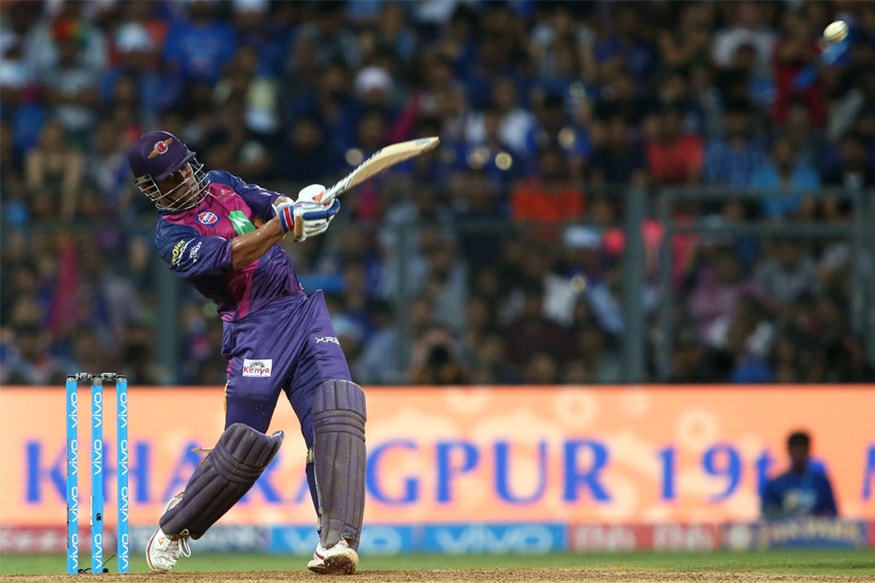 New Delhi: Rising Pune Supergiant have slowly but surely understood the need to warm up to former skipper MS Dhoni. After removing him as captain at the start of this season and sidelining him and promoting new skipper Steven Smith, they have finally understood the respect and love Dhoni commands.
Going into the coveted final of the 10th edition of the Indian Premier League, Pune decided to call themselves team MS Dhoni and paid a tribute to MSD's famous helicopter shot on Instagram. The post read: "Forgot what team you support? It's called M.S.Dhoni!🚁 #Helicopter @mahi7781 #RangWahiJungNayi."
This after Harsh Goenka, brother of Rising Pune Supergiant owner Sanjiv Goenka, was pulled up by fans on social media after he applauded Steven Smith for his match-winning knock against Sunrisers Hyderabad at the start of the IPL.
Smith (84 runs off 54 balls) smashed a six off the penultimate ball to take Pune over the line — in typical Dhoni-style — with the former India captain watching on from the non-striker end.
Harsh Goenka tweeted that Smith's match-winning ability and leading from the front attitude is why he was chosen as the captain of the RPS side for the tenth edition of the league. Goenka didn't stop there and also went on to write that Dhoni was completely overshadowed by the Australian in this match.
Sakshi Dhoni also made the unrest clear when she posted a photo on Instagram wearing a Chennai Super Kings helmet. Dhoni was a part of CSK till it was suspended by the Supreme Court.
Earlier, speaking to CricketNext at the start of the season, Sanjiv Goenka had spilled the beans on Dhoni's removal as captain and said that while everyone is entitled to have an opinion, the interest of the team is priority and that is why the captaincy was handed over to Smith.
Goenka though was quick to reiterate that he has immense respect for India's World Cup-winning skipper.
"To me, the media can say whatever they want, the social media can also say whatever. I respect everything, I respect all the views and each one is entitled to their own views. But, I do not think it is a matter of public debate as to what went behind the decision (of handing the captaincy to Smith). Sometimes the decisions are not necessarily the most popular, but that is the way it is.
"You are here to take decisions which are in the best interest of the team, which is what we are trying to do. And, we do believe that we have a great team and we do believe that we will perform well this year, but that only time will tell," he had said.
"I have said this and I will say this again that every time I have met MS or interacted with him, I have learnt something new. I have immense respect for him both as a player and as one of the finest leaders. I have no qualms in saying that I am his biggest fan."
First Published: May 20, 2017, 5:40 PM IST