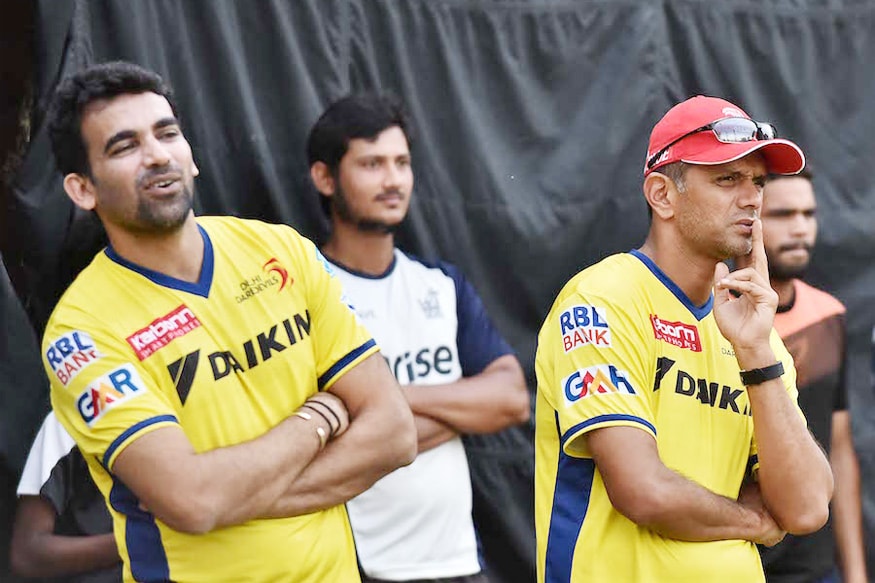 New Delhi: At 38, Zaheer Khan might be one of the oldest players in the Indian Premier League, but the former India pacer is raring to go in the 10th edition of the cash-rich league. And mentor Rahul Dravid is excited to have his former India teammate back in the Daredevils outfit.
Having worked on his fitness, taking a break from commentary during the on-going India-Australia series, the old warhorse is back to lead the Delhi Daredevils and Dravid is extremely happy to see Zaheer sweat it out and return to shape going into this edition of the IPL.
Zak was brilliant for us both on and off the field as skipper. He has led really well. And we were really eager to get him this season and even though it can be a challenge since he has not been playing competitive cricket, I am glad and credit to him that he agreed to work on his fitness and stay fit and come back this season," Dravid told CricketNext in an exclusive chat at the Delhi Daredevils Cricket Academy in Gurugram.
"We have a lot of youngsters in the team and that is where we needed Zaheer as he brings in that knowledge and sense of calm in the dressing room and you need that when you are playing a tournament like the IPL. Also a lot of the youngsters look up to Zaheer as he is an inspiration."
While Dravid is happy to have a fit-again Zaheer, he rues missing the services of JP Duminy (pulled out due to personal reasons) and Quinton De Kock (injured). Dravid feels that the two will be big blows as the team was looking at them to step up and take the unit forward.
But the team mentor is also confident that the youngsters in the team like England batsman Sam Billings and the senior pros like Corey Anderson and Angelo Mathews will make up for the absence of the two South Africans.
"It is obviously a big blow when you lose big players like JP Duminy and Quinton De Kock just going into the tournament. If these things happen before the auction then it is easier because you can plan better. But then this is how it goes and you cannot help it. We do have talented players like Sam Billings and hopefuly they can go up and perform," he said.
"Also, we have all-rounders like Corey Anderson and Angelo Mathews who have proved themselves at th ehighest level and will be able to, in some way, replace JP. But yes, Quinton is a big loss because he played so many games for us and was one of our main batsmen. We had built him up for this season, but this is how life is and you cannot do much about it."
Even though Dravid has joined the ranks since last year, the team is yet to achieve success, having failed to qualify for the knockout stages over the last four years. And Dravid is confident that the team has learnt from the mistakes it made last year and will perform better.
We were in the race till the last group game last season against Royal Challengers Bangalore in Raipur. We needed to win that one and qualify for the knockout stages, but unfortunately we did not qualify. But this time we will look to start from where we left last season and try and improve further," he said.
"We will also look to strategise better and give the players good opportunity. In a format like the IPL it is also important to rest the players and keep them fresh and we will also look at that and give it our best and be successful."
Delhi Daredevils play their first match of the IPL this season against Royal Challengers Bangalore on April 8.
@media only screen and (max-width:740px) {
.quote-box{font-size:18px; line-height:30px; color:#505050; margin-top:30px; padding:22px 20px 20px 70px; position:relative; font-style:italic; font-weight:bold}
.special-text{font-size:24px; line-height:32px; color:#505050; margin:20px 40px 20px 20px; border-left:8px solid #ee1b24; padding:10px 10px 10px 15px; font-style:italic; font-weight:bold}
.quote-box img{width:60px; left:6px}
.quote-box .quote-nam{font-size:16px; color:#5f5f5f; padding-top:30px; text-align:right; font-weight:normal}
.quote-box .quote-nam span{font-weight:bold; color:#ee1b24}
}