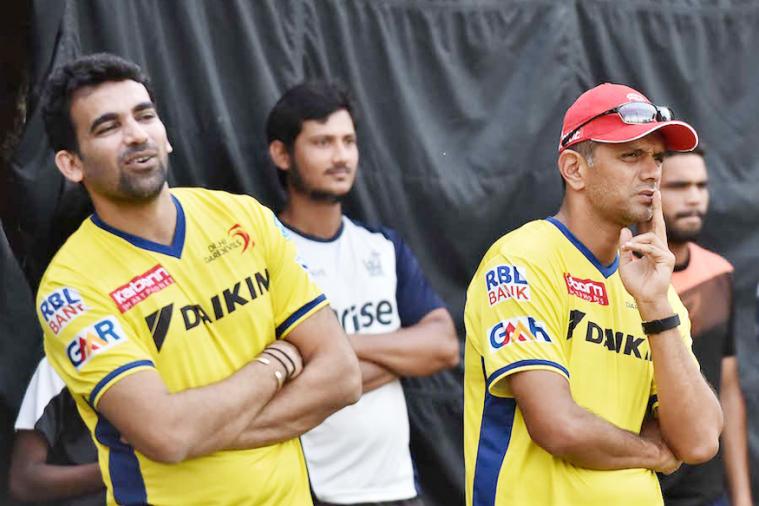 New Delhi: Delhi Daredevils' stalwarts Rahul Dravid and Zaheer Khan seem to be at loggerheads regarding the young and inexperienced Delhi team, which failed to qualify for the Indian Premier League (IPL) play-offs after a string of inconsistent performances.
Following Delhi's eighth loss of the season against Royal Challengers Bangalore on Sunday, skipper Zaheer blamed his team's inexperienced batting line-up for their failures in the 10th edition of the cash-rich league.
"This has been the story of the season. When we look back, we can see we needed experience in these sorts of games. When the wicket is slow, you need to go big early," said Zaheer after DD's loss against RCB.
But mentor Dravid had time and again shown faith on the young turks in the team. After a bad start in the league, Dravid had re-emphasised that he had full faith in DD's young talent. However, the young stars like Sanju Samson, Karun Nair, Shreyas Iyer and Rishabh Pant failed to perform on a consistent basis with the bat and Delhi once against crashed out of the group phase.
Also Read: Bowlers Steal the Show as Bangalore Beat Delhi by 10 Runs
"I still have full faith in youngsters. The league is still at the halfway stage. It's kind of funny that we are still sixth in the table with the highest net run rate (second highest to KKR). So I have full faith in our youngsters that they will turn it around in the next 7-8 matches," Dravid was quoted as saying after Delhi won just two of the opening seven matches in IPL-10.
It's surprising to see that these two have contrasting opinions, considering their vast experience and knowledge of the game.
The young 'fantastic four' of Delhi — Samson (386 runs), Nair (281 runs), Iyer (338 runs) and Pant (366 runs) — showed glimpses of their talent, but couldn't produce the runs on a consistent basis.
The likes of Pat Cummins (15 wickets), Chris Morris (12 wickets), Zaheer Khan (10 wickets) and Amit Mishra (10 wickets) performed well with the ball, but Daredevils were found wanting with the willow in hand during most of the matches.
@media only screen and (max-width:740px) {
.quote-box{font-size:18px; line-height:30px; color:#505050; margin-top:30px; padding:22px 20px 20px 70px; position:relative; font-style:italic; font-weight:bold}
.special-text{font-size:24px; line-height:32px; color:#505050; margin:20px 40px 20px 20px; border-left:8px solid #ee1b24; padding:10px 10px 10px 15px; font-style:italic; font-weight:bold}
.quote-box img{width:60px; left:6px}
.quote-box .quote-nam{font-size:16px; color:#5f5f5f; padding-top:30px; text-align:right; font-weight:normal}
.quote-box .quote-nam span{font-weight:bold; color:#ee1b24}
}