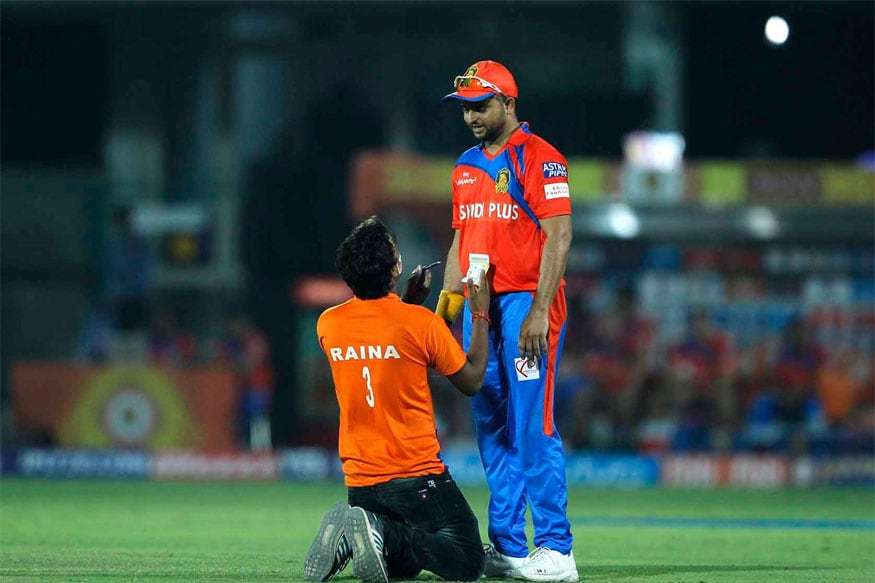 Suresh Raina might not have made the cut for the Champions Trophy and his Indian Premier League team, Gujarat Lions, may have been knocked out of contention for the play-offs, but the southpaw is still a huge hit with the fans.

This was evident during Gujarat Lions' match against Delhi Daredevils on Wednesday at Kanpur's Green Park Stadium as a fan entered the field of play during Delhi's chase and went straight to Raina.


The fan, who was wearing a t-shirt with 'Raina' written on it, kneeled down in front of his cricketing idol to ask for an autograph. A surprised Suresh Raina couldn't hide his amazement on seeing the fan rushing on to the pitch to meet him.


The security personnel came rushing on to the ground but by then the fan had shaken hands with his favourite cricketer. He agreed to be removed from the playing area after he was convinced by the Gujarat Lions captain.

Suresh Raina is a popular figure in Uttar Pradesh, having played for the state in Ranji Trophy.

Raina has had a mixed bag of a tournament so far. He is the highest run-getter for his team with 440 runs from 13 matches, with three half-centuries in his kitty.

But a mediocre bowling attack has meant his team hasn't been able to defend big totals and find themselves languishing near the bottom of the points table.

First Published: May 11, 2017, 3:49 PM IST