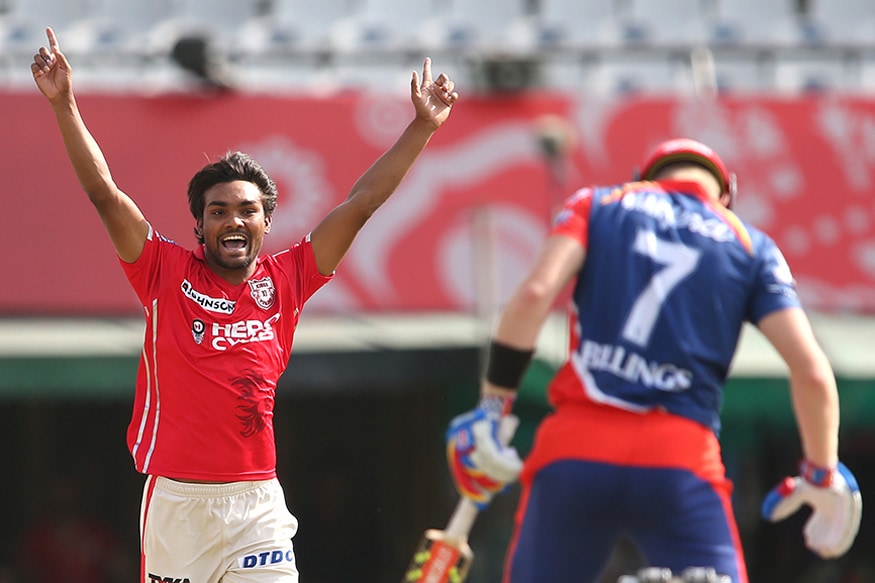 Mohali: Kings XI Punjab's 10-wicket win, seamer Sandeep Sharma hoped the victory over Delhi Daredevils will change the momentum and give them the impetus to make it to the IPL play-off.
"We needed to win and I think momentum will shift now and we will gain winning momentum. We still have five games left and we will play better to reach the playoffs of the tournament," Sharma added after the match.
His four wickets helped Kings XI to bundle out DD for 67 and Sharma said he backed his strength to take wickets.
"I back my strengths as I know T20 is hard for bowlers, we know batsmen will come hard at you, so the best chance to keep them quiet is taking wickets," 23-year-old said.
"Actually, swinging new ball during power play is my strength. I try to take early wickets and when you have a new batsman at the crease, it increases my percentage to bowl dot balls."
Sharma said that knowing local conditions also proved helpful.
"I am local, this is my home ground and I know during day matches, the wicket plays a bit slow. I was trying to pitch the ball up and that benefited," he said.
KXIP achieved the target in just 7.5 overs without losing a wicket. "This game was crucial for us. If we win most of remaining five games, we will reach playoffs," Sharma said.
Sharma said that senior pro in the team Hashim Amla and team director (cricket operations) Virender Sehwag give him valuable tips and this keeps him motivated.
Asked about playing RCB next, Sharma said, "In T20 format, you cannot say any particular team is struggling. Even RCB, whom we play next, is a good team, in batting and bowling. They will not be an easy side to beat."
"We are focusing on our strengths and our strategies and skills," he said.
Sharma said RCB skipper Virat Kohli is his favourite batsman and he will like to take his wicket when his team plays them next.
"Virat is my favourite batsman, players like him and AB De Villiers give you self belief," he said.
Meanwhile, Daredevils coach Rahul Dravid also praised Sandeep Sharma's efforts today.
"Sandeep Sharma was good today, he figured out what the wicket was like, he bowled the right lengths, he didn't try to swing the ball to much, normally you see him swing the ball a lot. But he figured that the wicket was on the slower side and he bowled wicket-to-wicket.
"I think the key for him was the length, which was very good and forced our batsman to play some shots and they hit the ball in the air a lot, which was not a wise thing to do on this slow wicket," Dravid said.
@media only screen and (max-width:740px) {
.quote-box{font-size:18px; line-height:30px; color:#505050; margin-top:30px; padding:22px 20px 20px 70px; position:relative; font-style:italic; font-weight:bold}
.special-text{font-size:24px; line-height:32px; color:#505050; margin:20px 40px 20px 20px; border-left:8px solid #ee1b24; padding:10px 10px 10px 15px; font-style:italic; font-weight:bold}
.quote-box img{width:60px; left:6px}
.quote-box .quote-nam{font-size:16px; color:#5f5f5f; padding-top:30px; text-align:right; font-weight:normal}
.quote-box .quote-nam span{font-weight:bold; color:#ee1b24}
}