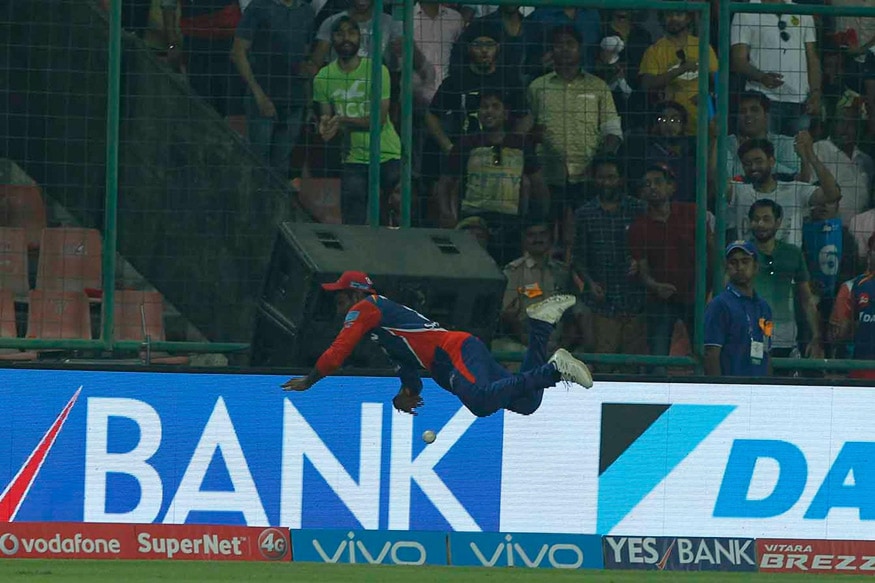 New Delhi: Spectacular catches at the boundary line is no longer considered a one-off phenomenon as team practice the same for hours during training sessions ahead of every game. But what Delhi Daredevils' Sanju Samson did on Friday at the Ferozeshah Kotla during the KKR innings was indeed special, more so because he is often used to wearing the big gloves and standing behind the stumps.
It was the second ball of the 19th over of the innings when Manish Pandey bludgeoned Chris Morris straight towards the long-on boundary. Six was a pre-conceived conclusion when Samson moved to his right, jumped up, caught the ball mid-air over his head and then flicked it back in play as he dived over the rope.
This was undoubtedly the best effort of this IPL, trumping Ben Stokes' effort in the last game. The effort in fact ensured that Delhi stayed in the game till the last over of the game.
Going into the last 12 balls of the innings, KKR needed just 16 runs and with Chris Woakes picking one run off the first ball, KKR needed 15 off the last 11. A six there would have meant that KKR would need to score just 9 more runs off 10 balls. But Samson's effort made it 13 off 10 balls as the batsmen could run only two.
Morris conceded another 4 runs off the remaining 4 balls as KKR needed 9 off the last six balls. Mishra then bowled two dot balls, even dismissing Woakes off the second ball as things heated up with KKR needing 9 off four balls. But Sunil Narine picked a single and then Manish hit a six to make it 2 off 2 balls.
Finally Manish picked another double as Kolkata scampered home with a ball to spare.