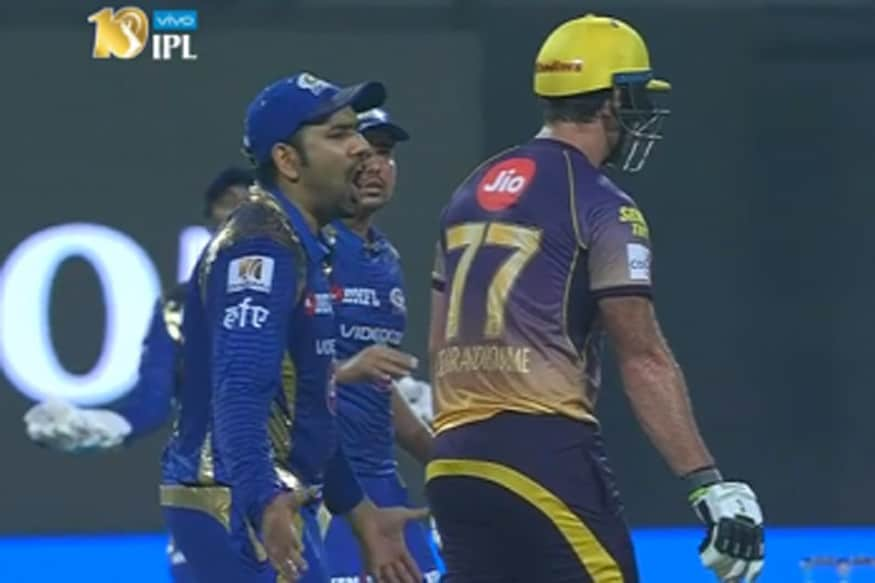 New Delhi: Mumbai Indians' skipper Rohit Sharma was left shocked and angry after an on-field decision went against his side during the clash against Kolkata Knight Riders at the Eden Gardens on Saturday night.
Chasing a target of 174, Kolkata were reduced to 87/5 and that is when Manish Pandey and Colin de Grandhomme put on a brilliant partnership that brought KKR right back into the match.
Also Read: Gautam Gambhir Lashes Out at Teammates After Mumbai Indians Defeat
In the 14th over of the match, Mitchell Johnson bowled a brilliant delivery that was angling away from Manish Pandey and the ball took an edge of the bat and wicket-keeper Ambati Rayudu took an easy catch.
However, Mumbai's celebrations were cut-short by umpire S Ravi who felt there was no edge off the bat and gave his decision as not out. Rayudu was the first express his disappointment at the decision as he was convinced the ball take taken a slight edge from underneath the bat.
Meanwhile, skipper Rohit could not believe his eyes that umpire that given his decision in favour of the batsman and after shouting his displeasure, he held his head into his hands and sat on the floor.
However, this decision didn't cost Mumbai as they recorded a well-deserved nine runs victory over Gautam Gambhir's troops to top the league stage. MI will now also get two cracks at making it to the final after finishing as the best team in the league.
First Published: May 14, 2017, 11:54 AM IST