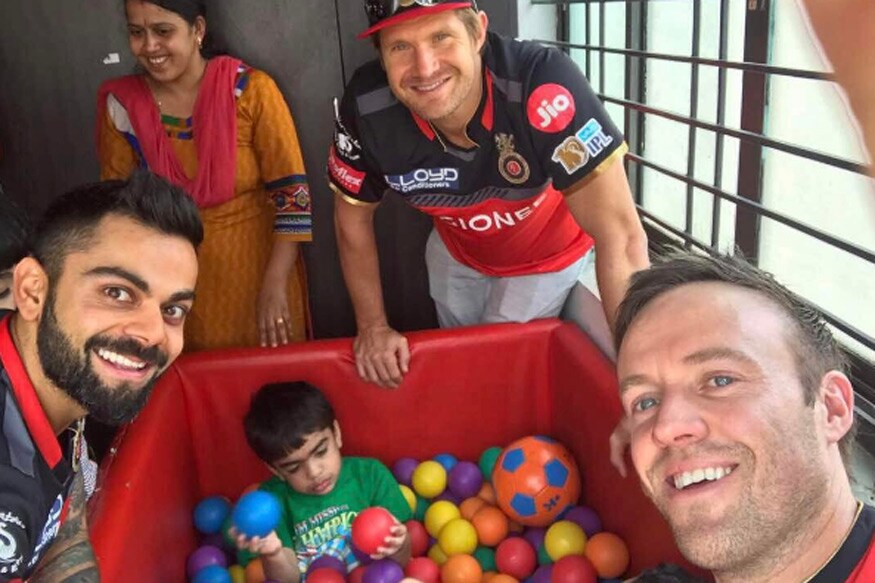 New Delhi: The Indian Premier League is as much about cricket as it is about bringing the fans closer to their idols and Indian cricket's poster boy Virat Kohli took time out on Thursday morning to spend some time with specially abled children at Tamahar. And he had for company none other than RCB teammates AB de Villiers and Shane Watson. The IPL is one of the most hectic domestic tournaments in the world, thanks to the non-stop travelling, but Kohli always has time for his special fans.
Kohli might be the captain of the Indian cricket team and one of the most celebrated cricketers in the current generation, but he has always given special importance to promoting the welfare of children.
And on Thursday, Kohli took to Instagram to post a picture of the visit and the caption read: "Came to meet some really special children at tamahar with Shane and AB. What a special time and so much to learn from them. Just happy with small things in life. 🙏"
Tamahar was founded in 2009, by VaishaliPai, an Occupational Therapist (OT) with two decades experience, including 8 years at a corporate hospital. Vaishali was the Director of Children's Rehabilitation services at Vydehi Rehabilitation Center. During her journey of 24 years in Bangalore, she participated in the program which was conducted by University of California, Los Angeles, on Early Intervention in Children with Special Needs and Family Intervention.
In the process of the training she could get best of both worlds, practical input for Indian conditions, but based on sound technical know-how! This interaction with some of the finest teachers in the area of children's education helped in building more awareness and encouraged to do something for children with special needs. The need to address issues of families with children with special needs and the knowledge she gained encouraged her to start Tamahar.
This is not the first time that Kohli has tried to help the cause of children in the country. Earlier, Virat Kohli Foundation had joined hands with Smile Foundation to support the cause of empowerment of underprivileged kids.
"Children and Youth are the next generation of students, leaders, entrepreneurs, and the future of the country and there is no better tool. This initiative is not just about fulfilling their basic needs, but making them able to take care of their own needs and giving them an opportunity to learn, equipping them to face challenges and preparing them to be tomorrow's leaders. I am glad to be associated with Smile Foundation and contribute towards this endeavour," Kohli had said in a statement.
First Published: April 20, 2017, 3:24 PM IST