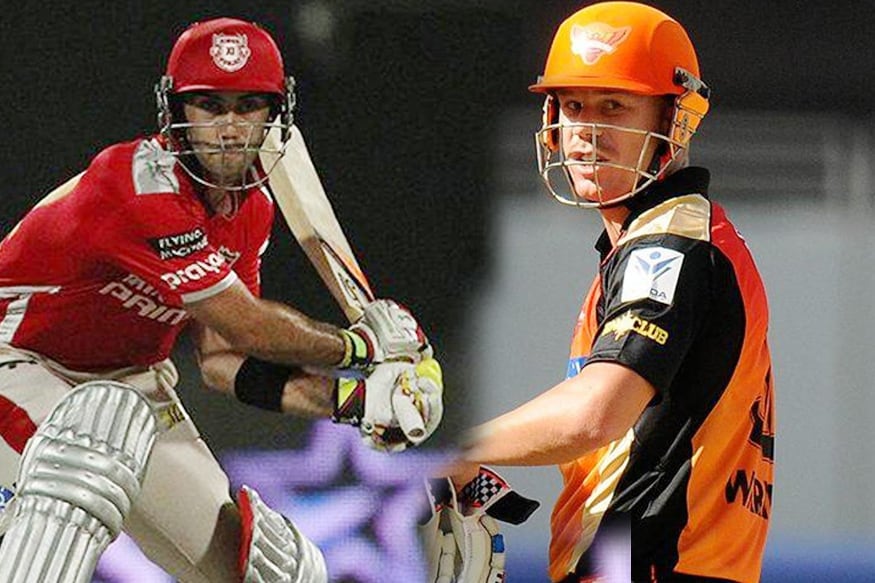 The first week of the Indian Premier League has ended and it has been a mixed bag for the captains. Some started well, only to get a reality check soon, a few bounced back from defeats and only one of the eight has managed to light up the competition with his 'big showmanship'.
Here is CricketNext's Report Card for the IPL captains so far -
1) Steve Smith - Rating: 7, Verdict: Good
(Photo Credit: BCCI)
The Aussie was handed over the reins of the Rising Pune Supergiant at the start of the season and he showed just why did the owners bite the bullet and replace MS Dhoni with him.
Smith put in a captain's performance in Pune's opener as he took matters in his own hands and played a scintillating unbeaten knock of 84 off just 54 deliveries to help his team overhaul Mumbai's big total. Smith guided the innings himself and came up with the big hits when needed to take Pune home.
In his second outing against the Kings XI Punjab, the onus once again fell on the Aussie run machine to guide his team out of the rut after KXIP had made early breakthroughs. Smith tried his best but his dismissal 26 led to the Supergiant posting a below par total and eventually losing the match
Smith missed his team's huge loss against Delhi Daredevils due to an upset stomach
2) Rohit Sharma - Rating: 2, Verdict: Poor
(Image Credits: BCCI)
Rohit Sharma has been Mumbai's talisman over the years but the dashing batsman, returning from a long injury lay off, hasn't been able to get a good score under his belt so far.
He has three single digit scores to his name and has been dismissed thrice by spinners. He was unlucky in one of the incidents as he got an inside edge that the umpire didn't spot, but Rohit has struggled initially in his innings to the delivery that doesn't spin.
His captaincy has also not been on the money thus far. Mumbai Indians will hope Rohit's batting form improves and so does his captaincy.
3) Glenn Maxwell - Rating: 9.5, Verdict: Excellent
(Image Credits: BCCI Images)
While one can say that Glenn Maxwell doesn't have the burden of expectations on his shoulders, given Punjab's poor track record over the years, but becoming a first time captain in a high pressure league like the IPL is never easy. But Maxwell has shown that the responsibility has only made him hungrier for success. Two thumping wins in two games and the underdogs are on fire.
Maxwell has been applauded by the pundits for his quick thinking in the field and bowling changes and as a batsman he has stolen the show. An unbeaten 44 against Pune and an unbeaten 43 against Bangalore, both in chases and at times when the team needed a quick knock. Maxwell is hitting the ball hard and far and that is a worrying sign for most teams.
4) Gautam Gambhir - Rating: 7, Verdict: Good
(Image credit: BCCI)
Gautam Gambhir is always a batsman whom the team can rely upon and he has produced the goods for Kolkata Knight Riders over the years. The southpaw was at his elegant best in his team's opening match against Gujarat Lions as he along with Chris Lynn took KKR home without losing a single wicket and in turn putting together IPL's biggest opening stand. Gambhir was classical during his unbeaten knock of 76.
He looked in good touch against Mumbai too but was dismissed for 13. And although it looked for the longest time that KKR would win the match, some late order hitting from Mumbai during the chase got them over the line. There is more to come from Gauti for sure.
5) Shane Watson - Rating: 2, Verdict: Poor
(Image Credits: BCCI)
Doing the job for Royal Challengers Bangalore in the absence of Virat Kohli, Shane Watson is the only man in this list who looks over the hill. His fitness levels have dropped drastically, batting looks all over the place and his bowling too has taken a turn for the worse.
Watson's big hitting prowess has been on the decline for a while now and it has been exposed badly in this season thus far. A s a bowler he was always a wily customer with the change of pace and ability to take important wickets without looking very dangerous. But he has leaked runs in the three matches so far. His only good performance came in the match against Delhi, when he bowled the 19th over and conceded only 2 runs to all but seal the deal for his team.
6) Zaheer Khan - Rating: 8, Verdict: Very Good
(Image Credits: BCCI)
While many of his contemporaries have taken up mentorship roles, Zaheer Khan is back to lead a young Delhi Daredevils side and he has been impressive with the ball.
Delhi's dismal batting meant they lost the opener but Zaheer and his boys made a stunning comeback to beat Pune in their own backyard. Zaheer Khan was the linchpin of Delhi's bowling in that match as he picked up three crucial wickets, including that of the in-form Ajinkya Rahane.
7) David Warner - Rating: 7, Verdict: Good
(Image Credits: BCCI Photo)
He is the man Sunrisers Hyderabad look towards for runs and Warner hasn't disappointed. Got out cheaply in the first match but came back strong with a half-century in the second outing against Gujarat Lions, his unbeaten 76 was the cornerstone of Hyderabad's successful chase.
Got out just short of a half-century against Mumbai to a shot he would like to forget soon. His dismissal eventually led to a collapse which saw Hyderabad lose their first match of the season and that would not have gone down well with Warner. Looks good for another run filled season.
8) Suresh Raina - Rating: 4, Verdict: Below Average
(Image Credits: BCCI)
Suresh Raina's Gujarat Lions have endured a poor start to the season with two back to back defeats. And while Raina did score a fighting half-century in the first match, he didn't look at his best and couldn't score at a pace that would have given his team a winning total.
He was all at sea against the spin of young Rashid Khan in the match against Hyderabad and got out cheaply. With a weak bowling attack at his disposal, Raina has looked clueless in the field, failing to come up with plans that could stem the flow of runs. Need to improve drastically in all aspects.
First Published: April 13, 2017, 3:47 PM IST