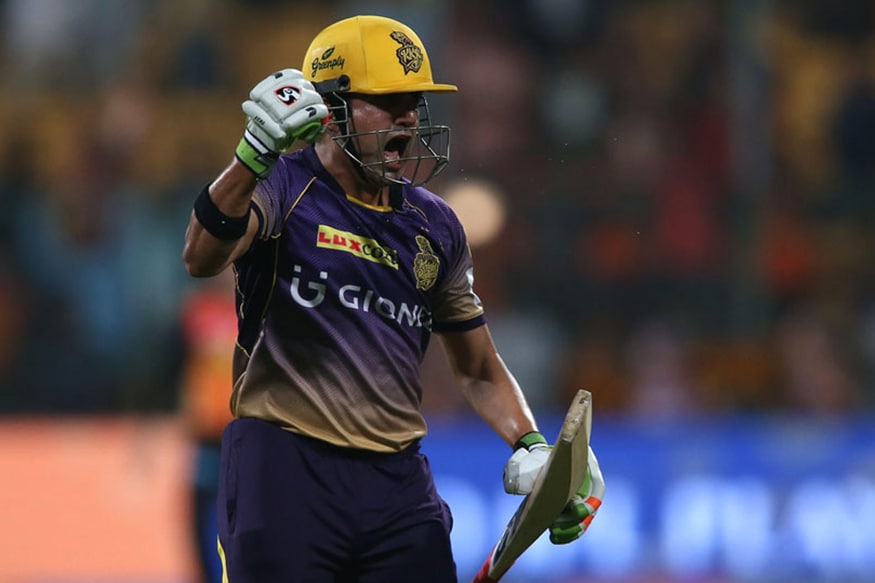 New Delhi: Kolkata Knight Riders might have managed to beat Sunrisers Hyderabad in a rain-affected Eliminator at the M. Chinnaswamy Stadium on Wednesday, but the time the two teams spent in the dressing room thanks to the rain interval made KKR skipper Gautam Gambhir's life miserable.
The reason being the two matches being broadcast on Sony at that point in time. While they first showed the game against SRH where David Warner hit a cracking century to beat KKR, the next one was the last game of the group stage between Kolkata and Mumbai where the latter won.
"I remember I have always hated rain. As we waited for showers to stop, I was thinking, 'here we go, this could be it'. As it is, I am such a poor loser and the possibility of crashing out of a tournament due to rain was killing me. There were some guys playing French cricket and I couldn't understand, how could they? I was at my brooding worst.
"Sony, the official broadcasters, made it even tougher. Whoever in their team was responsible to fill the rain time was surely not a KKR supporter. Outside, raindrops felt like nothing short of missiles, inside the dressing room, Sony played out highlights of our previous games against SRH and Mumbai Indians. We had lost both the matches. I didn't know which side to look, may be heavenwards," he wrote in his column for Hindustan Times.
Gambhir goes on to add that after a brilliant bowling display during the SRH innings, the KKR skipper was suddenly made to feel like a 70-year-old as he waited for the rain to stop. The stress and tension got to him as a washout would mean SRH going through as they were placed third on the points table at the end of the group phase and Kolkata finished fourth.
"I was born in October 1981. By that count I am 35 years of age. But I can assure you that after the stress and the tension that I went through during the Sunrisers Hyderabad game, I feel like a worn out 70-year old. Till around 9.30 pm, I felt as if I owned half the planet and the ownership papers of the other half were being prepared. Then rain pelted my planet and washed away all my dreams. Almost," he revealed.
Going back to his childhood days, Gambhir also shares how he hated playing in the backyard when rain forced the kids in his locality to stay indoors. The Kolkata skipper says that nothing gave him as much joy as playing in the park.
"I grew up in west Delhi. My cricketing cradle was a neighbourhood park. At the time even a short-lived shower meant end of cricket for the day. I and a few other diehard cricket-tragic friends would try everything possible to dry our neighbourhood 'MCG' while cursing the rain. Then, cricket action would shift to someone's petite backyard. I found it boring. The whole scenario was nothing short of a personal tragedy. No amount of indoor sports, video games or watching TV excited me. I wanted to be out, playing cricket," he said.
@media only screen and (max-width:740px) {
.quote-box{font-size:18px; line-height:30px; color:#505050; margin-top:30px; padding:22px 20px 20px 70px; position:relative; font-style:italic; font-weight:bold}
.special-text{font-size:24px; line-height:32px; color:#505050; margin:20px 40px 20px 20px; border-left:8px solid #ee1b24; padding:10px 10px 10px 15px; font-style:italic; font-weight:bold}
.quote-box img{width:60px; left:6px}
.quote-box .quote-nam{font-size:16px; color:#5f5f5f; padding-top:30px; text-align:right; font-weight:normal}
.quote-box .quote-nam span{font-weight:bold; color:#ee1b24}
}