IPL 2017, SRH vs DD: As It Happened
CONCLUDED
HYD vs DEL Cricket Scorecard (T20)
Match 21 T20, Rajiv Gandhi International Stadium, Hyderabad, 19 April, 2017
Sunrisers Hyderabad beat Delhi Daredevils by 15 runs
HIGHLIGHTS
FOR THE RECORD: SRH have now won 4 consecutive matches at the Rajiv Gandhi Stadium in IPL 2017.

WICKET! Mathews (31) goes for the swing and fails to connect that one. Picked up at long-on by Chris Jordan as Kaul celebrates. DD need 17 off 1 ball

Mathews gets a MAXIMUM here . After a single off the first from Kaul. DD need 17 off 4 balls. DD's score reads 175/4

FOR THE RECORDS: First time Rashid Khan has gone wicket less in IPL 2017.

MAXIMUM! Another biggie from Iyer here. Picks the googly from Rashid and sends him to the long-on stands. DD's score reads 126/4

MAXIMUM! Iyer jumps down the wicket and hits Rashid into the long-off stands. That is a much-needed sixer with DD needing 81 off 36 balls. DD's score reads 118/4

WICKET! Samson goes for 42 as another DD wicket falls after a strategic break. Henriques picks a good catch running back as Siraj celebrates. DD's score reads 105/4

WICKET! Rishabh Pant goes for a duck. Hits that straight to David Warner at long-on. That could not have been a luckier break for Hyderabad after the strategic break. DD's score reads 86/3

RUN OUT! Substiture Vijay Shankar sends is a great throw from the mid-wicket fence and Nair is caught short of the ground. Good work by Yuvraj to remove the bails in a flash as Nair goes for 33. DD's score reads 85/2. No need to have challenged the arm there.

FOR THE RECORD: 31* is Karun Nair's highest score in all competitions since scoring a triple century against England.

MAXIMUM! That is a classy shot from Nair. Walks down the track and hits Henriques over the top and into the long-on fence. That was effortless and classy. DD's score reads 75/1 after 8 overs
23:38 (IST)
FOR THE RECORD: SRH have now won 4 consecutive matches at the Rajiv Gandhi Stadium in IPL 2017.
23:37 (IST)
Sunrisers Hyderabad have done it. Kaul gives away a single off the last ball as DD lose by 15 runs. Iyer stranded on 50. DD's score reads 176/5
23:36 (IST)
WICKET! Mathews (31) goes for the swing and fails to connect that one. Picked up at long-on by Chris Jordan as Kaul celebrates. DD need 17 off 1 ball
23:35 (IST)
TWO dot balls as Delhi now need 17 off 2 balls. No idea why Morris was not sent there and made to watch this from the dug-out. DD's score reads 175/4
23:33 (IST)
Mathews gets a MAXIMUM here . After a single off the first from Kaul. DD need 17 off 4 balls. DD's score reads 175/4
23:31 (IST)
Another boundary from Iyer off the fifth ball and a single off the last as DD get 10 off the 19th over. DD's score reads 168/4, need 24 off the last over
23:28 (IST)
Bhuvi to bowl the 19th over here and Mathews hits a double off the first one and a single off the second ball. Need boundaries here if Delhi have to win this one.
23:26 (IST)
Shreyas Iyer finishes with another boundary off the last ball of the 17th over. 13 runs from this one, but DD need more as the score reads 158/4, needing 34 off 12 overs
23:24 (IST)
Two singles after that boundary of the first ball here. DD need another big one here to keep the required rate down. DD's score reads 151/4
23:23 (IST)
Mathews starts off with a boundary off the first ball from Kaul. That was on the legs and he whipped that into the mid-wicket boundary. DD's score reads 149/4
23:21 (IST)
Good shot from Iyer to end the over with 10 in the bag for DD. Bhuvi pitched that on a length and Iyer bent down and played that over the head of short third. DD's score reads 145/4, needing 47 from 3 overs.
23:17 (IST)
FOR THE RECORDS: First time Rashid Khan has gone wicket less in IPL 2017.
23:16 (IST)
Henriques bowls a good over here with 8 runs coming of that one. That is a great over under the circumstance as Iyer and Mathews have failed to score the big boundaries. DD's score reads 135/4
23:13 (IST)
DD need 65 off 5 overs with Henriques bowling this one. Important for Iyer and Mathews to make the most of this one here. DD's score reads 127/4
23:11 (IST)
MAXIMUM! Another biggie from Iyer here. Picks the googly from Rashid and sends him to the long-on stands. DD's score reads 126/4
23:10 (IST)
MAXIMUM! Iyer jumps down the wicket and hits Rashid into the long-off stands. That is a much-needed sixer with DD needing 81 off 36 balls. DD's score reads 118/4
23:09 (IST)
A boundary to end the over for Mathews as he moves away and hits Siraj over gully. That is 6 runs from the over for DD as Delhi's score reads 111/4
23:04 (IST)
WICKET! Samson goes for 42 as another DD wicket falls after a strategic break. Henriques picks a good catch running back as Siraj celebrates. DD's score reads 105/4
23:00 (IST)
105/3 after 13 overs for Delhi Daredevils. Need another 87 from 42 balls at a required run-rate of 12.42
22:58 (IST)
Brilliant shot over the slip cordon from Iyer. That is a much-needed boundary. Delhi's score reads 99/3 with Samson batting on 41 and Iyer on 10
22:54 (IST)
Iyer and Samson trying to rebuild the innings here, but the Hyderabad bowlers have kept it very tight here. DD's score reads 93/3 after 11.4 overs
22:49 (IST)
WICKET! Rishabh Pant goes for a duck. Hits that straight to David Warner at long-on. That could not have been a luckier break for Hyderabad after the strategic break. DD's score reads 86/3
22:45 (IST)
RUN OUT! Substiture Vijay Shankar sends is a great throw from the mid-wicket fence and Nair is caught short of the ground. Good work by Yuvraj to remove the bails in a flash as Nair goes for 33. DD's score reads 85/2. No need to have challenged the arm there.
22:43 (IST)
Samson welcomes Yuvraj to the bowling crease with a boundary. That was a loosener and Samson made him pay the price as he cut it to the boundary. DD's score reads 84/1
22:40 (IST)
Delhi Daredevils' score reads 80/1 after 9 overs as the players go for a strategic break. Samson batting on 31 and Nair on 33
22:38 (IST)
FOR THE RECORD: 31* is Karun Nair's highest score in all competitions since scoring a triple century against England.
22:37 (IST)
MAXIMUM! That is a classy shot from Nair. Walks down the track and hits Henriques over the top and into the long-on fence. That was effortless and classy. DD's score reads 75/1 after 8 overs
22:34 (IST)
Boundary for Samson. Henriques pitches that on the legs and Samson sends it to the fine-leg boundary. DD's score reads 67/1
22:32 (IST)
5 runs from the Siraj over as he has stemmed the flow of runs. DD's score reads 61/1 after 7 overs with Samson batting on 22 and Nair on 24.
22:31 (IST)
Nair ends the Rashid over with another boundary. Sweeps the SRH spinner to the boundary. 9 runs off it as DD's score reads 56/1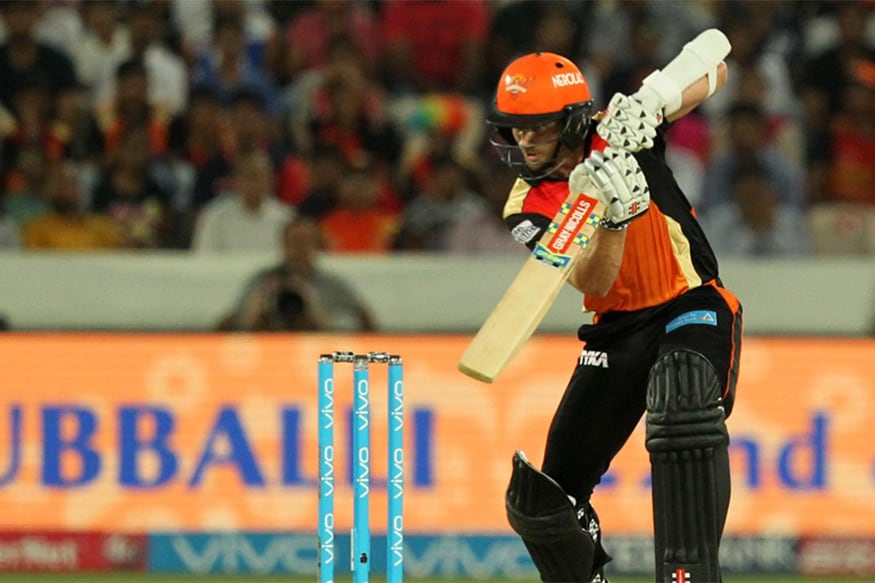 Catch all the live action of the blockbuster clash between Sunrisers Hyderabad between Delhi Daredevils at the Rajiv Gandhi Cricket International Stadium in Hyderabad.
Preview:
Delhi Daredevils will be aiming to display more impact in their batting department as they face a formidable challenge from defending champions Sunrisers Hyderabad.
It will be an arduous task for the Daredevils as they face a team that has both current 'Orange Cap' holder David Warner (235 runs) and 'Purple Cap' owner Bhuvneshwar Kumar (15 wickets).
For Delhi, it will be important to have consistent impact in their batting. They have had forceful performances at the start of the innings and at the end but the two games — vs RCB and KKR — that they have lost has been primarily due to their inability to force the pace during middle overs.