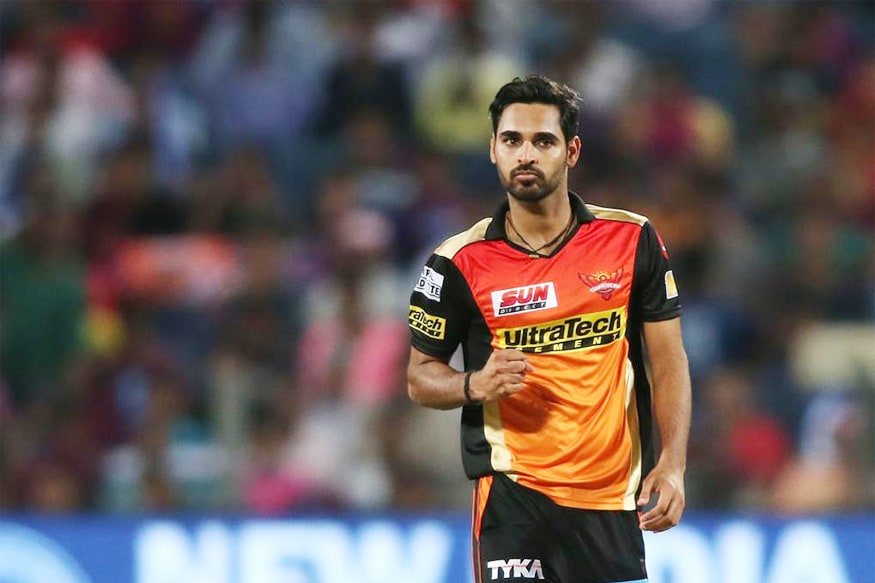 Chandigarh: India seamer Bhuvneshwar Kumar on Thursday said he will never compromise on swing -- his strength -- at the cost of extra pace.
Bhuvneshwar, who is the highest wicket taker so far in the ongoing IPL, attributes his success to relentless hard work at practice sessions.
"How you practice in nets matters a lot. If you bowl good yorkers in nets and come up with good variation, it helps your on-field performance," the 27-year-old Sunrisers Hyderabad pacer said.
"In the series against South Africa my pace had increased but swing was compromised. But this was a turning point for me as I realised that no matter how fast you are, you cannot afford to lose the swing. I worked on this aspect and now I am happy that I have both the speed and swing in my bowling," Bhuvneshwar said.
Defending champions Sunrisers Hyderabad will start as favourites when they take on the struggling-for-survival Kings XI Punjab in an Indian Premier League match on Friday.
Bowling has complemented Sunrisers's batsmen with Bhuvneshwar (16 wickets) and young Afghanistan spinner Rashid Khan (10 wickets) proving their mettle with the ball.
Bhuvneshwar also said that he does not think too much about the outcome of a game and only focuses on the process.
"I think in T20 things are related to pressure and if you handle it well you are on top of your game. I think about process and not too much about results," he said.
"Actually, I never think that I have to be at top every time. Obviously, I have to do well in every game and series, that's what I try to do. I try to improve and work on the swing and variation in my bowling."
"Depending on the format, if I am playing a Test match then reverse swing is something I always want to work on. When I made my debut I was not a reverse swing bowler or my pace was not what it is now," he added.
Bhuvneshwar, rated as one of the best death bowlers, captured his first five-wicket haul in IPL when Sunrisers defeated Kings XI Punjab by five runs at the Rajiv Gandhi International Stadium in Hyderabad in an earlier game this season.
"It is always challenging. I feel if you have to bowl yorkers, your every basic has to be correct. I feel death bowling is the toughest part in short format of the game," he said.
Asked if he feels there are any shortcomings in Sunrisers team which needs to be rectified, Bhuvneshwar said, "As a unit we have done well in every aspect of the game. We want to do well in all the departments of the game."
India's Champions Trophy squad is slated to be announced soon, but Bhuvneshwar is hardly bothered and is only focused on giving his best whenever he gets a chance to play.
"Competition is there and it is good. But as a cricketer such things do not remain in the back of our minds. We know when a team is to be selected, there is a pool of bowlers who will be selected. Everyone knows whoever is picked will be on the basis of his performance," he said.
@media only screen and (max-width:740px) {
.quote-box{font-size:18px; line-height:30px; color:#505050; margin-top:30px; padding:22px 20px 20px 70px; position:relative; font-style:italic; font-weight:bold}
.special-text{font-size:24px; line-height:32px; color:#505050; margin:20px 40px 20px 20px; border-left:8px solid #ee1b24; padding:10px 10px 10px 15px; font-style:italic; font-weight:bold}
.quote-box img{width:60px; left:6px}
.quote-box .quote-nam{font-size:16px; color:#5f5f5f; padding-top:30px; text-align:right; font-weight:normal}
.quote-box .quote-nam span{font-weight:bold; color:#ee1b24}
}