New Delhi: IPL chairman Rajeev Shukla has sought intervention of the Centre for smooth conduct of Chennai Super Kings matches amidst demands that the Twenty20 League be suspended in city till Cauvery water dispute is sorted. Over 100 protesters have been detained at Anna Salai — the road that leads to the stadium. Chennai Super Kings have left the team hotel for their game against Kolkata Knight Riders.

Shukla met Union Home Secretary Rajiv Gauba, requesting him to ensure security arrangements for uninterrupted hosting of the matches.

Various political parties and outfits have demanded that the IPL matches be not held at a time when the state is witnessing widespread agitations on the vexed issue.

Hours before the CSK-KKR tie, some pro-Tamil activists tried to stage a demonstration outside the MA Chidambaram stadium here against holding of the IPL fixtures in Tamil Nadu.

The activists of T Velumurugan-led Tamizhaga Vazhvurimai Katchi (TVK) tried to picket the stadium, but were immediately removed by the police.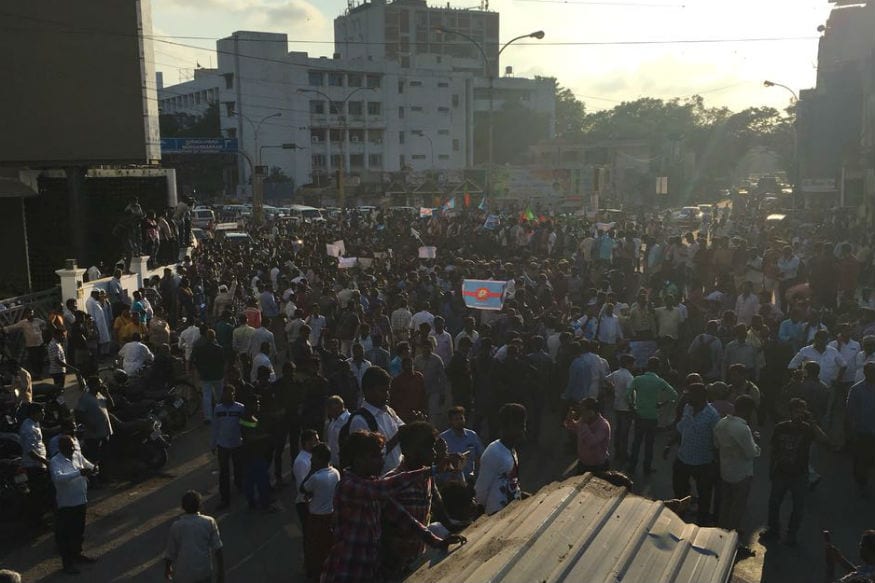 Protesters at Anna Salai. (News18)

The slogan-shouting activists demanded that IPL matches be not held here. "I met the Union Home Secretary (Rajiv Gauba) requesting him to ensure that IPL matches in Chennai are conducted smoothly. The Home Secretary spoke to DGP (Tamil Nadu) and asked him to ensure that there are no security issues for the fans," Congress leader and senior BCCI official Shukla said.

On February 16, the Supreme Court raised the 270 tmcft share of Cauvery water for Karnataka by 14.75 tmcft and reduced Tamil Nadu's share while compensating it by allowing extraction of 10 tmcft groundwater from the river basin.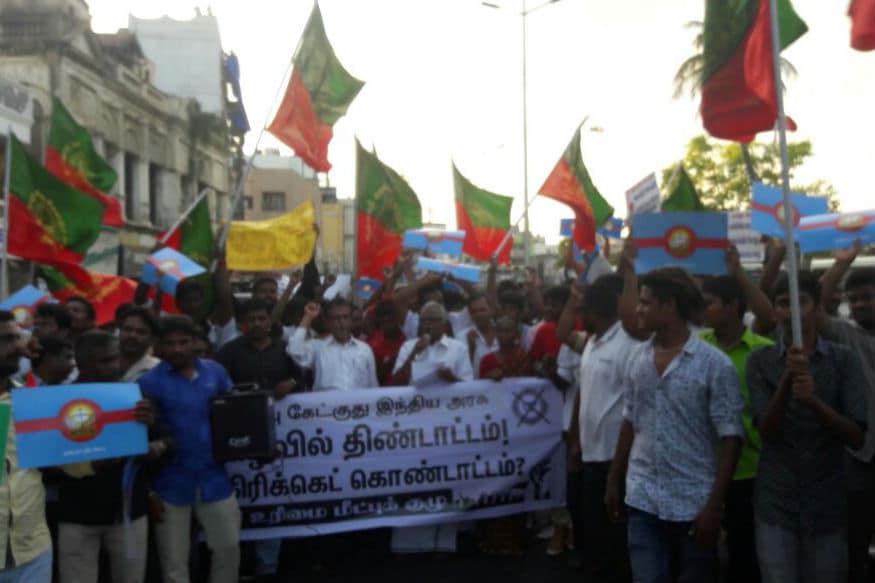 Protesters in Chennai before the match between CSK and KKR. (News18)

The court had granted six weeks to the Centre to formulate a scheme to ensure compliance of its 465-page judgement on the decades-old Cauvery dispute, modifying the Cauvery Water Disputes Tribunal award of 2007.

The court had also made it clear that it would not be extending the time for this on any ground. The six-week period ended on March 29. The Chidambaram stadium has turned into a virtual fortress with 4,000 policemen including commandos and members of the Rapid Action Force deployed for security ahead of today's IPL tie involving Chennai Super Kings (CSK) and Kolkata Knight Riders (KKR).

Velmurugan had threatened yesterday to hold protests outside the game venue on match day. "If the match is held despite our plea, we will coordinate with all democratic forces to stop it by organising a massive picketing protest. Many leaders and organisations will participate," he had said, adding, "Cricketers knowing Tamil, please understand our sentiments."


First Published: April 10, 2018, 5:00 PM IST