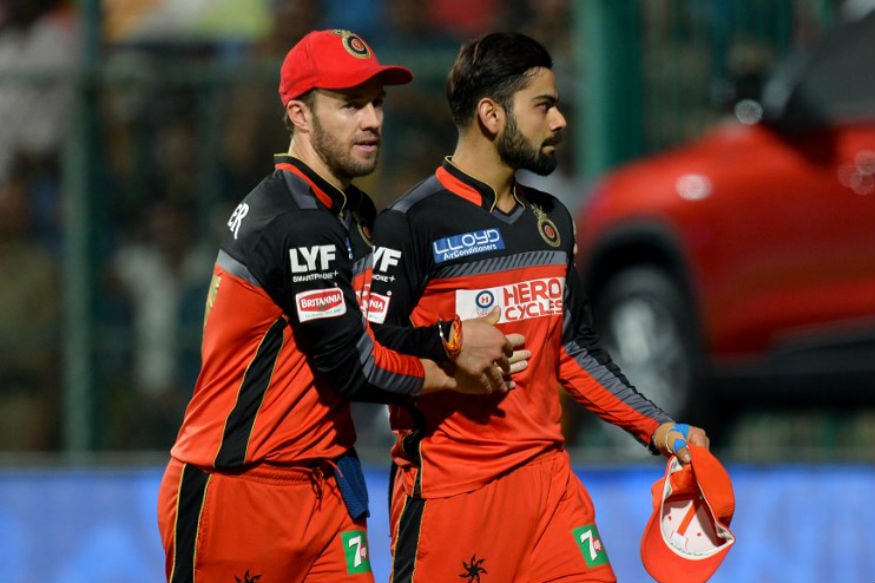 New Delhi: Royal Challengers Bangalore are often termed as a two-man team and once again, their over-reliance on skipper Virat Kohli and stalwart AB De Villiers is becoming increasingly apparent in the ongoing edition of the Indian Premier League (IPL).

With just two wins in five matches, RCB are struggling at the wrong side of the table and they will look to overturn their fortunes against MS Dhoni's high-flying Chennai Super Kings at the M. Chinnaswamy Stadium in Bangalore on Wednesday.

It can be said that it will be a match-up between two of the greatest batsmen in the modern era versus a side which has been working like clockwork. While on one hand, Kohli and De Villiers have been doing their utmost best to bail the team out during cruch situations, CSK have managed to find different match-winners in almost every game.

Kohli and AB de Villiers are RCB's two highest run-getters this season — Kohli has scored 231 runs in 5 innings whereas De Villiers has scored 212 runs in same number of innings. Moreover, RCB batsmen have scored four fifties so far, and guess what, all four have been slammed by these two magicians — Kohli: 57 & 92*, De Villiers: 57 & 90*.




In total, RCB have scored 849 runs off the bat so far, with De Villiers and Kohli contributing 443 runs. The duo has scored 52.18% of RCB's runs thus far.




Kohli and de Villiers have scored 58 boundaries cumulatively which is two more than what the rest of the RCB team have managed together. The rest of the RCB batsmen score a boundary after every 5.30 balls, whereas Kohli and De Villiers score a boundary after every 4.98 balls cumulatively.

Not just that, out of the top 3 partnerships for RCB this season, AB de Villiers and Kohli have featured in all three of them, together or individually.





Therefore, the onus will be on other Bangalore batsmen to stand up and be counted in their latest match against CSK as the visiting team will know that if they manage to stop these two, then RCB can be restricted to a low score in this blockbuster clash.

First Published: April 25, 2018, 12:54 PM IST