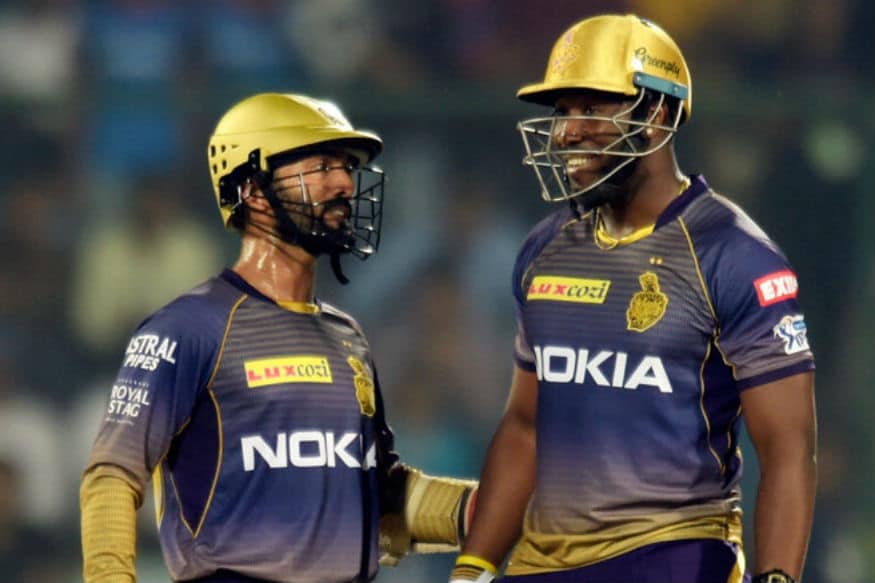 Disappointed after yet another defeat in the on-going season of the 2019 IPL, Kolkata Knight Riders captain Dinesh Karthik said it wasn't right to say the team was over-dependent on Andre Russell to get them going.
Russell, as is the case more often than not, came into bat with less than five overs to go, played nine deliveries and scored 15 runs while trying to up the ante after Chris Lynn had been dismissed, with the lower-order for company.
"I think that's unfair to say," Karthik said. "Today (Sunday) I think 160 was par if we'd bowled well. Even though Andre only got 15 runs today, the rest of them batted really well and brought us to a score that was defendable. But the fact that we didn't bowl as well, and the wicket got better under lights, and two good players came out all guns blazing made things look very easy."
At the Eden Gardens on Friday night, Russell almost took his side home in heroic fashion against RCB after the asking rate had gone through the roof midway in the chase. His 65 off 25 had brought Knight Riders "two hits away" from victory - Russell's words. And they came ahead of a cheeky little suggestion.
"I believe that (I should bat higher up the order)," Russell had said as he put a finger to his lips. "Honestly, you have to sometimes be flexible as a team. When you look at the make-up of our team, I don't mind going to bat at No. 4."
KKR skipper Karthik played down any talk of complaints about the batting order from Russell.
"He had about five overs to face. When he came in, there were 27 balls and we're looking to play him at a kind of slot where…I think he's the kind of player even if he had played 10 balls, he'd have made an impact. The key is that we play that well at the top of the order that we set it up for him. There's been no complaints from his side about the batting part of it. I think he's been happy with the place where he's going and he has a clear role in the team which he's trying to achieve every time he goes out to bat."
Placed sixth on the points table after losing five games on the bounce, KKR must win all of their four remaining matches to make the playoffs. In a bid to break the losing streak, Karthik dropped regulars Kuldeep Yadav and Robin Uthappa and said that their performances were not up to the mark.
"It's always part of the IPL," Karthik said. "Once you get on a run where you've lost a match it puts pressure on the next match. When you win, you can always find ways to win and when you lose, you sometimes find ways to lose. I think these are all the challenges a team always faces in a tournament like this.
"We've sat together and regrouped and things haven't gone exactly to plan. Having said that, I have faith in the players I have. I believe there are genuine match winners out there and we need to find ways to find a spark for ourselves and do something special for us. "
Sunrisers Hyderabad however, have moved into the top four places after winning their second consecutive game and leg-spinner Rashid Khan said it was down to the fact that everyone played out their roles well.
"We just needed to do the right things, enjoy the game and back our skills. The most important things was everyone took the responsibility, as a bowling unit we did very well to restrict them under 160. I think it was a good effort and the openers have played amazingly throughout the tournament & they just did their job & tried to finish the game," Rashid said at the post-match press conference.
The opening pair of David Warner and Jonny Bairstow have been in scintillating form through the season and has an effect similar to that of Russell with KKR as they quite literally bat the opposition out of the game with their brute force.
The duo have scored 786 runs in 473 balls at a brilliant strike rate of 166.17 so far this season, which in turn has reduced opportunities for the middle order and has left them with the unenviable task of trying to keep up the tempo. Unfortunately, they have not been able to do so and it has turned into a problem of sorts for SRH.
"We only collapsed in two games and you can't rely on two games. Only the two games we lost against Mumbai and the other against Delhi. Those were the two games where our middle order collapsed. Otherwise I think everyone got their opportunity, hardly the top order let us to go in and hit few balls but our middle order is still to bat, they are in form. Everyone will stand up & deliver when they can."
On the to do list for Rashid on Sunday would have been the task of keeping Russell quiet in the final stages of the innings, and the spinner said he had saved a couple of overs for the West Indian against whom he has a good record.
"The way he (Russell) has been hitting in this tournament is unbelievable and how he has hit fast bowlers, I think he is unstoppable. So that was the plan to keep my two overs in the bag and just try my best because I have a good record against him, I got him two times, so that was the plan to bowl at the end of the innings and hope for the best."
Interestingly, this a point Russell had touched upon after the RCB game on Friday when he said that if he batted up the order captains would be forced into changing their plans which would then open up more doors to attack.
Unfortunately for KKR and fortunately for SRH, on Sunday Russell did not get his wish and the visitors fell short.