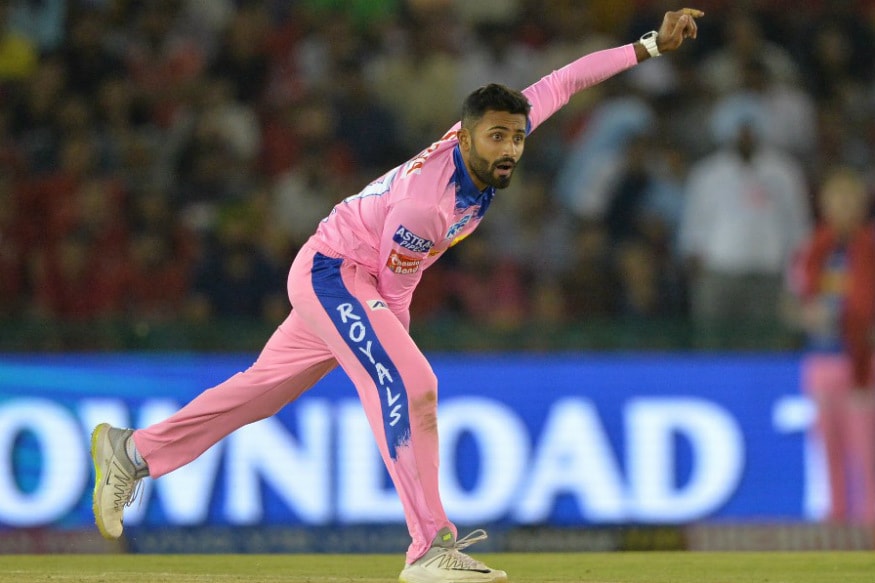 Guile and excellent control, extremely essential for leg-spinners, have been the two qualities central to Shreyas Gopal's performances in IPL 2019. One of the stars of Rajasthan Royals' campaign, Shreyas took the competition by storm as he made taking important wickets a happy habit, including those of the ilk of Virat Kohli and AB de Villiers.
Shreyas, who has now accounted for de Villiers four times and Kohli three, in his last four outings against RCB, topped off his brilliant season with a hat-trick at his home ground, M Chinnaswamy Stadium in Bengaluru. The leg-spinner finished with the distinction of being the most prolific Indian bowler (20 wickets) at the end of the league stage.
As it stands, only Mumbai Indians' Jasprit Bumrah and Chennai Super Kings' Deepak Chahar with 17 wickets each could possibly overtake him by the time May 12 comes around.
"Personally I am happy and there is nothing I can complain about. Honestly, if I say I am very happy then I wouldn't be right because at the end of the day you are judged by how the team has done or at least that's how I want to be judged," Shreyas said in an interview with Cricketnext.
"But it all starts here, because players will study me a lot and I have to use the learnings from the season to comeback as a more complete player next year."
(AFP)
The bigger the challenge, the more effective and prominent was Shreyas' performance with the ball for the Royals. So what kept him in a position to achieve what he did?
"You can't be defensive and as a leg-spinner especially it is important to keep attacking and be aggressive. The mindset always has to lean towards taking wickets," Shreyas explained.
"One has to have a plan and back himself to execute it to the best of his abilities. Sometimes it works, and sometimes it does not. But as long as you have a plan, that gives you the best chance of succeeding."
Shreyas, who's taken 184 wickets in first-class cricket, goes on to explain that one performance paved the way for the next.
"When you get the better off some of the best players in the game – it feels surreal and gives you the confidence against your next opponents. It all goes back to square one – trust your plans, the trust increases."
Source: Twitter/IPL
Shreyas may not have been one of the economical bowlers in the competition, but without an iota of doubt was instrumental in bringing the Royals close to securing qualification for the playoffs.
"When you look back in detail, you'll see that we (Royals) played some brilliant cricket and had some good matches. There were small moments however where we could have done better and that could have changed how our season was," the leg-spinner noted.
"There are lot good things to take back and improve on before coming back next year."
Smith's a Very Aggressive Captain
Among Shreyas' landmark performances was his hat-trick against Royal Challengers Bangalore in Bengaluru, in a rain-affected match. The leggie admits he did not expect to be thrown the ball at the time.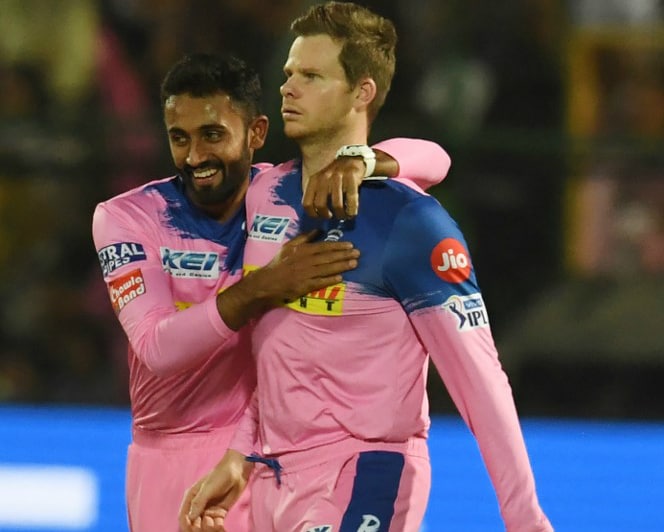 "I did not expect him (Steve Smith) to bowl me against especially RCB in the PowerPlay. Smith always told me that he would go with the situation and how he felt and asked me to be prepared at all times," Shreyas quipped.
"Smith is a very aggressive captain and he is always looking for wickets. He would be fine giving me an extra attacking fielder if I wanted. When the captain is like that it is a positive thing for the bowler.
"Actually, I've understood some of the fundamentals about T20 bowling during the game too because experienced players like Smith and Rahane can help you adapt and to the dynamics of the situation."
The good vibes are mutual between Shreyas and Smith, as was witnessed in Bangalore after the match when the Australian called him the 'complete package'.
With the spotlight on him in an unexpected situation in his own backyard, the 25-year-old turned on the style and how.
"It's always special to be able to take a hat-trick, and to take it in Bangalore was a great feeling. I could hear a little bit of support for me even though most of the people were cheering for RCB," Shreyas signed off.