Play cricket in school without much success. Quit the game for academics and get into the mainstream. Relive your old love for the game in the mid-20s and start playing again.
This is a common theme among many across India, and perhaps the world. Most settle for playing some form of club or corporate cricket over the weekends while staying in the mainstream through the rest of the year. It's too late to make a career out of cricket at that stage.
Tamil Nadu's Varun Chakravarthy, though, has taken a 'comeback' to the game to another level. He began cricket in school but struggled to make it to higher levels. He quit the sport in Class XII, then did a five-year Architecture course, and worked in a firm for close to two years. One fine day, at 25, he decided enough was enough.
"I don't know, I just built up so much pressure inside me and it blasted… I just quit. I walked in and right away said I want to stop working and I came back," he narrates his journey to Cricketnext. "I told my parents that my mind was not there, I just wasn't able to do it. They understood and supported me, although I didn't know what I was going to do next. I dusted off my old kit bag which I hadn't used for six years. I didn't know anything else. I had to take up cricket again."
Around just three years on, Varun has been picked up by Kings XI Punjab for a whopping Rs 8.4 crore for the IPL 2019, after earning a name for himself as a mystery spinner. A terrific Tamil Nadu Premier League, where he spun Siechem Madurai Panthers to the title with nine wickets at an astonishing economy of 4.7, brought him into the limelight. Until last year, he was just a fourth division player. Now, he's the second highest wicket-taker of the recently concluded Vijay Hazare Trophy, has made his Ranji Trophy debut, and is set to make his IPL debut as well.
"I was following the auction and just saying 'kadavule, kadavule' (god, god) as the bidding went on. I thought the price was a bit too much, I didn't expect it," he says, minutes after being picked for the huge sum. "I was thinking they'll take me for my base price (Rs. 20 lakh). I swear I was expecting only to be taken at the base price!"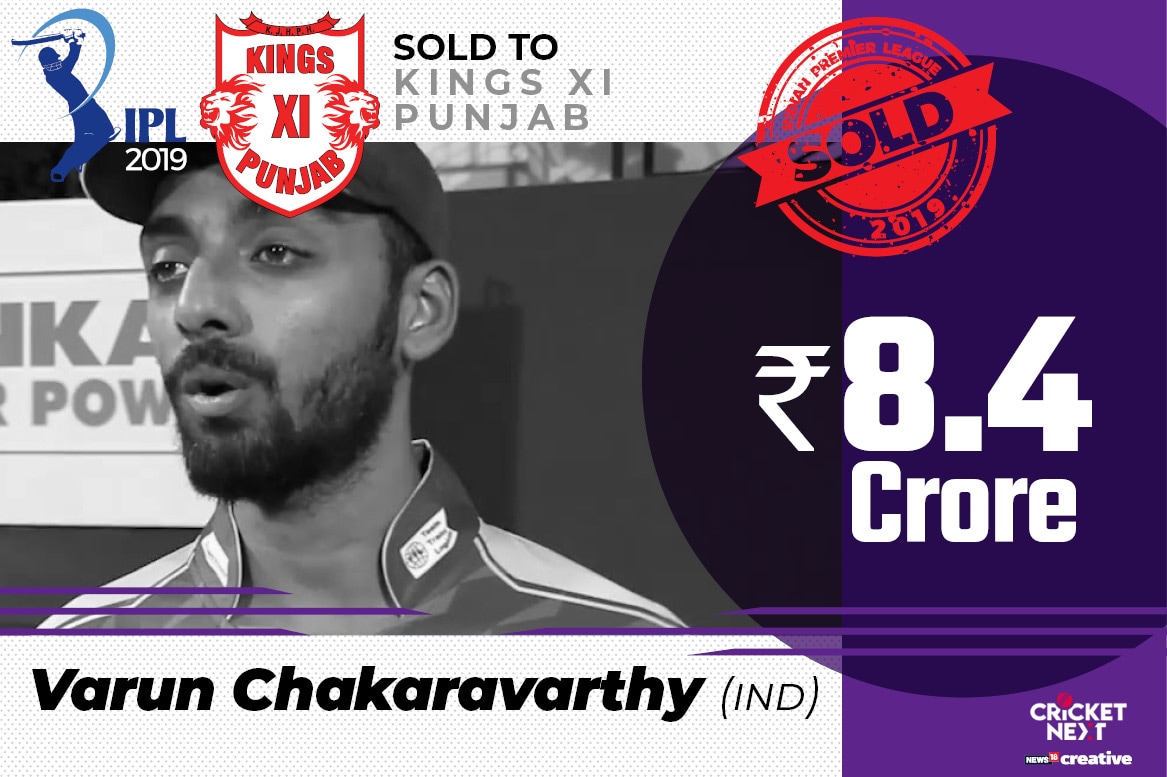 The comeback a few years ago, which has turned his fortunes upside down, was a massive decision given Varun wasn't even a hugely successful cricketer in his early days. In his own words, he 'was dropped always' and found it 'frustrating'. He finally made it to the XI regularly when he lied that he could keep wickets when the regular wicketkeeper was injured, and turned keeper for the next few years.
Varun decided to make a comeback but didn't know how to go about things, since he had no contacts in the circuit.
"I had no contacts, didn't know any player or coach," he recalls. "I randomly went into the Abdul Jabbar cricket academy. They said they take people only below 20. I was much older, beard and all. They initially rejected me because of my age, but I convinced them saying I'll just bowl for three hours every day. All I would do there was bowl. It gave me happiness."
It also gave him contacts, through which he began playing league cricket albeit at a lower level (fourth division). Even then, he didn't play with any ambition of making it high; he was just another medium pacer playing league cricket.
An injury to his knee that ruled him out of action for six months, though, worked as a blessing in disguise. It gave him a chance to work on his mystery spin, which he had developed through years of tennis ball cricket. Varun says he now has eight variations.
"When I came back from injury, I didn't want to take up fast bowling again," he says. "In those six months, I started bowling carrom ball and other stuff with a cricket ball in the nets. But even in the next year, I bowled only fast bowling as I was not confident. Only after two years did I start spin with a cricket ball in a league match. When I wanted to bowl mystery spin in fourth division, I asked permission from a number of people because I wasn't confident.
"Once I started, I got 26 wickets from four matches for Jublee CC. I started bowling in the nets to some 1st division players like R Rohith, who introduced me to Baba Aparajith, Indrajith and Malolan Rangarajan. Malolan helped me a lot.
"In fact, I went for my first TNPL trial as a batsman. At the trials, there were plenty of better batsmen from higher divisions. I knew I could bowl a carrom ball then, although I hadn't tried it out even in a league match. I just bowled there because I had to do something different. A video analyst called Hari was impressed, and he passed on the word to Robin Singh (Karaikudi Kaalais head coach) and they picked me."
Image Courtesy: TNPL
Similar help from a few others helped Varun get a taste of IPL last season too. He got a chance to bowl in the nets to Chennai Super Kings, and spend some time with Kolkata Knight Riders at the Eden Gardens.
"Net bowlers are usually from first division or Ranji trophy level, and I was only a fourth division cricketer," Varun says. "I just called Mr TS Mohan sir in TNCA and convinced him somehow to give me a chance. He was nice enough to consider me, and I ended up bowling to the CSK superstars.
"But just when it was coming out well, Chennai's matches were shifted to Pune. I was very sad. Suddenly, everything went blank again and for 15-20 days nothing happened.
"Suddenly AR Srikkanth, the video analyst of KKR called me through Dinesh Karthik. I stayed with the KKR team for 10 days."
At KKR, Varun got a chance to observe the likes of Sunil Narine closely. He also interacted with Carl Crowe, Narine's personal coach from London who also trained Kuldeep Yadav and Piyush Chawla. Varun says the sessions with Crowe 'opened doors' and helped him in the TNPL.
The IPL selection is another big step in a rapidly rising career. A legend like Harbhajan Singh has already marked him as a player who can play for India in the future, but Varun is keeping himself grounded.
"People call it success. But through age group cricket in school, I've seen so many failures. I've been to 10 selections and not got even into the round-robin stages once," he remembers. "Every time on the results day, I'd go to TNCA and find my name missing out. The memory that people term as 'success' is so little because the failures are so much in my mind.
"I was never recognised even once. Back then a name in the newspaper was a big aspiration. Now I see my photo on newspapers. It's taught me not to get too attached to all these things."
But will the price tag affect him?
"Let's see."
(This story was originally published on November 27, 2018)