Delhi Capitals threw away a solid start and succumbed to a comprehensive 40-run loss against Mumbai Indians at home in what seemed like an unplanned and listless chase at the Feroz Shah Kotla.
PLATFORM LAID BY THE OPENERS
Chasing Mumbai Indians' 168 for 5, Delhi Capitals got off to a fine start with Prithvi Shaw cracking two splendid boundaries off the very first over of the chase by Hardik Pandya. Shikhar Dhawan got into the act from the other end and swept leggie, Rahul Chahar for two more fours in the next over. Dhawan continued to take calculated risks and smashed Lasith Malinga through the cover region for boundary number 5 and 6.
Delhi had raced to 28 for no loss half way into the powerplay. Dhawan was the aggressor and was unbeaten on 19 off 11 deliveries. Shaw was more sedate on 9 off 7.
10 runs came off the 4th over and Delhi, at 38 for no loss, were ahead of the asking-rate and had got the start they wanted in the run-chase.
THE SLOWING DOWN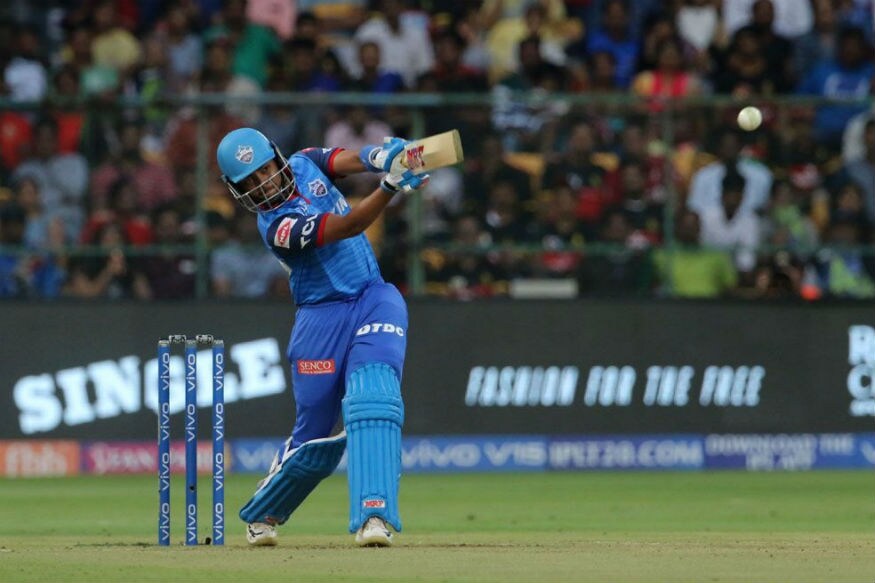 Jasprit Bumrah was introduced into the attack and conceded just 4 runs of his first over. Jayant Yadav went for only six in the last powerplay over. Shaw did not seem to be in a hurry, was uncharacteristically slow and over-cautious, almost forcing himself in playing the role of the anchor. Just for perspective, his career T20 strike rate is 152.97!
Delhi had moved to 48 at the end of the powerplay. Dhawan had scored 35 off 21 while Shaw was unbeaten on 13 off 15.
From a splendid start it was now more of a solid start. Shaw should have cashed in and taken more risks when the fielding restrictions were applicable. This would have reduced the burden on the middle order.
THE COLLAPSE
Dhawan was cleaned by Rahul Chahar in the seventh over. This triggered a massive collapse. With the required-rate climbing to above 9, Shaw came down the track to Chahar but could not clear Hardik at long on. He was dismissed for 20 off 24 deliveries and faced as many as 10 dot deliveries. By the time he was dismissed in the 9th over, the asking-rate had gone up to almost 9.5 per over.
Delhi were now feeling the pressure. Colin Munro was yorked by Krunal Pandya – for 3 off 9 deliveries - and the home team were struggling at 63 for 3 at the half-way mark. The required run-rate had rocketed to 10.6.
Delhi had scored just 25 runs in the 6 overs from over 5-10 at a run-rate of 4.17. Only one boundary was scored in this period. They had also lost three wickets during this phase. They had lost all momentum and did not seem to have a plan to chase the target.
DELHI FALL LIKE NINEPINS
Wickets continued to fall, the runs were choked. Skipper, Shreyas Iyer (3 off 6) was castled by a beauty from Chahar in the 11th. Bumrah got the prized scalp of Rishabh Pant in the 14th – for an uncanny 7 off 11 deliveries.
Delhi managed to score just 13 in these 4 overs (11-14). Munro, Pant and Iyer – not only did they fail to make a contribution but also wasted a number of deliveries in the middle. There was no urgency or purpose shown in the chase.
Delhi needed 93 from the last 6 overs with half their side dismissed.
The writing was on the wall. The innings dragged on but the result was inevitable. Delhi had surrendered. In fact, they had surrendered soon after the exit of Dhawan.
They finally crawled to 128 for 9 and went down by 40 runs in what was a poor and hapless performance by all the batsmen sans Dhawan.
From 38 for no loss after 4 overs to 76 for 5 after 14 – Delhi had added another 38 runs in the 10 overs between overs 5-14 – at a shocking run-rate of 3.8, losing half their side in this phase of play. There were as many as 31 dot deliveries in this period – in other words Delhi could not score of more than half the number of deliveries bowled in this duration of play! Only one solitary boundary was hit in these 10 overs – so poor and unauthoritative was the display of the Delhi batting. They was no method to their chase.
The match was lost in these middle overs. The remainder was just a formality.