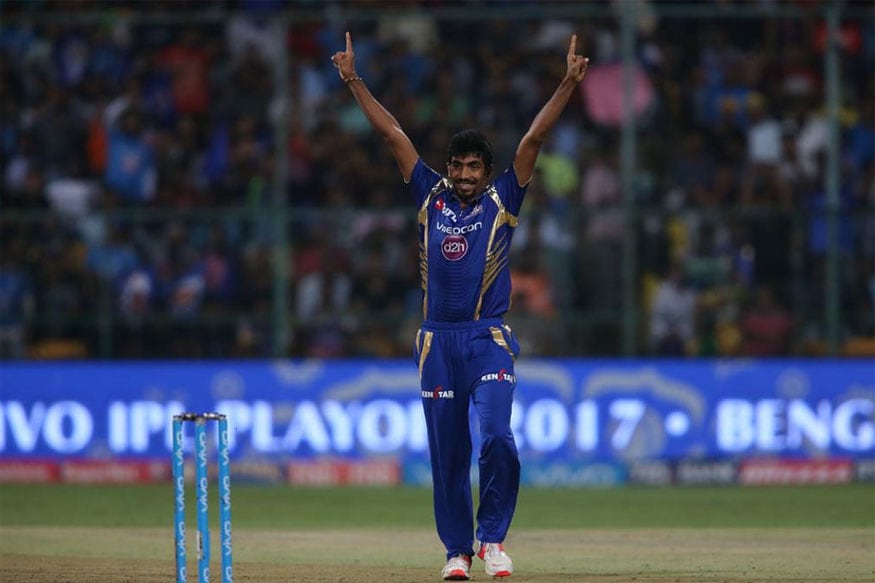 Apart from the no-ball fiasco that has dominated headlines, the Royal Challengers Bangalore - Mumbai Indians match on Thursday saw some exceptional death bowling taking on two legendary batsmen in prime form.
Jasprit Bumrah dismissed Virat Kohli, batting sublimely on 46 off 32, in the 14th over and then followed it up with brilliant 17th and 19th overs to end with figures of 4-0-20-3. Lasith Malinga was hit for 47 off his four overs, but defended 17 in the last over to seal the game. The performance of the former, in particular, pleased captain Rohit Sharma.
"Bumrah is very smart, understands what he's doing with the ball," Rohit said at the post-match press conference. "We wanted to break the partnership when they were going strong and Bumrah came and got the wicket (Kohli). It was a crucial wicket, Bumrah has matured a lot. Actually, he has more than matured now. His performance keeps growing every day on the field. He's a very dedicated individual, he takes his game very seriously. He's somebody who wants to grow every notch as the day progresses. That's a good sign.
"The role of Malinga is pretty simple. What he has done for us over the years is the same - bowl yorkers, bouncers and get wickets in the middle. He's Sri Lanka's captain, so he wants to play the World Cup and do well, so the motive is there. For him to come here and do what he has done for Mumbai over the years, it does go well for the team. We expect him to deliver what he has been doing over the years. He's coming off great form in South Africa and wants to keep it going into the World Cup. He wants to do well and he knows we expect him to deliver the goods, his form is very important.
"Yes he did go for runs but that's what experience brings for you. The ball was soft and I always knew he could bowl yorkers in the end. The first over when AB hit him for a couple of sixes, he tried to do some variations which didn't go in his favour but he came back strongly and bowled yorkers perfectly. When he bowls well like, it augurs well for us."
Rohit was also impressed with legspinner Mayank Markande, who dismissed Parthiv Patel and conceded just 23 runs from three overs. He could have had AB de Villiers for a first-ball duck, but Yuvraj Singh at slip dropped a straightforward chance. Markande was dropped for the first game, but Rohit said his wicket-taking ability in the middle overs made him a must-pick in Bangalore.
"Spinners will always give you chance of taking wickets," Rohit said. "That was the thought, and we've played enough in Bangalore. Specially the seamers, if they don't have a good day, they won't have a good day. It's the same thing for the spinners as well but they give you the extra chance of taking wickets in the middle when batsmen are going strong. Mayank has done the job for is in the middle overs last year, we wanted to back him. He bowled brilliantly, getting that wicket and keeping the scoreboard tight in the middle overs. We back him a lot and understand he'll have off days as well. But he's a wrist spinner, and they always make sure you stay in the game. As a captain you just want wicket taking options in the middle and he did it for us."
While the bowlers did the job, Rohit said the difference between the two sides was Hardik Pandya's unbeaten 14-ball 32 towards the end of the Mumbai innings.
"Those runs in the end was the difference in this game," he said. "He was wanting to go out there and get some runs. Last game didn't go well for him. Obviously there was a hunger to do well, and he got those crucial runs in the end. He bowled well in the middle too, even though he went for runs it's fine. Bangalore is a pitch where bowlers do go for runs. In a way, he's also stepping up that ladder. He was out for a bit, and he needs some game time. It augurs very well for us if he keeps that form going for us. He's a flexible batsman, can bat anywhere, and he's a good bowler as well. His form is very important to us."