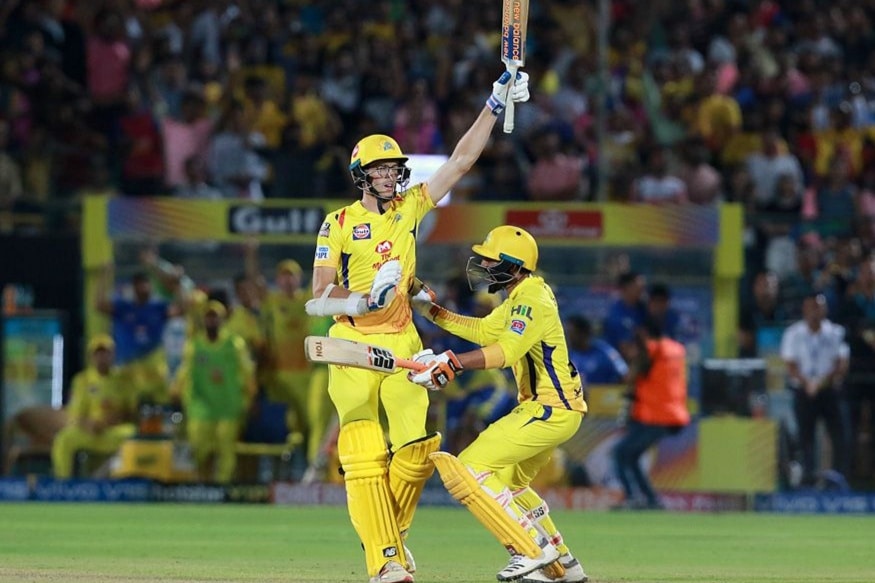 Chennai Super Kings managed to pull off an amazing victory over the Rajasthan Royals in what was a humdinger of a contest at the Sawai Mansingh Stadium, Jaipur.
#CSK just find a way. Or others find a way for them!

— Harsha Bhogle (@bhogleharsha) April 11, 2019
That last over needs one Netflix series on its own — Siddhartha Vaidyanathan (@sidvee) April 11, 2019
What a tournament this IPL is .... unbelievable matches ... yesterday mumbai and now CSK ..only better competition is the World Cup

— Sourav Ganguly (@SGanguly99) April 11, 2019
Chennai Super Kings won the game with the last ball six and what a remarkable comeback from the champion side... — Broken Cricket (@BrokenCricket) April 11, 2019
Batting first, Rajasthan Royals were off to a decent start. However once Jos Buttler got out, the hosts lost their way in the middle as they kept losing wickets at regular intervals.
Impossible to dislike CSK. Impossible to dislike who knows their limitations and still rise above their competition time and again. They laugh at themselves before we can laugh at them. Terrific team.. #RRvCSK

— Saurav Jha (@iamsauravjha) April 11, 2019
Death, taxes and @chennaiipl taking wickets in the middle overs...#RRvCSK #IPL12#IPL2019 — Guerilla Cricket (@guerillacricket) April 11, 2019
IPL has been so easy for CSK since the comeback.

— arfan. (@Im__Arfan) April 11, 2019
RR has lost it. Poor shot selection #RRvCSK — Bharath Ramaraj (@Fancricket12) April 11, 2019
Ravindra Jadeja picked up his 100th wicket in the IPL as he dismissed Steve Smith, a record fifth time in the history of the tournament.
Forget Tahir, @imjadeja gets @stevesmith49. A big fish for a big wicket, congrats on been the first left arm spinner to get to 100 wickets in IPL. # lefties

— Brad Hogg (@Brad_Hogg) April 11, 2019
Most #IPL wkts by left-arm spinners 100 - Ravindra Jadeja 89 - Pragyan Ojha 64 - Azar Patel 58 - Shakib Al Hasan #RRvCSK#IPL2019 — Mohandas Menon (@mohanstatsman) April 11, 2019
100 wickets for Ravindra Jadeja in IPL....13th bowler to achieve this milestone

— JSK (@imjsk27) April 11, 2019
Shreyas Gopal's quickfire cameo of 19(7)* drifted the Rajasthan total to 151/7 at the end of 20 overs.
Rajasthan Royals gets past 150 after a brilliant last over yielding 18 runs, It's a few runs below par but couple of early wickets can make this a competitive matchup.#RRvCSK #IPL2019 — Arjun (@LifeIsAnElation) April 11, 2019
Oh the tale of Shardul and last over boundaries!

- 152 for the Lions when they come out to bat! #WhistlePodu #Yellove #RRvCSK

— Chennai Super Kings (@ChennaiIPL) April 11, 2019
This is a friendly reminder. Shreyas Gopal has a highest FC score of 150.#RRvCSK — Snehal Pradhan (@SnehalPradhan) April 11, 2019
The visitors began poorly as they were reduced to 24/4 within the Powerplay over. Whether it was Jofra Archer's direct hit or Ben Stokes' brilliant catch, the Rajasthan players were phenomenal in the field.
Watson's dismissal for blob should perk up Rajasthan. Raina hasn't looked in dominant form nor has Rayudu, leaving CSK's batting vulnerable. May not be easy to overhaul 151

— Cricketwallah (@cricketwallah) April 11, 2019
Archer. Distant target. Bull's eye The headlines write themselves. #IPL2019 — Srinath (@srinathsripath) April 11, 2019
If Suresh Raina was any more lethargic there, he would be an engineering student one day before an exam. #IPL2019

— Vinayakk (@vinayakkm) April 11, 2019
The two Aussies: CSK: Watto seems to be gradually fading away ... RR: Smith is a misfit the short format. So, the two opponents cancel out their misadventures. — Jose Puliampatta (@JosePuliampatta) April 11, 2019
Wow - the fact that Stokes went with both hands for that catch makes it even more special. What a catch that was! #CSK #RRvsCSK #VIVOIPL #RR

— RK (@RK_sports) April 11, 2019
What's with Rajasthan Royals tonight? Maniacal catching to go with a direct hit run-out from around 40 yards!#IPL2019 #RRvCSK — Suneer (@suneerchowdhary) April 11, 2019
Some catch that!#Stokes #RRvCSK #IPL2019

— Mpumelelo Mbangwa (@mmbangwa) April 11, 2019
MS Dhoni came to Chennai's rescue again as he started attacking the spinners. Ambati Rayudu at the other end too gained momentum and scored his first half-century this season. Both put up a partnership of 95(71) for the fifth wicket.
Two sixes so soon isn't something you see often from Dhoni.. maybe done to bring the RRR below 10 #CSKvRR — Jalandar (@jalandar_) April 11, 2019
Dhoni writes the script of #CSK's success.

— Mr. A (@cricdrugs) April 11, 2019
Rahane must have thought Dhoni won't go after the bowlers at this juncture. Dhoni attacked Parag and forced Rahane to bowl Archer in the next over, lessening one of his overs at the death. Peak Khelo Dimag Se. #IPL2019 — Manya (@CSKian716) April 11, 2019
We are all waiting to see how CSK recover from this, because only they can...

— Akki (@CrickPotato1) April 11, 2019
Finally, Rayadu showing some form. In time for the no. 4 spot? #RRvCSK — Trendulkar (@Trendulkar) April 11, 2019
Timely fifty that by Ambati Rayudu - with 15th April near as well as with the spot #CSK found themselves in. MS being at the other end helped of course. #RRvCSK #IPL19 #VIVOIPL #WhistlePodu #yellove

— S. Sudarshanan (@Sudarshanan7) April 11, 2019
Most 30+ scores in #IPL as captain... 56 - Virat Kohli 55 - MS Dhoni#RRvCSK#IPL2019 — Mohandas Menon (@mohanstatsman) April 11, 2019
Rayudu has scored more runs in this innings than in his previous five #IPL innings combined and his false shot percentage has been just 9.5%. A clinical innings at a crucial time for the @ChennaiIPL man.

— The CricViz Analyst (@cricvizanalyst) April 11, 2019
In what was a dramatic final over, Ben Stokes failed to defend 17 off the last over. A sixer from Jadeja, Dhoni getting bowled, a no ball, an umpiring howler that saw MSD losing his cool and finally Mitchell Santner sealing it for CSK with a six.
Look at Dhoni man — ਸੋਨਾਲੀ ♥️ (@shonalit7) April 11, 2019
Six

No-ball

Free-hit to Dhoni

Dhoni Yorked

Dhoni doing umpiring

Two runs

last-ball-of-the-match - No Wide

Six from Santner

That Last over is a big drama ! #RRvCSK

— Jalandar (@jalandar_) April 11, 2019
Stokes desperate efforts to lose the match finally bore fruits. No-balls, wide, length balls in the slot.. Abysmal last over, frankly #RRvCSK #IPL2019 — Navneet Mundhra (@navneet_mundhra) April 11, 2019
How good is Santner. Showed no signs of nerves. Also the nerd inside me is chuffed to see a lad wearing glasses hitting that a last ball six in IPL.

— cricBC (@cricBC) April 11, 2019
Umpiring this season has deteriorated! Some times you feel what do you play for, the cup or the fair play award? #RRvCSK #VIVOIPL congratulations #msd for 100th win as captain. #GameBanayegaName — Pragyan Prayas Ojha (@pragyanojha) April 11, 2019
How good Mitch Santner ♂️. #IPL2019

— Ross Taylor (@RossLTaylor) April 11, 2019