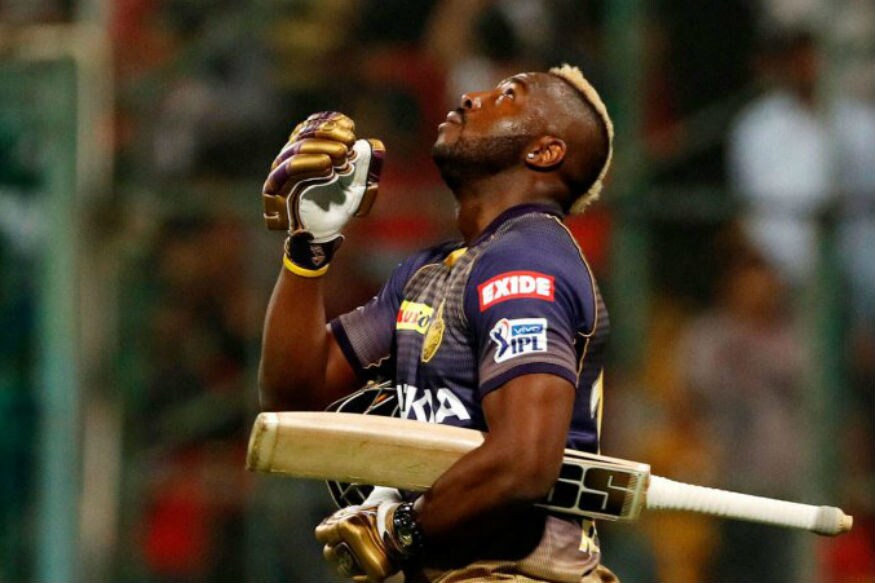 Tight season
The fact that Sunrisers Hyderabad became the first team in IPL history to qualify for the Playoffs despite only winning six matches is a reflection on how tight a season this was. The IPL's auction structure and salary cap encourages competitive balance among teams and 14 matches is rarely enough to fairly separate the good teams from the bad teams. There was just one point separating Royal Challengers Bangalore in last from SRH in fourth. At the other end, Mumbai Indians topped the table but they didn't reach that point until the very last match of the league stage, illustrating once more how congested the table was.
Chasing preference continues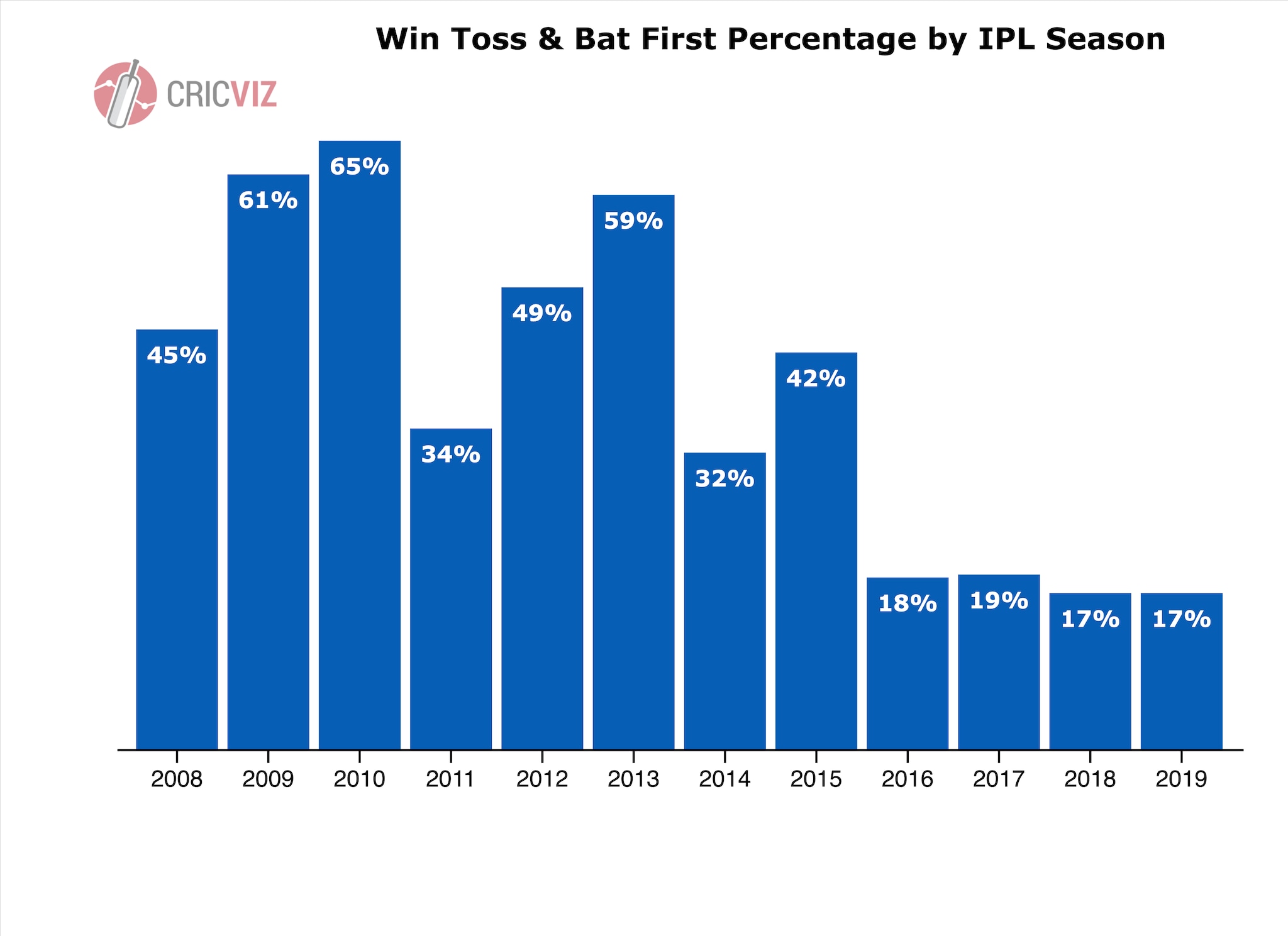 Across IPL history there has been a general shift from toss winners preferring to bat first to toss winners preferring to field first. This IPL season only 10 of the 60 toss winners (17%) elected to bat - exactly the same number as last season - the equal lowest proportion in any IPL season. Of those ten teams only four went on to win the match.
Chepauk drags down scoring rates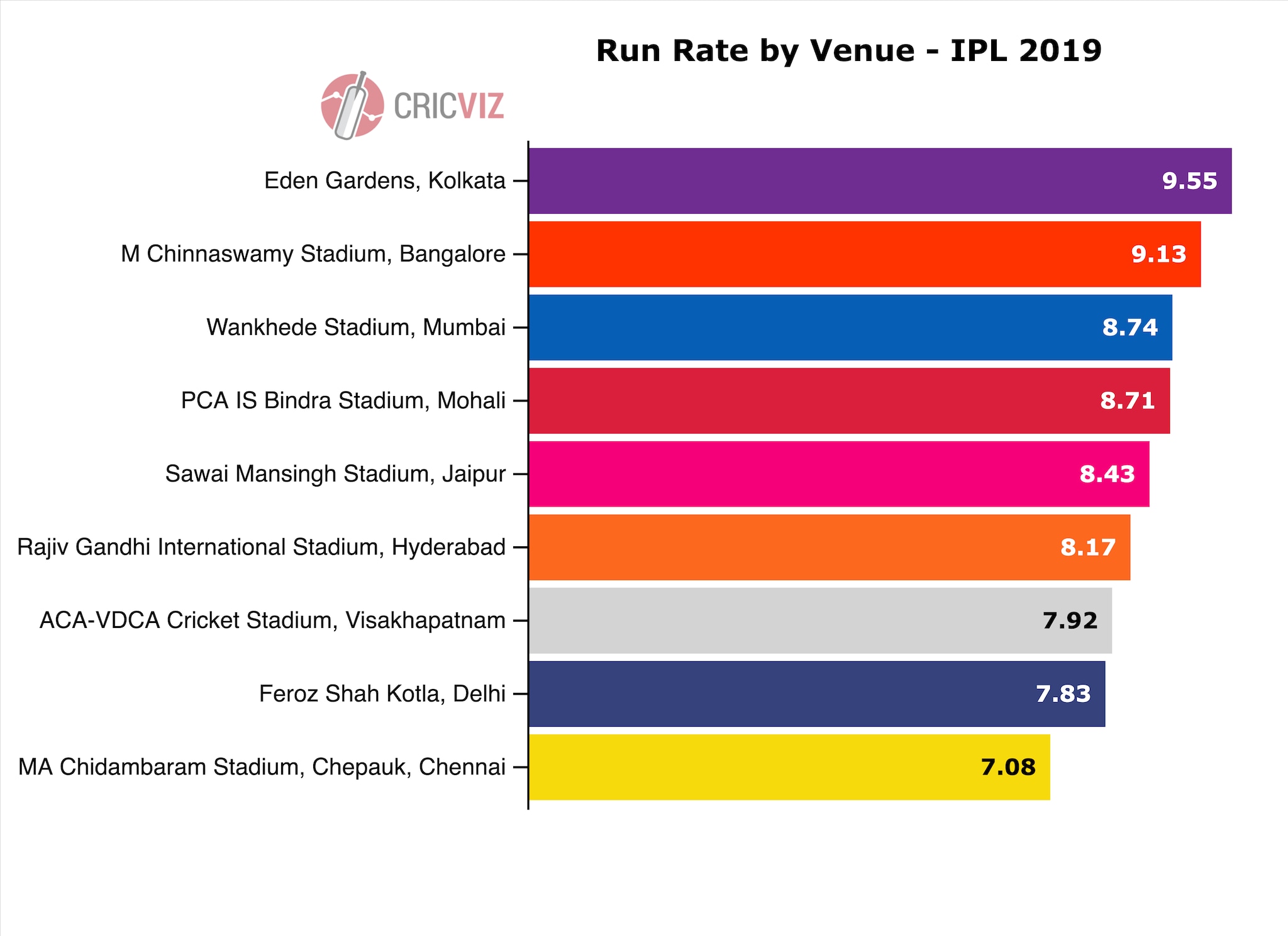 The 2018 IPL saw record high run rates of 8.64 runs per over. However, this year run rates fell by 0.23 runs per over to 8.41. This was only the fourth time that IPL run rates decreased season-on-season and it was the biggest decrease since 2011.
Using CricViz's unique Attack, Timing and Power ratings it appears that the source of falling run rates was not reduced intent - the Attack rating only fell from 165 to 164 but can be attributed to a decrease in Timing from 119 to 108 and Power from 120 to 116.
One of the major reasons for the lower run rate, Timing and Power rating is the fact that this season saw matches play at Chepauk - a venue where run scoring is notoriously difficult. Indeed the average run rate at Chepauk of 7.08 runs per over is the third lowest ever at a venue to have hosted five or more matches in an IPL season. Take out Chepauk and the average run rate this season was 8.61 runs per over, only very fractionally lower than last season where only one match was played at Chepauk.
Russell's game-changing season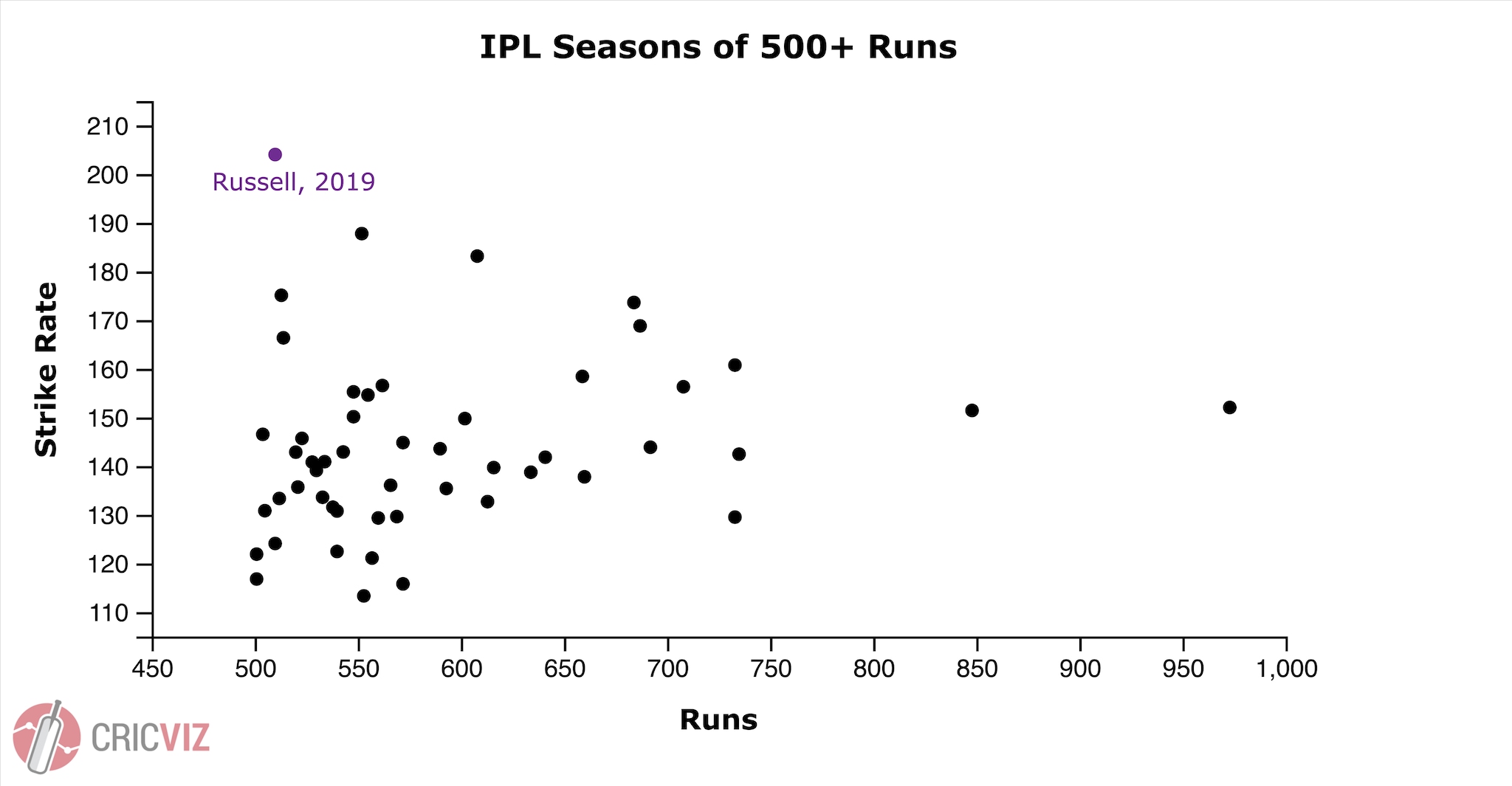 Power-hitting has been transformed in the last decade with muscular batsmen wielding huge bats now capable of scoring at rapid rates. However, until this IPL season no power-hitter had been able to score at rapid rates consistently. It was thought that regularly scoring at two runs per ball was essentially impossible but Andre Russell's outrageous season has blown this theory out of the water. Across 13 innings Russell scored 510 runs - averaging 39.23 runs per innings - at an astonishing strike rate of 204.81.
Russell's absurd season was founded on his phenomenal intent - his Attack rating of 215 was the highest by any batsman in an IPL season. This Attack rating implies that if he made a clean connection with all his shots he would have scored at a strike rate of 215. It is indicative of Russell's superb timing - his Timing Rating of 157 was the eighth highest ever for a batsman to score 500 runs - that his actual strike rate of 205 was only 10 shy of his expected strike rate based on the shots he played and assuming he made a clean connection with those shots.
Russell is clearly a player of freakish ability and it is unlikely that this level of performance will be easily replicated but his season has shown the world what is possible. In years to come we may look back on his 2019 season as a seminal one in the history of modern batting.
Finger spinners fight back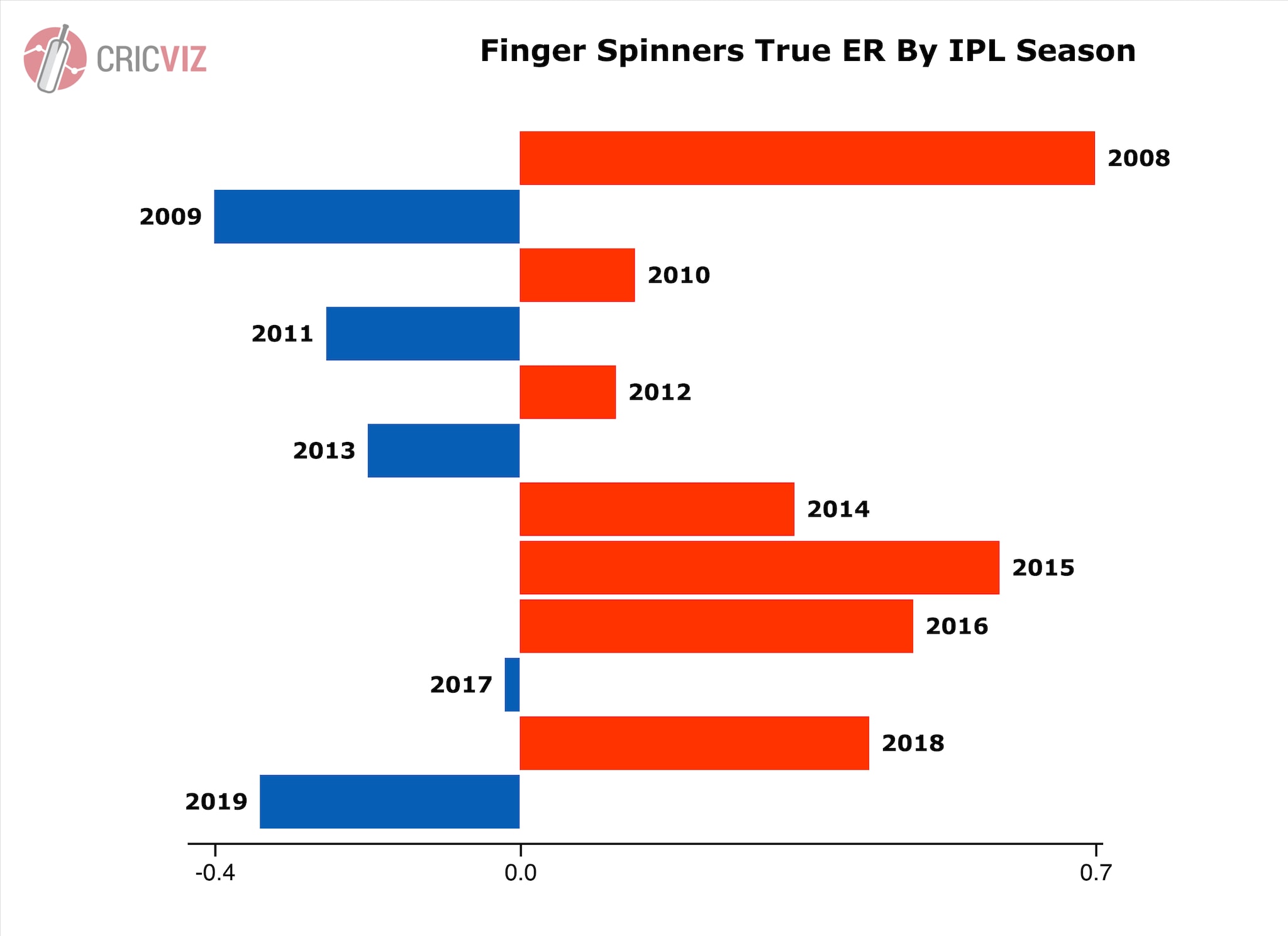 This was an excellent season for finger spinners in the IPL who have in recent years been marginalised by the rise of wrist spinners. Across the season finger spinners recorded an economy rate of 7.49 runs per over, a significant decrease on the 8.04 runs per over of last season. The True Economy Rate for finger spinners of -0.31 runs per over was the second best True Economy Rate ever recorded by finger spinners in an IPL season.
Both off spinners and left-arm spinners contributed to this improvement - but it was the left-armers, with a True Economy Rate of -0.46, who were the better of the two - with off spinners recording a True Economy Rate of -0.19.
It appears that one possible explanation for the improved returns of finger spinners could be their better utilisation with regards to match-ups. Right-handers faced 67% of deliveries this season but off spinners only bowled 53% of their balls to right-handers while left-arm spinners bowled 75% of their balls to right-handers. This suggests captains used their bowlers intelligently, engineering match-ups where the ball was turning away from the bat where possible.
Decline of left-arm quicks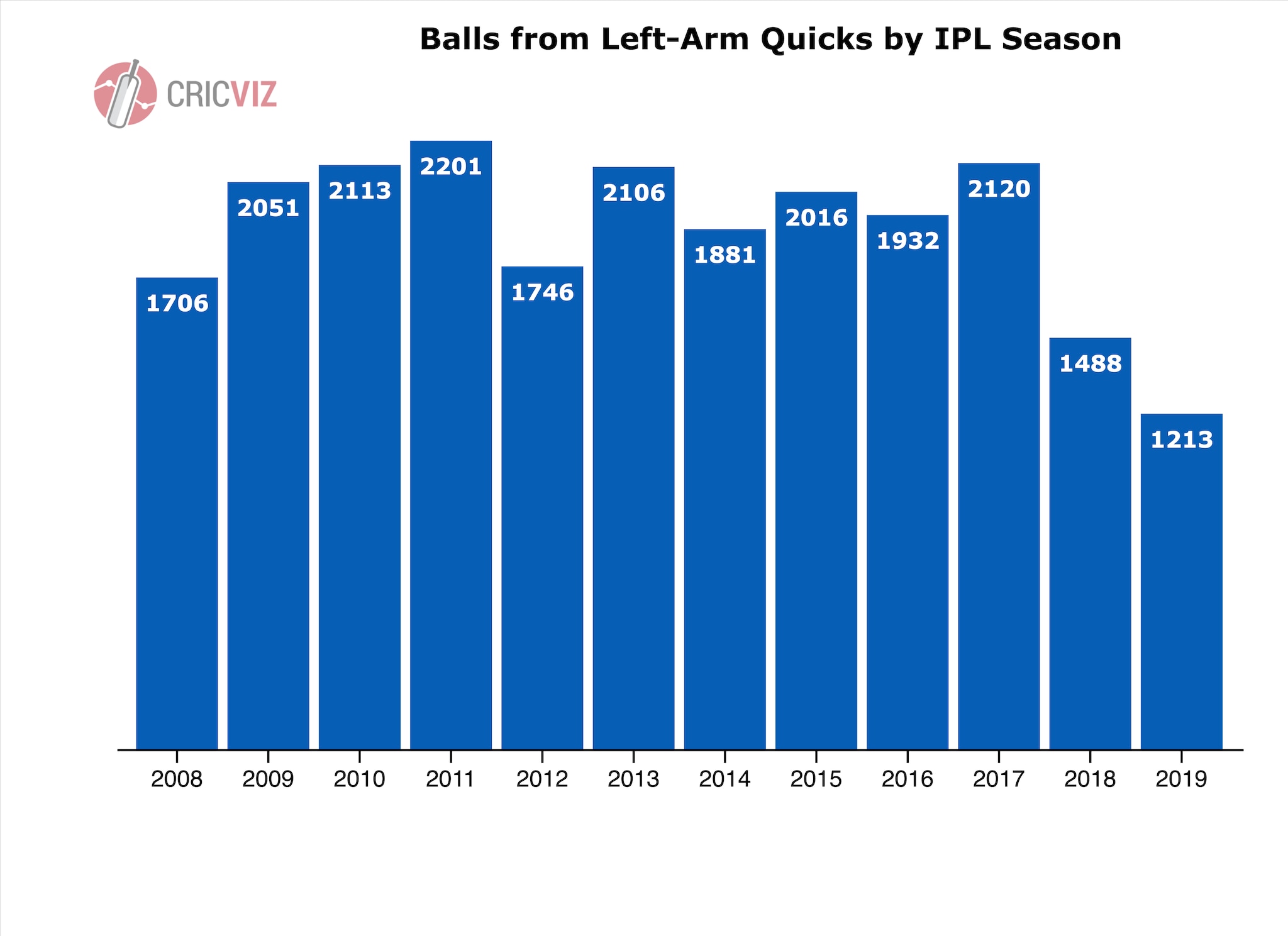 Left-arm fast bowlers are popular on the T20 circuit. The desire for the unusual left-arm angle, across the right-hander, often sees them fetch big money at the IPL Auction - think Tymal Mills in 2017 and Jaydev Unadkat in 2018 and 2019. However, there currently appears to be a dearth of high quality left-arm quicks in the IPL. This season saw fewer balls bowled by left-arm pacemen than in any IPL season in history and this can be traced back to their declining performances. Across the last two IPL seasons, left-arm fast bowlers average 33.89 - the highest of any bowler-type. The only three left-arm quicks to record a positive average bowling impact were Khaleel Ahmed, Mitchell McClenaghan and Harry Gurney.
Strong Indian core
This IPL once again underlined the importance of a strong Indian core to successful teams. The brilliance of table-toppers and champions Mumbai Indians was founded upon their excellent Indian players who returned an average match impact of +25.5 runs while their overseas players cost them -11.3 runs per match. CSK and DC - who finished second and third respectively - also had greater impacts from their Indian players than their overseas players. The only other team for whom this was the case was KXIP.
Strong bowling
This IPL also reaffirmed another consistent pattern of the league: strong bowling teams flourished. The four teams to qualify for the playoffs had the lowest four economy rates in the league.