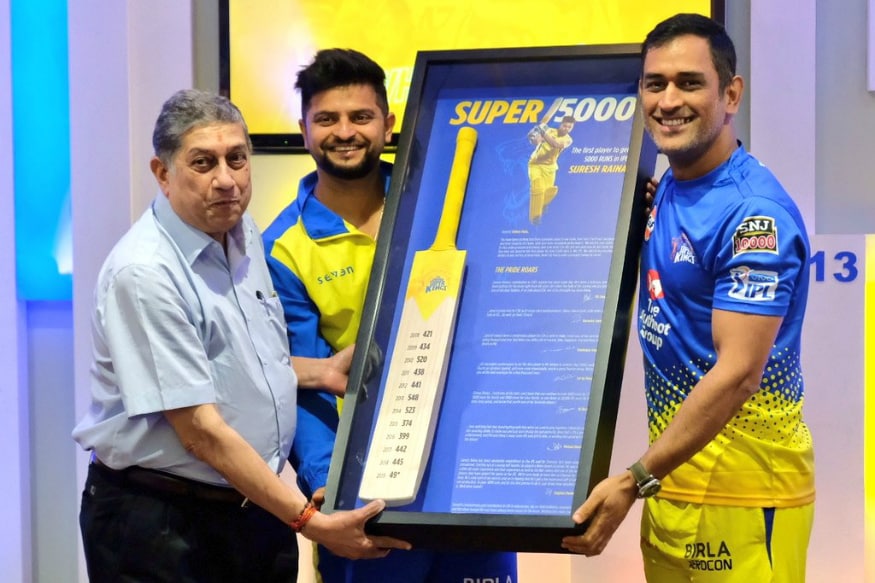 Chennai Super Kings are the most successful franchise in the history of the Indian Premier League and on the eve of their match against Kings XI Punjab, they felicitated few special members of their entourage.

Present on the occasion was N Srinivasan, who along with captain MS Dhoni gave their star batsman Suresh Raina a memento to commemorate his achievement of being the first player to break the 5000 run barrier in the tournament.




A no mean feat by a no nonsense cricketer! To many many more runs off the #yellove willow, #ChinnaThala! #Super5000 pic.twitter.com/tSsGPUhzuG


— Chennai Super Kings (@ChennaiIPL) April 5, 2019

The southpaw achieved this against Royal Challengers Bangalore in the opening game of the tournament which CSK won on their home patch. Raina scored 19 in the match as CSK chased down the target with seven wickets in hand. Raina has played 181 games and has scored a total of 5103 runs with an unbeaten 100 being his best score over the years alongside 35 half-centuries. This season, Raina has played five games and scored 118 runs so far with no half-centuries to his name yet.


The man who keeps the Lions in-shape and battle-ready for every #yellove outing right from the team's inception! Aptly named Gregory King! #SuperTrainer #WhistlePodu pic.twitter.com/lh54D6cE41 — Chennai Super Kings (@ChennaiIPL) April 5, 2019



Here's to the ever-smiling, ever-supportive #SuperBoss you could ever get! Get all your whistles together for the one and only K S Viswanathan (Kasi to everyone here) for being a backbone to the #Yellove Brigade right from the start! #WhistlePodu pic.twitter.com/AdsKVp1TPo


— Chennai Super Kings (@ChennaiIPL) April 5, 2019



The CSK franchise also recognised the contributions of CEO K S Viswanathan and their trainer Gregory King and felicitated them with mementoes.

First Published: April 6, 2019, 7:13 PM IST