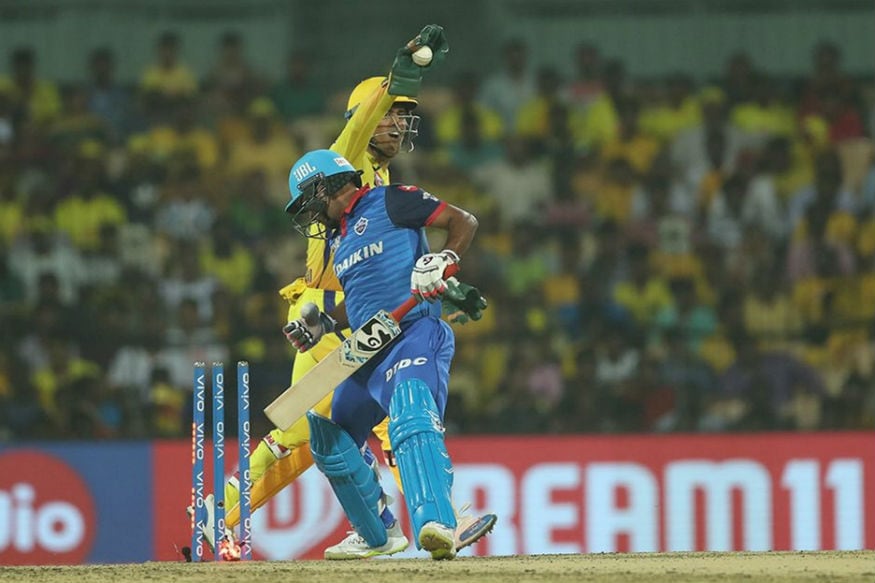 Among his many abilities, it is MS Dhoni's work behind the stumps that make him an indispensable asset for India.
Delhi Capitals were on the receiving end of such brilliance from Dhoni. Though, Capitals were already down and out, Dhoni ensured that there was no chance of a late miracle.
First, it was Chris Morris off the bowling of Ravindra Jadeja in the 12th over. Facing his first delivery on a turning track, Morris was beaten and just might have lifted his foot for a microsecond but that was enough for Dhoni to dislodge the bails. Even he didn't look confident but when the third umpire viewed the replay, Morris' foot was in the air.
Shreyas Iyer was batting well at the other end and holding fort for Delhi. On 44 off 31 balls, he looked to block one when he was beaten by Jadeja. Almost similar to Morris' dismissal, Iyer had his foot in the air for a millisecond but that was enough for Dhoni to dislodge the bails.
This is a Dhoni who is 37-year-old and came into match after missing a few practice sessions. He is recovering from viral fever and looked far from 100%, often coughing and struggling in the Chennai heat but that certainly didn't hamper his super-quick reflexes.
Later when asked about his glove-work in the presentation, Dhoni credited tennis ball cricket and said it's important to stick to basics.
"It's something that has come from tennis ball cricket. You need to do the basics right and then graduate to the next level. If you want to keep like that, you may commit a lot of mistakes. It's important to stick to the basics."
While everyone often praises Dhoni the tactician and Dhoni the finisher, it's the value he provides behind the stumps which make him such a hot property for any team!